CHAMPIONS LEAGUE
Simeone running off after the game was no big shakes says Klopp
Atlético coach surprised everyone, including rival coach Jurgen Klopp, by sprinting off down the tunnel as soon as the whistle went after Tuesday's defeat to Liverpool.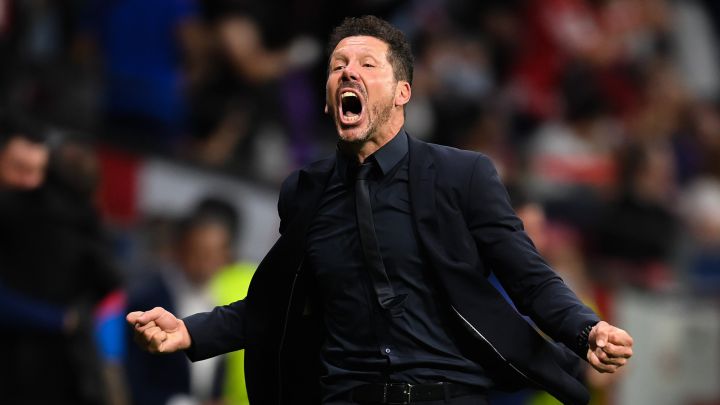 Among its many uses, Liverpool's fabled 'Boot Room' at Anfield was a place where visiting managers and their coaching staff would always be invited to have a drink and a chat after a game, regardless of the result: win, lose or draw. Whether rival coaches accepted the invitation was entirely up to them but many did as a display of goodwill on both parts. Times have changed, the Boot Room may be long gone, but generally speaking, on the final whistle, managers will at least shake hands - admittedly, sometimes begrudgingly.
Which is why it was such a surprise to see Diego Simeone sprinting down the tunnel as soon as the whistle went after last night's game between Atlético Madrid and Liverpool. It turned out to be a testing night for the hosts, who had to come back after going 0-2 down, had Griezmann sent off and a penalty appeal overturned by VAR. But as soon as it was all over, it seemed the last person El Cholo wanted to see, or deal with, was his opposite number, Jürgen Klopp. The Liverpool manager looked bewildered after watching Simeone dash off without a word, as he shook hands with members of Atleti's coaching staff and match officials
Simeone running off was "petty and cowardly"
Klopp wasn't the only one who was taken aback by Simeone's disappearing act. Peter Crouch, who was covering the game for BT Sports said afterwards, "You're so caught up in the game that you forget, the VAR moments, penalties, sendings off, all the goals we had... so much drama and not even a handshake at the end of it. I've got so much respect for Simneone as a manager but I think, during the game, winding the crowd up, winding the players up - I understand it, but with no shaking hands at the end, I just think he lets himself down". Joleon Lescott added, "I think it's petty. He handled himself well yesterday in regards to the remarks which Jürgen Klopp made before the game, he didn't seem fazed by it but then to not shake his hand and to run off up the tunnel is a bit cowardly in my opinion".
Post-match niceties are not my style, says Simeone
Both managers were asked about the incident by reporters after the game and were keen to play it down. Simeone explained, "I don't think too much about what others think but once a game is over, I always think the same, if I have won and the other coach has lost, he might shake your hand but you can tell it's begrudgingly. On the other hand, if I lose a game, I have to shake hands with the rival coach but again, begrudgingly. And to be honest, I don't really like doing things which I am forced to do against my will. So I don't do it. I always quickly run off because of the situation, whenever it's my turn to win, and whenever I lose. On this occasion, I was supposed to acknowledge Liverpool players but they were in the centre of the pitch and this time we didn't shake hands".
Moments earlier, in the flash zone, he said, "I don't normally shake hands after a game. I don't like it and I don't think it's healthy because one of the two coaches will always be unhappy with how the game went. They have a different culture, which I don't share. If I see Klopp now, I won't have any problems shaking his hand".
While initially surprised, Klopp said he didn't take Simeone's snub personally. In his post-match press conference, he said: "The situation with Diego is, I want to shake his hand and he was running so I could have just turned around, but I was standing there. So I was as emotional as he was and I don't think he did anything wrong and I am not overly happy with my reaction to it to be honest but that's not too bad either so when we see each other next time we will definitely shake hands. There is nothing between us - we didn't even speak during the game. That he is emotional should not be a surprise for anybody. We were kind of calm in most of the situations tonight in a very intense game".