How much money has the House approved for the bipartisan infrastructure bill?
Late Friday the House passed the bipartisan infrastructure bill, the largest US infrastructure investment in nearly 70 years. How much money was approved?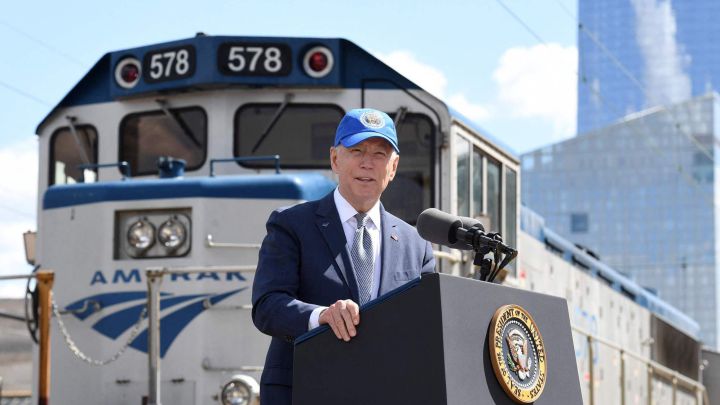 The Infrastructure Investment and Jobs Act, better know as the bipartisan infrastructure bill, finally got its long-awaited vote in the House late on Friday. It passed with a 228-206 vote with the help of Republican votes to cross the finish line.
President Joe Biden plans to sign the $1.2 trillion infrastructure bill when Congress returns from a week-long recess. The legislation is the largest investment in US infrastructure since the federal interstate highway system was created under President Eisenhower nearly 70 years ago.
What is in the bipartisan infrastructure bill?
The $1.2 trillion infrastructure plan once signed into law will provide funding for a range of investments that have been long overdue. Earlier this year the American Society of Civil Engineers report card gave the nation's infrastructure system a C- score. The bill also makes investments that will put the US "on a path to win the economic competition of the 21st century," Biden said.
The Infrastructure Investment and Jobs Act includes approximately $550 billion in new spending over five years, on top of funding Congress was already planning to allocate for infrastructure over the next eight years. That includes a $118 billion bailout of the Highway Trust Fund.
Investment included in investment bill:
Roads and bridges
Roads, bridges and major infrastructure projects: $110 billion
Bridge repair, replacement and rehabilitation: $40 billion
Major projects too large for traditional funding programs: $16 billion
Transportation safety: $11 billion
Reconnecting communities: $1 billion
Transit and rail
Public transit: $39 billion
Passenger and freight rail: $66 billion
Airports, ports and waterways
Airports: $25 billion
Port and waterway infrastructure: $17 billion
Power and water systems
Electric grid: $65 billion
Water infrastructure: $55 billion
Water system resiliency: $50 billion
Broadband
Broadband infrastructure: $65 billion
Electric vehicles
Zero- and low-emission buses and ferries: $7.5 billion
Nationwide network electric vehicle chargers: $7.5 billion
Environmental cleanup
Water and soil pollution removal, capping gas wells: $21 billion
The Congressional Budget Office has estimated that the bipartisan infrastructure bill will add $256 billion to projected deficits over the next ten years. That estimate however does not take into consideration potential economic growth created by the investments.
The long winding road to passing the infrastructure bill
President Biden had originally called for over $2 trillion of infrastructure investment earlier this year as part of his American Jobs Plan. However, in the face of Republican resistance to proposals to combat climate change and how the investments would be paid for, along with Biden's desire to show he could work with GOP lawmakers, he negotiated with a group of 21 senators that hashed out the $1.2 trillion bipartisan agreement.
The plan they agreed to left out much of the investment to fight climate change that Biden had wanted included in his infrastructure, but the White House got a major bipartisan victory. In early August that plan was passed by the evenly split Senate with a 69-30 vote.
The Bipartisan Infrastructure Deal will create millions of good jobs across the country. Jobs in red states, blue states, rural communities, small towns, and big cities.

This is an investment in all of America. pic.twitter.com/0J5g9bMB6N

— Kamala Harris (@KamalaHarris) November 7, 2021
The nearly three-month delay in passing it through the House was due to members of the Progressive Caucus playing hardball to ensure that the measures to fight climate change and Biden's "care economy" proposals also made it through Congress. Democrats had planned to pass both the bipartisan infrastructure and Build Back Better bills in tandem.
The tactic by progressives managed to force House Speaker Nancy Pelosi to delay a vote on the bipartisan infrastructure bill twice. However, after Democrats suffered a defeat in the Virginia gubernatorial election 2 November and a near defeat in New Jersey's, enough were swayed to allow the infrastructure to head to Biden's desk on promises that their colleagues would vote for the Build Back Better bill.
Even so, six members of the Progressive Caucus voted "No" which would have tanked the infrastructure bill had it not been for 13 Republicans bucking their party's leadership and voting with the Democrats.