NFL
Who won Sunday Night Football, Week 9?
Sunday night of the NFL regular season's Week 9 was full of surprises, with unexpected wins from the Denver Broncos and the Jacksonville Jaguars.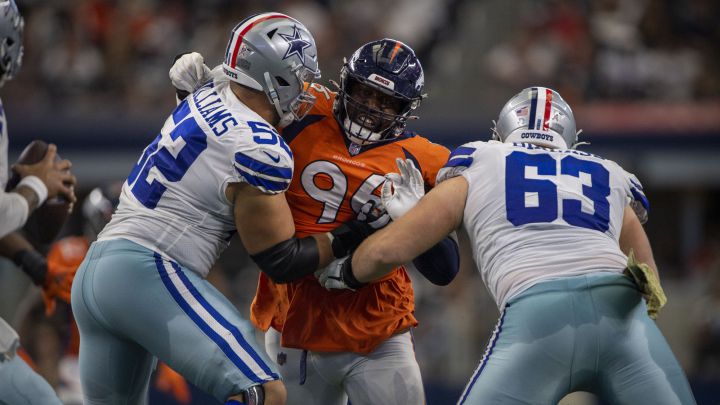 Week 9 of the NFL regular season saw stunning upsets, with the Denver Broncos dominating the Dallas Cowboys, and the Jacksonville Jaguars defeating the Buffalo Bills.
Josh Allen vs. Josh Allen
The most unforeseen victory of Sunday night was a 9-6 upset that came from the 1-6 Jaguars over the 5-2 Buffalo Bills.
The Bills' talented quarterback Josh Allen was kept in check by his namesake, getting sacked by the Jaguars' own Josh Allen. The signal caller also fumbled after getting pressured by Dawuane Smoot, with the other Allen recovering the ball. It was the first time in NFL history that a player sacked a quarterback with the same name.
The standout linebacker delivered eight tackles, a sack, an interception, and a fumble recovery.
Broncos throw off Cowboys
The Denver Broncos bucked the Dallas Cowboys and broke their winning streak in a 30-16 shocker. The Cowboys came into the game with a 6-1 record, their only loss coming from the gritty Tampa Bay Buccaneers.
Dallas did not score through three quarters, and only saw their first touchdown late in the fourth quarter. The Cowboys were stunned by Denver's defense, which held them to third downs on almost every single set.
The Chiefs' deadly defense
The Green Bay Packers felt the effects of quarterback Aaron Rodgers' absence due to covid-19 against the Kansas City Chiefs, losing to the home team 13-7. His replacement Jordan Love made his debut as a starter throwing 190 yards with a touchdown and an interception.
The Chiefs leapt to a 7-0 lead in the first quarter, but the Packers' defense got its act together. But KC's defense was impenetrable, with Green Bay unable to convert on any of the first eight third downs they encountered. The Chiefs moved up to 5-4, while the Packers broke their winning streak to settle at 7-2.
Clash of the heavyweights
The Tennessee Titans and the Los Angeles Rams, with only three losses between them, locked horns with both teams looking for their fifth straight win. But it was a rout by Tennessee who prevailed 28-16 without having running back Derrick Henry. They relied on defensive end Jeffery Simons, who notched three of the team's five sacks.
Battle of the bottom dwellers
The Miami Dolphins broke their seven-game losing streak with a 17-9 win against the Houston Texans. It was not the best of games, ending up with the most number of turnovers in an NFL game in more than five seasons. The two teams combined for a total of nine. The Dolphins now stand at 2-7, the Texans drop to 1-8.
Full results of Week 9's games
Jets- 30, Colts- 45
Browns- 41, Bengals- 16
Broncos-30, Cowboys- 16
Texans- 9, Dolphins- 17
Falcons- 27, Saints- 25
Raiders- 16, Giants- 23
Patriots- 24, Panthers- 6
Bills- 6, Jaguars- 9
Vikings- 31, Ravens- 34
Chargers- 27, Eagles- 24
Packers- 7, Chiefs-13
Cardinals- 31, 49ers- 17
Titans- 28, Rams- 16