NFL
Eagles' DeVonta Smith speaks about his friend Henry Ruggs
The wide receiver was deeply affected by last Tuesday's events but believes it has given him "bigger purpose."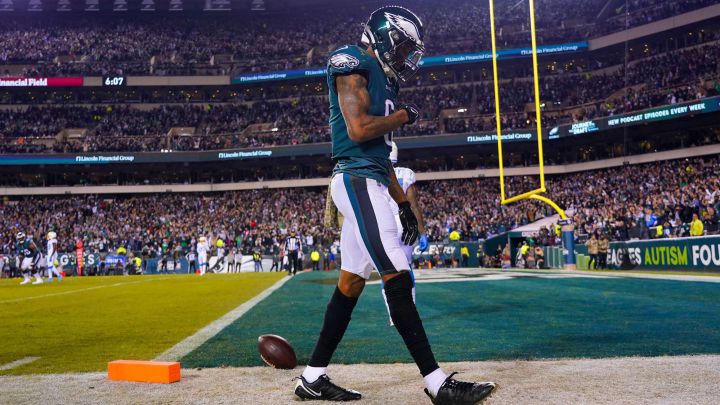 The Eagles' rookie was a friend of Henry Ruggs and was very hurt by last week's deadly crash.
Eagles' DeVonta Smith talks about the Henry Ruggs tragedy
Speaking on the tragic car crash involving his friend and former roommate Henry Ruggs, Eagles rookie receiver DeVonta Smith said the events gave him a "bigger purpose" going into Sunday's game against the Los Angeles Chargers. Smith lead his team with with five catches for 116 yards and a touchdown. "First off, my heart breaks for everybody that was involved, the family of the young lady that lost her life," Smith said. "It was rough at the beginning, but just coming in every day, being with the guys, they kind of gathered with me, helped me out a lot."
DeVonta Smith said "everybody lifted me up, the whole team"

He said it was a tough week with what happened with Henry Ruggs and he is thinking of the family who lost a loved one pic.twitter.com/dJoqru4EK2

— John Clark (@JClarkNBCS) November 8, 2021
Ruggs is currently facing multiple felony charges, including driving under the influence resulting in death and reckless driving, after an accident in Las Vegas on Tuesday morning. At the time Ruggs was driving at 156 mph with a blood alcohol content twice the legal limit when his car crashed into the rear of a vehicle causing it to burst into flames. The driver, a 23 year old woman and her dog died as a result.
A friendship that helped DeVonta Smith
While attending the University of Alabama from 2017-19, Smith and Ruggs were not just teammates but roommates as well, constantly challenging each other to improve their game. According to Smith, they were confidantes to each other. That communication apparently still continued as explained that before their Week 7 matchup when the Eagles met Raiders, he and Ruggs communicated daily as part of a group for former Alabama receivers. He also revealed that they would even play video games together just as they had done in college days. Smith went on to add that it was Ruggs who helped him with his NFL transition. Asked how difficult it was for him to play on Sunday, Smith said "It kind of gave me a bigger purpose, just going out there, playing for my brother, knowing he can't play right now."
What do we know about Henry Ruggs now?
Shortly after the news of the crash went public, Ruggs was released by the Las Vegas Raiders. He was later released from hospital and booked into a Las Vegas jail. While the extent of his injuries is not known it is believed that Ruggs suffered a leg injury. His girlfriend who was in the car at the time and has since been identified as Kiara Je'nai Kilgo-Washington, underwent surgery on Tuesday for a severe arm injury according to authorities.
Eagles QB was also Ruggs' teammate
During two seasons at Alabama quarterback Jalen Hurts played alongside Ruggs. He also opened up on the effect that the crash had on him. "Obviously, I have a lot of love for DeVonta. I love him like a brother. I have a lot of love for Henry Ruggs as well. I love him like a brother," he said. "My 'Bama brother. It's tough for all of us to experience what we experienced this week, how tragic of a situation it was. But we're all warriors and we all see it through. DeVonta made some big-time plays today and he'll continue to do that for us."
Mick Akers: Eagles QB Jalen Hurts on former Alabama teammate Henry Ruggs' fatal DUI crash. "It hurts my heart for everybody that's involved."pic.twitter.com/YE7v8t2SnQ

via Mick Akers

— Bill Porter (@BMack764) November 3, 2021
Smith added that he had in fact talked to Ruggs since the accident, saying that they "discussed everything." He indicated that Ruggs was "in good spirits." "I'm just glad that he's himself, he's gotten himself together and he's not just down on himself," Smith said.
The reigning Heisman Trophy winner went past the 100-yard mark for the second time this season tying the game at 24-24 late in the fourth quarter with his second touchdown of the year. Unfortunately for the Eagles, it wasn't enough as the Chargers field goal response gave them a narrow victory leaving the Eagles with a record of 3-6.