NFL
Bears LB Marsh denies taunting and accuses Corrente of "hip-checking"
The Pittsburgh Steelers did just enough to get past the Chicago Bears but Cassius Marsh was unhappy with official Tony Corrente.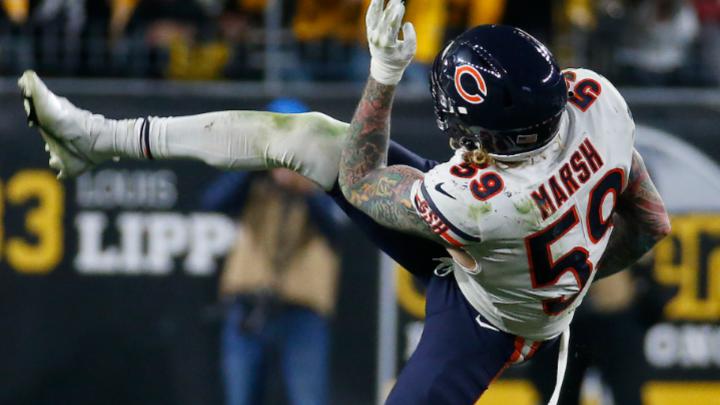 Cassius Marsh has accused Tony Corrente of "hip-checking" him prior to the official flagging the Chicago Bears linebacker for taunting in the fourth quarter of their defeat to the Pittsburgh Steelers.
What caused the Marsh's flagging?
The incident occurred shortly after Marsh followed a sack on opposing quarterback Ben Roethlisberger with his custom spinning-jump kick celebration.
#Bears OLB Cassius Marsh took exception to the ref "hip-checking" him. He discusses his taunting penalty here. He said he has never been flagged for his sack celebration before. pic.twitter.com/bG4BEJFoj7

— Sean Hammond (@sean_hammond) November 9, 2021
Marsh then made contact with Corrente having moved towards the Steelers' bench. The official produced a flag and the Bears were penalized 15 yards.
The Steelers would go on to a kick what would become a crucial field goal for a 26-20 lead, in a game they won 29-27 to move to 5-3 for the season.
Marsh denies taunting and accuses ref. of "hip-checking"
Reflecting on the incident after the game, Marsh said: "On my way to the sideline, I got hip-checked by the ref. It's pretty clear.
"If I was to do that to a ref or even touch a ref, we get kicked out of the game and possibly suspended and fined. I just think that that was incredibly inappropriate.
"I think that one was just bad timing. It's pretty clear to everybody who saw it that I wasn't taunting.
"I've been doing the celebration my whole career. It's just sad to see stuff like that happen in a close game like that."
Corrente reafirms his decision
Corrente himself insists the contact with Marsh had no part to play in his decision to make the call.
"First of all, keep in mind that taunting is a point of emphasis this year," Corrente said in a pool report.
"And with that said, I saw the player after he made a big play, run toward the bench area of the Pittsburgh Steelers, and posture in such a way that I felt he was taunting them.
"I didn't judge [the contact] as anything that I dealt with. That had nothing to do with it. It was the taunting aspect."
Roethlisberger not enthusiastic about Steelers play
Justin Fields had led the rallying Bears (3-6) to a 27-26 advantage with less than two minutes remaining, dazzling with a 16-yard pass to Darnell Mooney during the closing stages as Roethlisberger and the Steelers were left with work to do.
Roethlisberger (21-of-30 passing for 205 yards and two touchdowns) fuelled a seven-play drive to get Chris Boswell into position for a game-winning field goal – the Steelers snapping a three-game skid against the Bears as Cairo Santos, who had made 40 consecutive field goals, four short of the all-time record, failed with a 65-yard effort in his reply.
"We're finding ways to win the game," Roethlisberger said.
"Played well enough. Not great. But offensively speaking, we're just doing enough right now."