NFL
What American football team does LeBron James support?
LeBron James is an undisputed superstar in the NBA, but he is an aficionado of American football as well. Which NFL team does he root for exactly?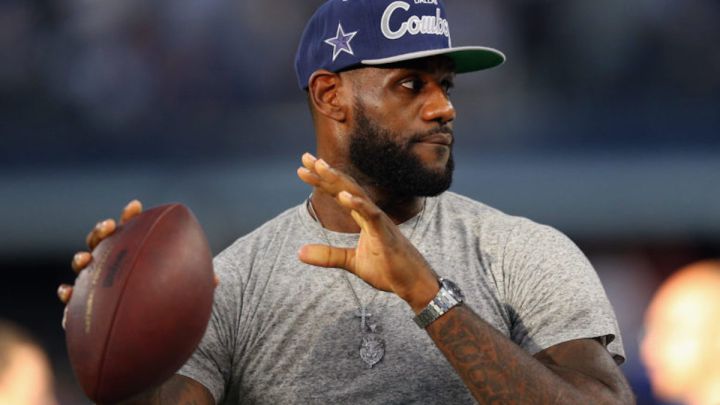 NBA superstar LeBron James is known for his superb skills on the basketball court, but he is also a fan of many other sports- American football included. He has been known to post photos of the NFL games that he watches on social media.
However, his allegiance to teams of the league has changed through the years, making people wonder which one he actually cheers for.
Other NFL stories
Potential NFL star
King James has long had a love affair with the sport, which he played in high school as a wide receiver, even being named first team all-state.
He could actually have had a career in the NFL, having been offered contracts by Dallas Cowboys owner Jerry Jones and Seattle Seahawks head coach Pete Carroll in 2011 during the NBA lockout.
Bye bye Cowboys
LeBron grew up as a fan of the Dallas Cowboys and has shown his support for the team, wearing their merchandise.
He's also been seen watching Los Angeles Rams games, although that might just mean he was a viewer of convenience since he both lives and works in Los Angeles.
As of his last declaration on ESPN's Monday Night Football with Peyton and Eli, his heart belongs to his hometown team, the Cleveland Browns. This is understandable since Cleveland is only some 40 miles away from the city of Akron where he was born. He also played with the Browns' NBA counterpart, the Cleveland Cavaliers, and was in fact the team's first round draft pick.
The 36-year-old has been spotted supporting the Browns during their recent games, lending credence to his pronouncements that he backs the team.
The four-time NBA MVP may be cheering for Cleveland at the moment, but his loyalty might be tested with the way the team has been performing this season.
The Browns currently sit at the bottom of the AFC North standings at 6-6.