Senior Bowl 2022: time and how to watch online and TV
The Senior Bowl has been pushed back a week because of changes in the NFL calendar. Here's how to watch the game that showcases elite draft prospects.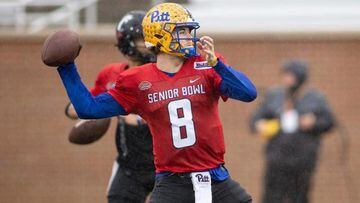 Held in Mobile, Alabama, the Senior Bowl is the all-star game for college football, and is seen as the unofficial start of the NFL Draft season. It had traditionally been held in January since its inception in 1950, but this year it has been pushed back a week because of changes in the NFL calendar.
American vs. National live online: stats, scores and highlights | Senior Bowl.
Other NFL stories:
Outstanding players from all over the country who have completed their college eligibility will exhibit their talents and get a chance to make connections with NFL coaches and decision-makers.
Preview for the draft
The players will be divided into the American and National teams. They will have a few days of practice, from Feb. 1 to Feb. 3, with sessions spread out in a way that the two teams will find themselves on the field at different times.
These practice sessions are an important part of Senior Bowl from an NFL Draft point of view, as the athletes are exposed to coaching from NFL teams. The New York Jets' coaching staff will lead the National Team, while the Detroit Lions' coaching staff will direct the American Team.
Star college quarterbacks
Former Pitt quarterback Kenny Pickett will lead the National Team. He recently ranked third in votes for the Heisman Trophy and brought the Panthers to an ACC Championship.
Liberty quarterback Malik Willis will steer the American Team. He is expected to be selected in the first round of the draft, possibly by the Buccaneers, Commanders, Giants, Saints, Steelers, or Titans, who all could be in the market for a quarterback.
Senior Bowl 2022
Date: Saturday, Feb. 5
Time: 2:30 p.m. ET / 11:30 p.m. PT
Venue: Hancock Whitney Stadium, Mobile, Alabama
How to watch
TV: NFL Network
Stream: fuboTV
You can also follow our Senior Bowl 2022 live text coverage and commentary right here on AS USA.