Sweden 81-84 Slovenia summary: FIBA Basketball World Cup 2023 qualifier
Sweden 81-84 Slovenia
Cheers for joining us today for this riveting World Cup qualifier as Sweden pushed Eurobasket champions Slovenia all the way but just fell short in the final minutes of the action.
Luka Doncic was the star attraction in Stockholm and the Dallas Mavericks man delivered the good for his side hitting 31 points as Slovenia progress to the next stage of the qualification process for the 2023 FIBA World Cup.
FT at the Hovet Arena: Sweden 81-84 Slovenia
All over in Stockholm and heartbreak for Sweden as they just fall short after a huge battle with the mighty Slovenia with the Dragic brothers and Luka Doncic.
Dragic sinks the two free throws and Slovenia lead by 3
Sweden foul with 2.8 on the clock...
SWE 81-82
Drama here in Sweden as the home side are gifted two chances to hit threes and spurn both !
Four seconds left and Slovenia have the ball
What a battle we've had this evening in Stockholm and a game that will live for some time in the memories of Sweden fans... They've pushed the current Eurobasket champions all the way.
Sweden call a time-out with just over 30 seconds on the clock.
Dragic bags a three but Pantzer replies as Sweden are awarded two further free throws...
SWE 79-77 SLO
Doncic fouls Pantzer and Sweden are awarded two free throws... Pantzer drops both as Sweden take a lead
Sweden draw level as Brigander drops an alley-oop to make it 75-75... Slovenia call a time-out...
31 points from the Dallas Mavericks man tonight
SWE 71-75 SLO
Sweden pull it back to just 2 points from being 12 down at the start of the quarter.... Just as we say that Doncic nets a basket....
SWE 66-73 SLO
...and just when you think Sweden have blown it, the home side claw themselves back into contention once again
Nikolic bags the first triple of the quarter as Sweden call a time-out... The home side trailing by 12 ...
SWE 61-70 SLO
Doncic takes a break as pressure falls on Sweden to keep within touch with time running down
Sweden 61-70 Slovenia
29 points from Luka !
Slovenia six points ahead as we head towards the end of the third quarter... Slovenia still looking solid but Sweden keeping in touch with the current Eurobasket champions.
Sublime play from Doncic as the Mavs star hits his 29th point finding the basket as he falls backwards.... what a player this 23-year-old ....
Doncic has been on court for 26 of the 27 minutes of game time
SWE 54-60 SLO
Sweden refuse to roll-over and once again dig deep to claw their way back into the contest
Hakanson the star man for Sweden on 16 points
Critical time of the game for Sweden and impressive that the home side maintain their focus and keep faith n the game plan that has served them so well up to this point.
Doncic now on 22 points !
SWE 49-56 SLO
Sweden call a time-out as the visitors start to generate a seven point lead....
Doncic and Dragic have 34 of the 46 points racked up by Slovenia
We're back in action at the Hovet Arena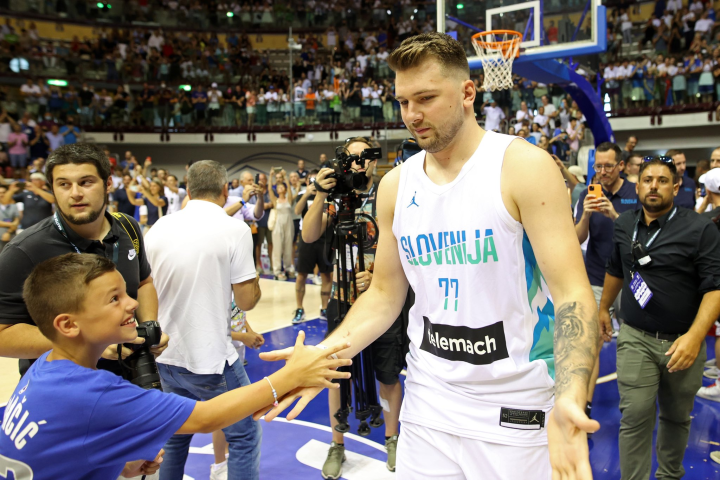 Doncic's numbers at the break
The Dallas Mavs star has begged 18 points with 7 rebounds.... 2 assists and four turnovers. Doncic has hit the highest points tally at the Hovet Arena
Nowitzki watching the action in Stockholm
Former Mavs star Dirk Nowitzki (currently working for the Dallas franchise in an advisory capacity) is watching the action in Stockholm tonight and even joined in the baiting of Doncic with an 'over-rated' chant.
Sweden 41-41 Slovenia
Doncic gives possession away cheaply and Sweden steal in for two points in the final seconds of the haf to tie the game.
It's been a pulsating half in the Hovet Arena where the home side acquitted themselves admirably despite a poor half.
SWE 37-38 SLO
A minute of the half remaining in Stockholm and Sweden very much in this contest. Ludwig Degernäs will be the happier of the team coaches as we approach the interval.
SWE 37-34 SLO
Time-out called by Sweden....
Hakanson with an incredible triple from distance gives Sweden a three point lead
SWE 32-32 SLO
Doncic levels things...
SWE 30-29 SLO
Sweden take the lead for the first time in the contest as Pantzar steals and bags two points
SWE 26-27 SLO
It's been a colossal effort from the home side as Doncic returns to the action after just 60 seconds on the bench
Doncic gets his first break of the evening as he is replaced by Zoran Dragic
SWE 24-25 SLO
Aleksander Sekulić calls a time out as Sweden bring it back to just one point....
SWE 19-25 SLO
Nikolic bags three points to extend Slovenia's lead. Doncic remains on the court and yet to be subbed by Aleksander Sekulić
SWE 17-22 SLO
End of Q1 and Slovenia very much in charge but every credit to the home side who refuse to let the visitors open up a considerable lead with Rush and Hakanson impressive for the home side.
SWE 17-22 SLO
Erik Rush drops an incredible 3 from the side and Sweden are back in the mix with Slovenia stil just five points ahead
SWE 14-19 SLO
Slovenia call a time-out as Sweden manages to claw the game back to just five points as Hakanson sinks a morale boosting triple.
SWE 7-15 SLO
Slow offensive start for the home side who have no answer for Slovenia's stars Doncic and Dragic.
Sweden call out a time out after four minutes as Ludvig Degernas gives words if advice to his side as his side are 2/8.
SWE 5-10 SLO
Both Doncic and Dragic with all Slovenia's points so far
SWE 5-8 SLO
Solid start from both teams with Slovenia ahead, Doncic sinking his first triple of the night.
Off we go as Slovenia win the tip-off.....
The tip-off at the Hovet Arena is just seconds away as the 8,000 fans packed into the arena await in eager anticipation to see Doncic at close quarter.
Both Doncic and Dragic start for the Slovenian side this afternoon.
First up at the Hovet Arena is the national anthem of both participating nations, the guests Slovenia first, followed by today's hosts Sweden.
Doncic star Stockholm attraction
The Dallas Mavericks PG is the undoubted star attraction today as Slovenia face Sweden. Doncic's presence has seen the game at the Hovet Arena being a sell out as fans clamour to see one of the biggest names in the NBA.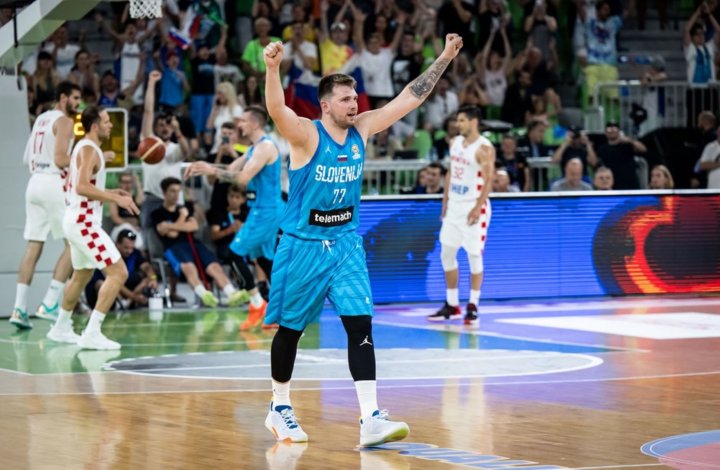 50th vs 5th in FIBA ranking
Sweden are very much the underdogs today with the home side ranked 50th in the lastest FIBA rankings. Slovenia current Eurobasket champions are currently ranked fifth best in the world.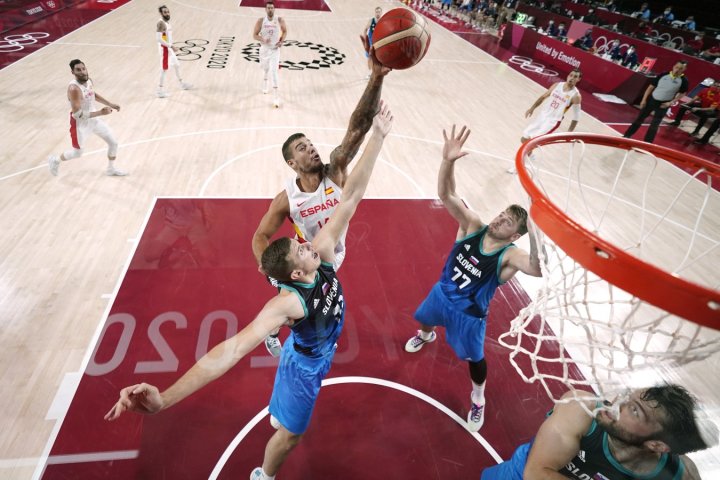 Dragic returns
Last Thursday's win over Croatia saw Goran Dragic back on the court in a Slovenian jersey after an almost five-year break and played his last game for his country in Ljubljana.
Luka Doncic was superb for the hosts, posting a near triple-double with 21 points (3/5 2PT, 3/9 3PT, 6/8 FT), 8 rebounds, 10 assists, 3 turnovers, 2 steals, and 28 PIR.
Goran Dragic scored 19 points (8/12 2PT, 0/4 3PT, 3/7 FT), 4 rebounds, 3 assists, 1 turnover, 1 steal, and 14 PIR.
Last meeting between Sweden-Slovenia
The last time both nations went head to head was in Kopen on Sunday 28 November 2021 when Slovenia ran out with a 94-89 win. Obviously the Slovenian side were without NBA stars Luka Doncic and Goran Dragic.

Group C standings
This is how the Group C table looks ahead on tonight's action with Sweden-Slovenia coming up first and later tonight Finland travel to Croatia. Doncic's Slovenia and Finland have already guaranteed a place in the next stage with the final spot up for grabs. Sweden need to beat Slovenia in Stockholm to stand any chance of progressing.
No Spires for the Swedes
The Swedish side will be without free agent Nick Spires with a sprained wrist ruling out the former Real Betis forward.
The Swedes need a win to stand a chance of advancing with Slovenia having already guaranteed their place in the next stage if qualification as 12 sides from Europe search for a place in the 2023 World Cup which will be staged in the Philippines, Japan and Indonesia.
Hello and welcome to our live coverage of the FIFA 2023 World Cup qualifying game from Stockholm as Sweden welcome Slovenia.