LALIGA SANTANDER
No Busquets injury return before Europa League game against Manchester United
Sources have told AS that doctors have ruled out the use of painkiller injections on his ankle ahead of the game against Manchester United.
Sergio Busquets will not be available next Thursday in the first leg of the Europa League against Manchester United. The medical services, as AS have been told, have ruled out the possibility of using painkiller injections in his left ankle, meaning he will not be able to participate in the first match of the two-legged tie.
The plans regarding the Blaugrana captain are to continue his recovery and have him available for the second leg that will be played a week later at Old Trafford. This means that Busquets will miss a total of three games: Villarreal, Manchester and Cádiz.
The midfielder suffered a sprain during the first few minutes of the game against Sevilla. The player left the field limping and visibly dejected, aware that the injury was not minor. Subsequent tests confirmed a grade two sprain to his ankle: fifteen days out at least.
Check out: Is another USA Clásico being prepared? In which state?
Pain injection no longer an option
At first, the doctors considered the possibility of using the painkiller to shorten the return time for Busquets, but this option was finally ruled out, as it could have counterproductive consequences and even worsen the degree of the sprain. The bad news is that Sergio Busquets is now totally ruled out for the first leg against Manchester.
There is no doubt that it is a huge loss for Xavi, since Busquets has become an extension of the manager on the pitch. Despite this, Xavi knows he has a genuinely sound option to cover his position in the next games: Frenkie de Jong. In his last appearances as a defensive midfielder, he has not only performed the role successfully, but he has also shown that he has more than enough talent to take over from the captain for the future, if Busquets finally decides that his future lies elsewhere.
More detail:
- Sergio Busquets can choose between MLS and Al Nassr
- How much are Al Nassr willing to pay Sergio Busquets? (Answer: a lot)
- Xavi on the verge of breaking Pep Guardiola's Barça record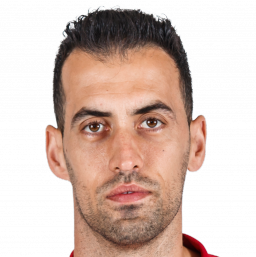 LaLiga Santander 2022/2023
*Data updated to date February 8th, 2023