Sergio Busquets set to choose between MLS and Al Nassr
The Spanish international's contract with FC Barcelona expires in the summer and he has several offers on the table from different clubs.
Sergio Busquets is one of the hugh profile free agents that will be available in the summer with his current contract with FC Barcelona expiring on 30 June 30. There has been little talk about the La Liga giants wanting to extend his stay at Camp Nou and it appears that the Spanish international will be moving on at the end of the season.
Busquets could join Ronaldo
Barcelona's president Joan Laporta confirmed that the club is looking to sign 25-year-old Ruben Neves to replace Sergio Busquets if he leaves in June. The veteran midfielder has been linked with a move to Major League Soccer and Inter Miami as his possible destination.
The David Beckham-owned franchise would welcome the 34-year-old with arms wide open and Busquets has verbally said in the past that he is attracted by the idea of playing in MLS. Inter Miami has started to talk with Busquets' agent about the contract that they are willing to offer him to come to the United States.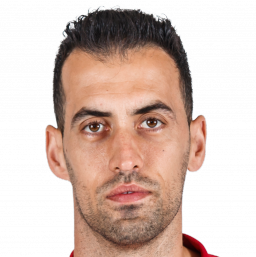 The dream of many fans to see Sergio Busquets in MLS might end sooner than expected, because according to ESPN, Saudi Pro League side Al Nassr have turned their attention to the Barcelona midfielder. The Saudi side are ready to offer him close to 13 million euros per year to play alongside Cristiano Ronaldo.
The arrival of the Portuguese ace has opened the doors for Al Nassr to lure the biggest players in the world to play in Saudi Arabia. Another player that the Riyadh club is looking to sign in the summer is the one-time World Cup winner N'Golo Kante who will be out of contract in June and he is ready to leave Chelsea.