Pelé hospitalized in Brazil live: Latest news about his health
Pelé hospitalised: live updates
Headlines: Pelé hospitalised
- The King of the Beautiful Game was admitted to a Sao Paulo hospital on Wednesday
- Two of Pelé's daughters posted the information on social media
- Hospital Israelita Albert Einstein released a statement saying that Pelé is in stable condition
​​​​​​​- The legendary player has been treated for a colon tumor since September 2021
Interactive Pelé exhibition
Pelé and Diego Maradona are indisputably two of the greatest exponents of the Beautiful Game to have ever lived. And therefore it makes perfect sense that an interactive exhibition has been set up for them, and South American football in general, in the heart of Doha's Msheireb Downtown area.
Visitors can savour the victories of legends from the continent as well as test their football skills by participating in different challenges. Aspiring footballers can check their shooting accuracy by trying to target marked corners of a goal. Or they can test their dribbling and juggling skills while a timer is on.
After medical evaluation, the patient was taken to a common room, without the need for hospitalization in a semi-intensive unit or ICU.

The former player has full control of vital functions and stable clinical condition.
Pelé being Pelé
These days, there's rarely a moment or angle that is missed of the great football stars showcasing their magic. When Pelé was playing, coverage was more modest, with much of his genius only being witnessed by those pitchside on the day.
That said, we still have some footage to remember and admire. Here's a small compilation.
Explaining what Pelé means to sports and represents for Brazil
"Sometimes I feel obliged to try to explain what Pelé means to sports, what he represents for Brazil, what he did for the black people of our country... because I was there, I saw him, I know, I was touched by his magic, I was graced by his art and joy. It is like the sea and the sky and love."
Barbara Gancia, columnist for Folha de S Paulo
You taught us to Believe in Greatness and today we are all with you.

¡Strength King Pelé!
A tribute to The King Pelé
Pelé shared this tribute to his achievements on his Facebook page prior to the start of the World Cup, thanking Daniel J Watts.
After medical evaluation, the patient was taken to a common room, with no need for admission in a semi-intensive care unit.
Hospital reports on condition of Pelé's health
The Brazilian News Center Radio reports that on Tuesday afternoon Hospital Israelita Albert Einstein, where Pelé is being treated, released a statement on the soccer legend's condition.
After being admitted yesterday for a reassessment of the chemotherapy treatment of the colon tumor, which was identified in September 2021, Pelé is now in full control of his vital functions and his clinical condition is stable.
Message from Pelé's daugter Flavia thanking all concerned about father's health
Two of Pelé's daughter's have taken to social media to express their gratitude to everyone for their concern over the health of their father. Flavia wants to reassure everyone that her father is doing well and having some tests done.
She says that she is sorry for all the confusion that has been generated about her father's health, but is very grateful for the outpouring of emotion and concern.
​​​​​​​Her message reads:
Thanks for the care and concern 🙏🏽✨✨✨✨all is well !!!! ⚽️
Let's go Brazil !!!
Fans showing support
Many have taken to social media to send their thoughts and prayers to Pele and his family.
Pele updates
Pele is currently under the care of specialized doctors as they look to stabilize his condition. The 3-time World Cup winner's family is "worried" for his health.
Regarded as one of the greatest footballers of all time, Pelé is Brazil's all-time leading goalscorer with 77 goals in 92 games. He is also the top scorer of his former team Santos, with 643 goals in 659 games.
Down memory lane with Pele
As news broke about Pelé's alarming admission to the hospital, we can't help but remember all the amazing achievements the Brazilian has reached, all with a humble attitude.
Not only was Pelé the record holder for the most number of Ballon d'Or trophies, but also the youngest winner, at the age of 17, surpassing Ronaldo Nazário, who had won in 1997 at the age of 21 years and three months.
When France Football held the ceremony to celebrate him in 2014, Pelé's humility and grateful character were spotlighted. He thanked his teammates and workers from the clubs and national team for the conquest and made sure to acknowledge everyone behind the scenes. "I promised my family that I was not going to cry, but this is too much. I just have to thank God for giving me the health to play for so many years. And I didn't play alone. All I won was next to my friends. People remember the players, but we can't forget the people who prepare the boots, the physios, the masseurs... I share these trophies with all of you," Pelé said through tears.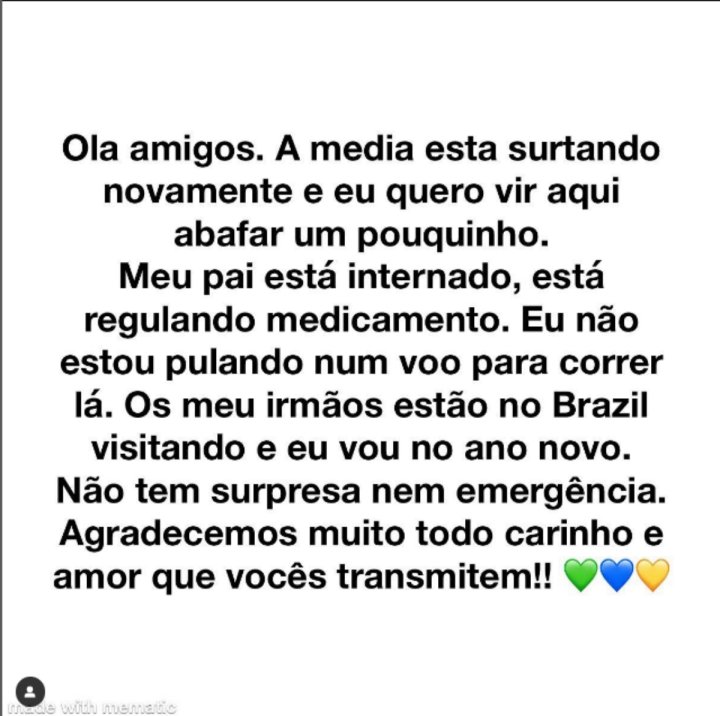 The Instagram post from Pelé's daughter, Kely Nascimiento
The translation reads:
"Lots of alarm in the media today concerning my dad's health. He is in the hospital regulating medication. Some of my siblings are visiting Brazil. There is no emergency or new dire prediction. I will be there for New Years and promise to post some pictures. Really and truly appreciate the concern and love."
Pelé in hospital with "worrying health", say reports
Football legend Pelé has been hospitalised, according to reports from ESPN Brazil. The former Brazil footballer was reportedly rushed to the medical facility in São Paulo after suffering "swelling" over his whole body and doctors have described his condition as "decompensated heart failure".
ESPN also say that doctors are concerned for the 82 year-old's health as he is suffering "mental confusion".
How serious is Pelé's latest hospitalisation?
The truth is at this stage we don't know.
The soccer legend is no stranger to health scares. The 82-year-old had a tumor removed from his colon in September 2021 and has been in and out of hospital.
ESPN Brazil reports that the chemotherapy treatment was not working as intended and his condition was worsening.
​​​​​​​The ESPN report was made before the Instagram post by his daughter.
Pelé in hospital
Good afternoon, and welcome to AS USA's coverage.
Brazilian football legend Pelé is in hospital. His daughter made an Instagram post saying their is no emergency but outlets are reporting his condition is "worsening."