EURO 2016
Cristiano, Zidane, Iniesta included in Euro 2016 Paris street art
The Paris town hall has been promoting urban art as part of the overall European Championships campaign and eleven graffiti artists have been selected to paint.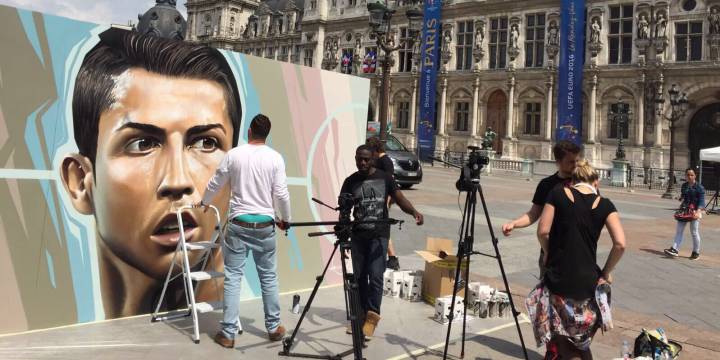 Cristiano Ronaldo Ballon d'Or 2016
Cristiano, Zidane, Iniesta, Puyol...four faces that cannot be missed if you're visiting the 4th district in Paris during the first week or so of the European Championships. Their faces will be emblazoned in the Hôtel de Ville square until the 19th of June as part of the Paris town hall's promotion of street art combined neatly with the continent's football showpiece. This fusion is the second edition of Street Culture and out of the eleven graffiti artists selected to be involved one Spaniard made the list, Belin. The artist from Linares was given the responsibility of painting Cristiano Ronaldo, Portugal's captain and possibly one of the main stars of the tournament.
After voting took place on the official Uefa website, the stars to be immortalized were decided. The list of Euro legends and their artists are: Buffon (Kristx); Maldini (Macs), Beckenbauer (Kwim), Puyol (Pyrate), Lahm (Bonzai); Zidane (Alex & Brok), Pirlo (Doudou Style), Iniesta (HMI); Cristiano (Belin), Henry (Tore) and Van Basten (Thia).
The artist, Belin, has taken his work around the world included the United States, Mexico, the Netherlands, Germany and Israel. And as well as painting some of the stars of football, he can also claim to be owned by at least one of them. Spanish captain, Sergio Ramos has purchased one.