Higuaín: "I couldn't stand another minute with De Laurentiis"
The Argentina international was officially presented as a Juventus player on Thursday following his 90-million-euro move from Napoli. Milan-Juventus live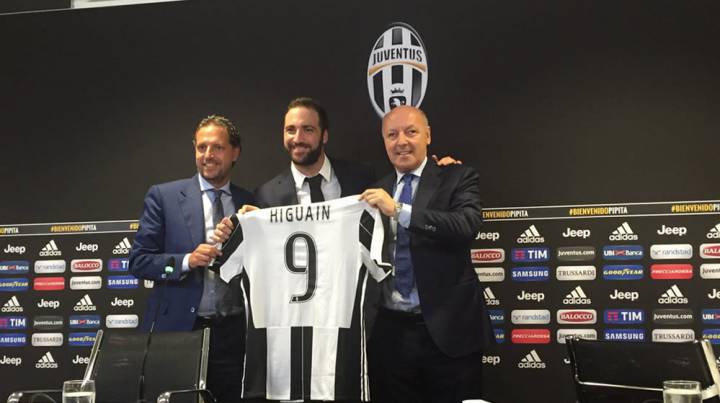 Gonzalo Higuaín was officially presented as a Juventus player on Thursday. "I made this decision for my own reasons and now I'm only focused on Juventus, but I'd like to send my best wishes to the napolitanos who have been very good to me. I understand they are angry, I've read a lot of insults, but I had to make this decision and I'm very happy."
Why did you choose Juve?
It's a great team with a winning mentality and an incredible project. I can only thank Agnelli, Marotta and Paratici for the efforts they made to sign me and I hope I can prove that they did not make a mistake.
Sarri said you could have at least called…
It was my choice to keep quiet, to enjoy my holiday with friends and family without thinking about all of this. I can only say nice things about him, he's been a great coach to me and helped me to improve. If he's angry with me I ask him for forgiveness.
De Laurentiis also criticized you. Do you have anything to say to him?
I can only say that now I have no relationship with him because his way of thinking isn't the same as mine. If I made this decision it's also because he pushed me into it.
Did you choose Juve because the club is targeting the Champions League?
I made this decision because it was the best thing for me. It wasn't easy, I spent days discussing it with my friends and family. This is a club with a winning mentality.
Is there a Juventus player you want to emulate?
When I was at Madrid one of my favourite players was Del Piero. He was a big inspiration to me and I watched Juve to see him play.
How does it feel to be the highest paid player in the history of Serie A?
Truthfully, it's hugely satisfying, it hasn't really sunk in yet and I hope to enjoy it to the full and win a lot of titles here. I have to show why I am being paid so much.
People have talked a lot about your new house…
You lot are very good at making things up. I don't know how you can have seen it if I've never been to Turin before…
What could De Laurentiis have done to persuade you to stay in Naples?
When my three years there came to an end I felt it was time for a change, for reasons that happened before. I want to thank the tifosi and my teammates, but not him. I can't say more than that.
Was it a lack of ambition at Napoli?
I no longer had any kind of relationship with De Laurentiis, I can't be clearer than that. He didn't treat me well and we didn't have a relationship. I couldn't stand to be around him for another minute.