Champions League and Europa League draws: as they happened fixtures, reaction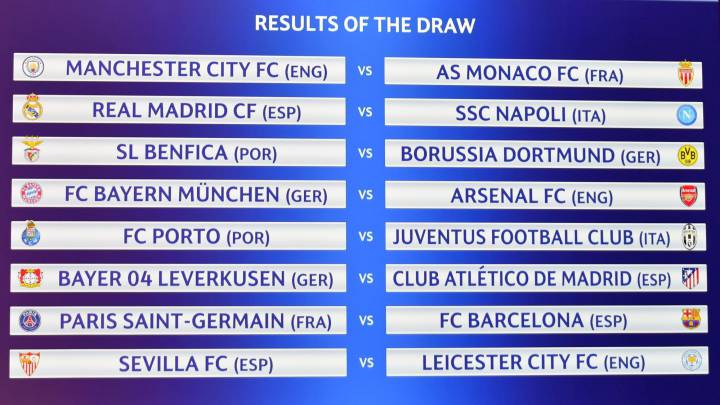 Follow the coverage of Europa League round of 16 Draw
Stay with AS English for all post Champions and Europa draw reaction and we'll bring you the confirmed match dates as soon as they are confirmed via UEFA.
Many thanks for your time this morning, cheers and all the best!
13:30 | And that concludes the draw for the Europa League 2016/17 round of 32.
Reminder of Spanish team's rivals: Athletic v Apoel / Villarreal v Roma and Celta v S.Donetsk
13:29 | PAOK vs. Schalke 04
13.28 | Hapoel Be'er Sheva vs. Besiktas
13:27 | AZ Alkmaar vs. Lyon
13:26 | Borrusia Monchengladbach vs. Fiorentina
13:25 | Krasnodar vs. Fenerbahce
13:24 | FC Rostov vs. Sparta Prague
13:23 | Gent vs. Spurs
13:22 | Olympiakos vs. Osmanlispor
13:21 | Celta vs. S. Donetsk
13:20 | Ludogorets (Bulgaria) vs. FC Copenhagen
13:19 | Villarreal vs. AS Roma
13:18 | Man. United vs. Saint Etienne
13:17 | FC Astra Giurgiu (Romania) vs. Genk (Belgium)
13:15 | Anderlecht vs. Zenit
13:14 | Legia Warsaw vs. Ajax
13:11 | Preamble over, first ball out Athletic Club who face....Apoel Nicosia
13:10 | Eyes down .... draw about to start
13:06 | Giorgio takes the stage again with this years Europa League final to be staged in Stockholm with Patrick Andersson as UEL ambassador.
13:05 | Games for this round of 32 to be staged on Feb. 16 and 23.
13:02 | As is the case with the Champions League, teams hailing from the same federation cannot face each other at this round of 32.
13:00 | Sevilla current holders as we know will not defend their title as they made it through to the last 16 of the UCL.
12:55 | All LaLiga teams in Pot 2 meaning they can face the competitions stronger sides with the likes of AS Roma, Spurs, Zenit, Fenerbahce, Besiktas lurking as possible rivals.
12:55 | Back to Nyon imminently for the Europa League draw. 3 Spanish representatives in Athletic, Celta and Villarreal.
12:52 | Uefa have still yet to confirm the kick-off dates for the round of 16 matches.
12:50 | Reaction from Spanish teams to the UCL draw seems generally positive with FC Barcelona facing, on paper at least, the toughest test.
We'll bring you full reaction and draw information imminently on http://en.as.com/en/ and we'll be back at 12:55 for the Europa League draw. Pop the kettle on and we'll see you all in 20-30 minutes.
Recap: Champions League 2016/17: Round of 16 draw
Manchester City v AS Monaco
Real Madrid v Napoli
Benfica v Dortmund
Bayern Munich v Arsenal
Porto v Juventus
Bayer Leverkusen v Atleti
PSG v Barça
Leicester City v Sevilla
12:19 | which leave Leicester City v Sevilla.
12:18 | PSG to face FC Barcelona
12:18 | Leverkusen set to face Atletico Madrid
12:16 | Porto are to face Juventus...
12:15 | Bayern to face Arsenal ....
12:14 | Benfica set to face....Borussia Dortmund
12:13 | Real Madrid next out and Zidane's men face Napoli
12:11 | Off we go ... first team out is .... Manchester City and Guardiola's side face Monaco
12:10 | False alarm...some draw format preamble as the match dates are confirmed
12:09 | Preamble over...draw time ....
12:08 | Ruud Gullit presented by Marchetti and the Dutchman and the UEFA representative have a brief natter about the Dutch player's former Champions League conquests.
12:07 | Worth reminding ourselves that all top seeds from the corresponding group stages have succesfully made it thorough to today's round of 16 draw.
12:05 | The Road to Cardiff, chapter two is about to unfold...
12:05 | The draw procedure reminder...In this stage, no team can play a club from their group or any side from their own association.
12:01 | Pedro Pinto is our MC this morning in Nyon with the draw itself to be made by Ruud Gullit and Uefa Deputy General Secratary Giorgio Marchetti.
12:00 | We're live in Nyon as the unmistakable Champions League anthem gets an airing.
11:58 | ...with the return legs to be staged on March 7/8 and 14/15
11:58 | Feb. 14/15 and 21/22 are the dates for the first legs of the next round..
11:55 | Premier League holders Leicester City are the preferred rival for Sevilla fans with the Andalusian outfit keen to avoid Borussia Dortmund.
11:52 | Pep Guardiola's Man City are the side Atleti hope they don't meet in the round of 16 with FC Porto being the ideal option for Cholo Simeone's team.
11:51 | Benfica are the preferred rival for Barcelona with the Catalan side anxious to avoid Bayern.
11:50 | So ten minutes to go before we head to Nyon. Leicester City are the preferred rival for Real Madrid with Juve being the most feared.
11:40 | FC Barcelona remain as bookmakers favourites for the trophy with an average price of 4/1. Benfica and Porto rank outsiders at 101/1.
11:30 | With 30 minutes to go before the balls get rolling in Nyon, a chance to look at some of the new initiatives agreed by Uefa that will affect the competition as of 2018.
11:15 | This year's Champions League final will be held in Cardiff on June 3 with the Europa League final in Stockholm on May 24.
10:45 | Dutch legend Ruud Gullit will be the man responsible for the drawing of the teams for the round of 16 in Nyon this morning.
10:15 | The full "draw menu" for this morning is: 12:00 CET - Champions League draw with the Europa League round of 32 draw at 13:00 CET.
09:30 | No team can play a club from their group or any side from their own association.
09:15 | Today's draw will take place from 12:00 CET in Nyon, with the Champions League first up and the Europa League to follow.
Good morning and welcome to AS English's live build-up and coverage of the Champions League and Europa League 2016-17 knock-out stage last 16 and last 32 draws from Uefa headquarters in Nyon, Switzerland at 12:00 CET.
Champions League and Europa League draws: updates
Group winners
Arsenal (ENG)
Atlético Madrid (ESP)
Barcelona (ESP)
Borussia Dortmund (GER)
Juventus (ITA)
Leicester City (ENG)
Monaco (FRA)
Napoli (ITA)
Runners-up
Bayern Munich (GER)
Benfica (POR)
Bayer Leverkusen (GER)
Manchester City (ENG)
Paris Saint-Germain (FRA)
Porto (POR)
Real Madrid (ESP)
Sevilla (ESP)
---
Champions League draw: live build-up