Barcelona vs Juventus Champions League 2016/17: Match report, goals action
Juventus put on a masterclass of defending and ended up keeping Barcelona scoreless as they failed to make the Champions League semi-final during a frustrating night at the Camp NouSevilla - Barcelona: Copa del Rey quarter-final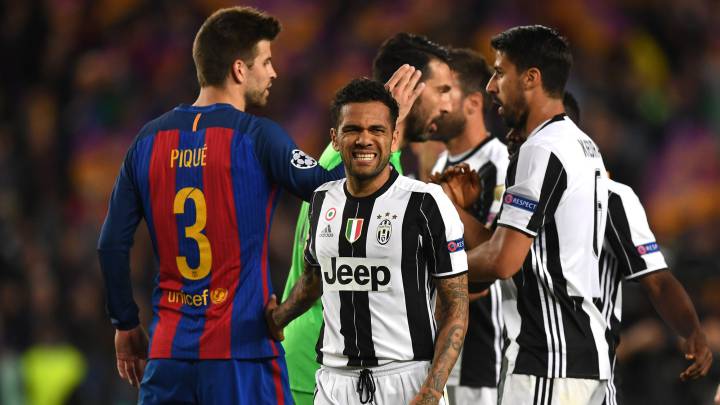 Barcelona 0-0 Juventus: match report
For the first time in 10 years, the Champions League semi-final draw will have neither Bayern Munich or Barcelona's name in the pot on Friday morning. Juventus put on a masterclass of defensive football with some decent counter-attacking to keep Barcelona at bay for 90 minutes at the Camp Nou on Wednesday night.
Barcelona, their manager and the players, knew how big a task it would be to score three against an Italian side and Luis Enrique admitted that they would have to score five if they wanted to advance in the competition. It wasn't to be despite the home side's dominance and opportunites on the night.
They held the ball for 61% of the time, had 15 chances to Juventus' nine but only had one on target, a Lionel Messi effort in the first hald that Gianluigi Buffon dealt with easily. The game threatened to spill out of control in the first half when Miralem Pjanic collided with Lionel Messi and sent him head-first into the turf before Neymar clattered the Bosnian and received a yellow card. Another incident that threatened to get nasty was when Barcelona refused to put the ball out with Mario Mandzukic on the ground and then when Juventus eventually did, they refused to give the ball back to the Old Lady.
Barcelona, you could tell, were desperate. They didn't make any changes at the half and neither did Juventus but it was obvious that Luis Enrique needed to make a move first as Allegri was content with how things were panning out.
As expected, it was as you were in the second half with Barcelona really pouring it on with Juventus shutting up shop and looking even more dangerous on the break. They had chances but still didn't hit the target in the second half. There was a late penalty shout from Sergio Busquets when Alex Sandro handled the ball but even if they had of scored, it was too late for another two. The game petered out with Barça throwing the kitchen sink at it but Juventus not budging. At the final whistle the Barcelona players were distraught, with Neymar in tears.
Barcelona have to regroup and focus on LaLiga now with Luis Enrique at risk of bowing out at a club he has spent so much time and effort on in extremely poor circumstances. Juventus on the other hand, will be confident of beating any of the remaining three teams in the semi-final.
---
AS IT HAPPENED
Barcelona 0-0 Juventus: second half
FT: Barcelona players fall to the ground as they go out of the Champions League. Juventus with a convincing 0-0 draw if there is such a thing. They were never, ever going to let Barcelona back into it after their 3-0 victory at the Juventus stadium last week.
Min 90+1 | Piqué is booked for a late tackle on Chiellini. A really frustrated tackle.
Min 88 | Oh! Alex Sandro threw his hand in front of the ball as Busquets tries to throw in a cross. He puts it out for a corner. The Spanish midfielder wants a penalty but it all happened so fast that it was hard for the referee to see.
Juventus substitution: Asamosh replaces Higuain.
Min 85 | Higuain with a ball out wide to Lemina. He steps inside, has a shot and nearly beats Ter Stegen but the deflection it took on the way out results in a corner for Juventus.
Juventus substitution: Juan Cuadrado, the outlet for Juventus so often tonight, comes off. Exhausted. He is replaced by Mario Lemina.
Min 82 | Juan Cuadrado through on goal but Ter Stegen out like a freight train, chests it down, and starts another attack.
Min 80 | Neymar swings one into the box and Mascherano gets a touch on it but Buffon saves and turns it away. Up the other end and Khedira tries to get it across the box for a handy Higuain goal but he can't. Ter Stegen starts another attack.
Min 79 | Another corner. Sorry for the lack of action but it is literally Barcelona taking shots and cross and Juventus clearing them.
Barcelona substitution: Mascherano comes on in place of Sergi Roberto.
Min 77 | Umtiti goes down after meeting with Higuain as he grabs his throat. Nothing happened though, as the replays show.
Juventus substitution: Barzagli replaces Dybala.
Min 74 | Messi swings the cross in and the referee says it was a corner. Looked like it hit Suárez but very hard to tell. Piqué gets a foot to the corner but Juventus get it out for another corner. The next corner, three in a row, is cleared. Barcelona growing desperate but no matter how hard they try, it´s not getting any better.
Min 73 | Neymar pops it into Alcacer but Chiellini gets the top of his head to it to put it out for a corner.
Min 71 | Juventus break again but can't make it count. Barcelona starting to throw the kitchen sink at it.
Min 70 | Dybala makes his way into the box. His left-footed shot just won't curl enough though.
Min 70 | Messi controls the ball with a hand, it looks like. He plays it back to Sergi Roberto and his left-footed shot goes just inches wide.
Min 69 | Alcacer has the ball to the right in the penalty area. He tries to cross it to Suárez for a tap-in but Juventus clear.
Min 68 | Higuain wins a throw for Juventus as he looks to take some of the pressure of his defenders. It has been pretty constant back there for a while now.
Min 66 | Suárez clips one forward. Juventus put it out for a corner. Buffon fumbles the corner and Suárez sends it to Messi but he puts it over. What a chance despite Juve had men on the line.
Min 63 | Mandzukic gets a booking now. Alex Sandro has the ball stolen by a committed Suárez and he chips the ball past the Croatian before going down in a heap. An experienced free. Barcelona still can't go anything with it though as Neymar arrives late but can't get a head to it.
Min 61 | Piqué leads the attack now. Barcelona might just have too many players forward. Neymar the latest with a shot and he drives over the bar.
Min 59 | Mandzukic, as cool as you like, headers back to Buffon.
Barcelona substitution: Paco Alcacer replaces Ivan Rakitic.
Min 57 | Chiellini fouls Suárez and gets a yellow. Dangerous position here from the free as Messi lines it up. He can't get the ball down as Buffon scrambles over to it.
Min 55 | Rakitic with a pass into Messi and he has the time to turn. He gets a shot away and it is deflected just out by Buffon. That looked so close to going in. Barcelona pushing desperately for that goal.
Min 53 | It's all getting very personal now. Neymar down with an ankle injury after Alves stands on him. Juventus refuse to put the ball out after Barcelona did the same to them in the first half. Cuadrado nearly scores but he is at too tight of an angle and Ter Stegen saves for a corner.
Min 52 | Messi makes a lovely run into the Juventus defense, connects with a one-two with Neymar but ends up taking a touch and driving it over the crossbar.
Min 51 | Neymar skips out wide from a tackle but ends up driving the ball over the crossbar.
Min 50 | Dybala wins the ball back off Jordi Alba. Higuain picks it up and swings it out wide to Cuadrado with Umtiti caught out. He drives a shot across the goals. Just wide.
Min 47 | Neymar literally goes around six players but ends up running it out over the line. Very nice run but he just had too much to do.
Min 46 | Mr. Kuipers gets us underway for the second half.
---
Barcelona 0-0 Juventus: first half summary
It's difficult to know where to start. It has been a hectic affair with Barcelona slowly but surely getting into the game and dominating possession with 61% after 45 minutes. The only difference between this and the PSG game is that Juventus are able to keep the ball up front for longer periods and give their defense a break. They have also not given up the big chances that Barcelona need to score. They are comfortable now and while the home side have had seven chances, only one of them has been on target. Barcelona need some divine intervention at this point because Juventus could play for another 450 minutes and not concede three goals.
Meanwhile in our other game, Monaco are looking comfortable against Dortmund. They are winning 2-0 through Mbappé and Falcao and lead 5-2 on aggregate.
Although maybe you can peruse over five Barcelona comebacks in Europe at half-time.
---
Barcelona 0-0 Juventus: first half
HT: Barcelona surround the referee and are giving out about....something! Piqué first, then Busquets. The two teams make their way to the tunnel. Juventus are here to do a job and are doing it so far.
Min 45 | Rakitic blindsides Khedira as he runs into the penalty area. No penalty. No free. The referee didn't even see it.
Min 44 | A really hardcore sequence of events. Pjanic meets Messi in the air and the Argentine falls straight on his face. Neymar comes to the rescue for his teammate and takes Pjanic down! Booking for Neymar, free for Barcelona. The home side getting desperate.
Min 43 | Neymar with some trickery before he crosses to Suárez. His teammate goes for the chilena buthe doesn't really connect properly.
Min 42 | Mandzukic down after taking a shoulder in the back from Sergi Roberto. Barcelona won't put it out of play and Juve aren't happy when they finally win it back and kick it over the sideline.
Min 41 | Iniesta gets the first booking of the game for chopping down Cuadrado, who was moving at serious pace. Looked like a sore one, and cynical from Iniesta.
Min 40 | Messi dips his hips and goes by a Juve tackle. Sergi Roberto swings in a dangerous cross looking for Suárez. Chielliniputs it out for a corner.
Min 38 | Pjanic drops one over the top to Higuain after a decent spell of pressure by Juventus but the Argentine can't beat Ter Stegen. Decent chance but Higuain has plenty to do given the way the ball bounced to him.
Min 37 | Suárez really not playing well. He tries a cross-field pass to Neymar but it goes ten yards behind him and out for a throw.
Min 35 | A Barcelona corner falls to Suárez at the back post but he falls over himself and puts the ball out of play for a goalkick. It's all so hectic that they have to be getting tired.
Min 33 | Neymar appeared to leave his foot in on Khedira, by accident it looked like, as the former Real Madrid player goes down in a heap. Full steam ahead.
Min 32 | To be fair, Juventus have really stopped attacking. They can't string passes together in the final third and Camp Nou is growing into it. That goal WILL NOT come for Barcelona though and without it, it's all moot.
Min 31 | Messi has a shot that Buffon does well to parry. The little attacker follows up and absolutely drives a shot back in the same direction but it hits the side netting.
Min 30 | Khedira goes down under a challenge from Umtiti. No free and Juve dust themselves off and start again. They haven't had an attack in a while but if this one makes it to half-time at 0-0, Juventus will continue to frustrate their opponents and won't mind soaking up all this pressure.
Min 29 | Neymar wants a free now and he turns and does one of those throwing motions in the direction of the referee. Another stern warning. Corner for Barça but it is cleared.
Min 27 | Barcelona getting frustrated. Suárez fouls Bonucci with a slightly late tackle inside the box after losing possession. He shouts at the referee but it doesn't change much. Still a free to the defender.
Min 26 | Busquets getting a very stern talking to by the referee. He wants a free for a pull on a jersey somewhere but Barcelona are penalised. The referee calls him over and gives him a final warning, you would think, before the cards are whipped out.
Min 24 | Dybala put through by Mandzukic. He makes it to the ball just second before Ter Stegen but the whistle sounds and he was offside! Close, but the refs correct in this instance.
Min 23 | Andres Iniesta just left Chiellini for dead as he stopped and swivelled as the Italian slid into the hoardings, almost. He cross but Juventus remain resolute and not giving up massive chances. Still comfortable with their 3-0 lead.
Min 21 | Piqué all the way up the field. He has left his station already. Jordi Alba out the left again and he crosses to Neymar this time. The Brazilian's shot goes wide. All the action taking place down the left as Barcelona are playing and the right as Juve's side.
Min 20 | That would have given Juventus a massive fright. Jordi Alba crosses, Suárez gets a toes to it and it falls to Messi. The Argentine drives a shot just inches wide. Juve breath a collective sigh of relief.
Min 19 | Messi, outside the box, tries to get it on his left but he has to make do with turning on his right and getting it inside to Suárez. Suárez does try it with his left but it is blocked.
Min 17 | Lionel Messi with what is becoming his trademark through ball, lift one over the top, and Jordi Alba throws himself at it but he is just inches away.
Min 15 | Cuadrado breaks down the right and tries his best to get to Dybala across the box but Piqué saves the day. Straight up the other end and Rakitic curls one over the bar. And almost in the same play, Juventus break and Dybala headers the ball into Cuadrado. He takes it with his knee and tries an overhead-style kick but that goes over too.
Min 13 | Higuain with a chance but he blasts high and over the crossbar. Well-worked chance by the visitors. Seems Juventus' best hope is down the right hand side with Cuadrado looking dangerous and Jordi Alba caught between whether to attack or watch the Colombian.
Min 12 | Neymar again. He crosses to Suárez, who looked like he was offside, and the striker headers it down and back into the danger zone. A wasted chance.
Min 11 | Barcelona taking the sting out of Juventus' early aspirations of a goal to kill the tie. Juve still haven't flinched but Barcelona with all the ball and looking dangerous.
Min 9 | Corner Barcelona! Neymar breaks down the left and Bonucci arrives to clear before meeting Neymar's shoulder and landing on his back. Physical battle thus far.
Min 8 | Higuain with a through ball to Cuadrado and he has loads of green grass to run into but he turns around. plays it back to Higuain and Barcelona clear his cross.
Min 7 | Piqué gives away a free as he obstructs Cuadrado on the sideline. Pjanic plops it into the box but Barça clear. Neymar ends up on the ground but no free.
Min 5 | Neymar makes a weaving run into the box and gets dispossessed by Alves and Bonucci. Nou Camp wants a penalty but Kuipers says no.
Min 3 | Oh, Allegri up off his bench already as he eyes up his team's formation and his opponents. Juve with plenty of the ball early on and there have been plenty of tackles flying in. Dybala cut down twice, Busquets fouled. The ref pulls Rakitic over for the foul on Dybala and explains that that will be the last of the fouling.
Min 2 | Juventus free as Iniesta cuts down Pjanic to size.
Min 1 | Luis Enrique and Allegri looking calm as the game kicks off! Dani Alves was in the dugout shaking hands with his former colleagues.
---
Barcelona vs Juventus: team news
Barcelona: Ter Stegen, Umtiti, Piqué, Alba, Busquets, Rakitic, Iniesta, Sergi Roberto, Neymar, Messi, Suárez.
Juventus: Buffon, Dani Alves, Bonucci, Chiellini, Alex Sandro; Khedira, Pjanic; Cuadrado, Dybala, Mandzukic; Higuain.
---
Barcelona vs Juventus live stream: latest news
20:37 | Barcelona have won one and lost two of their last three games. Juventus are on a three-game winning streak. Messi is on 45 goals in 44 games, and has 29 in LaLiga with 11 in the Champions League. He is far-and-away Barcelona's top scorer. Gonzalo Higuain has 29 in 44 and is Juventus' top scorer.
20:30 | A closer inspection of the team news from the Camp Nou and what it might mean for the game tonight. Although, it might end up being less about tactics and more about intensity and just how hard Barcelona can push Juventus. Basically, what I'm saying is that this could be a free-for-all just like the time Rocky Balbao stood toe-to-toe with Ivan Drago in Rocky IV and they hammered the living daylights out of each other.
20:26 | Javier Mascherano is slowing down, and he has been linked with a move to Galatsaray but what a career he has had with Barcelona. A man who takes his footballs seriously, he has won four league titles, three Copa del Reys, two Champions Leagues, three Spanish Super Cups, one FIFA Club World Cup and two UEFA Super Cups.
20:25 | Barcelona will unveil a huge tifo prior to the game tonight.
20:24 | Not to scare Juventus or anything but Luis Enrique's record with Barcelona at home this season is incredible.
7-0 v Celtic
4-0 v Man City
4-0 v M'gladbach
6-1 v PSG
20:21 | The Camp Nou faithful roar them onto the field. Luis Enrique says, "if we can get the first, the Camp Nou will help to score the second and the third will come on its own." I'm sure the Barça fans with tickets tonight will do their best.
20:18 | Barcelona take to the field to warm up after waiting for Neymar to emerge from around the corner and down the tunnel. Absolutely impossible to tell, but there is a nervousness about them today. To be fair, I would be nervous too.
20:09 | One of the things that PSG were lacking was their ability to get the ball up the field, hold onto it and give their defense a break. With the likes of Mandzukic and Higuian up front, you would have to expect that Juventus will be able to break Barça's dominance.
19:56 | Plenty of question marks over Barcelona's bench. They don't really have anyone who can come in and make a massive impact.
Cillessen, Denis, Mascherano, Paco Alcácer, Digne, A.Gomes, Aleñá.
19:47 | Meanwhile, Allegri sticks with the same eleven as the one that beat Barcelona eight days ago. He has changed his entire back four and goalkeeper from the one that played against Pescara at the weekend. Pjanic is the only one who remains from the midfield while the front four of Cuadrado, Mandzukic, Dybala and Higuain all start too and remained unchanged.
19:43 | So, we have our team news. Jordi Alba returns to the fold and it looks like Luis Enrique will play a regular 4-3-3 but it could be a little lopsided. Sergi Roberto could push into the midfield while Jordi Alba will no doubt be given the all-clear to try and make something happen down the left. Messi will likely drop to find open spaces between the lines leaving Neymar a little further centre and Luis Suárez to find goals. It's worth a shot.
19:36 | Just in case you were wondering why you have been seeing the word "remontada" absolutely everywhere recently. It means recovery. it is actually described as the "overcoming of an adverse situation" and me oh my, how Barcelona came back from an adverse situation against PSG!
19:29 | It's a common phrase at this time of the season when managers state they have X number of "finals" left but for Barcelona, they have two over the course of the next five days that will either make or break them. They play in the Copa del Rey final against Alavés but if Luis Enrique to leave with just that title in his last year, it would be an underachievement considering the standards he has set for himself since taking over at the club. El Clásico on Sunday is another huge game for them but even a win there might not mean much as they would still sit behind Real Madrid in the league table.
19:28 | For anyone into attacking football, a nice quote from Luis Enrique before the game: "We have to take a risk. We only have one option. Attack, attack and attack!"
19:14 | Since Luis Enrique took charge at the club, Barcelona have won their last 15 Champions League ties at the Camp Nou. They have scored 50 goals and conceded seven goals in those games.
19:11 | Juventus remain the only unbeaten side in the Champions League alongside Real Madrid, who qualified for the semi-finals of the competition last night. Can Barcelona bring their run to an end tonight? Juve have won all five of their last games and that winning streak is the current best in the Champions League, and the Old Lady's joint longest run in their history.
18:52 | Barcelona have scored at least three goals in their last seven games in the Champions League at the Camp Nou. Luis Enrique thinks they will have to score five to have a chance of progressing, which means he expects a Juventus goal. How do Juve and Allegri set up? It will have to be more proactive than PSG did as their backs were to the wall from the very start of their last 16 tie.
18:26 | If you are looking for a precedent though, look no further than 2013's version of AC Milan under the watch of Massimiliano Allegri when they led 3-0. Goals from Messi, David Villa and Jordi Alba saw them make a fairly unlikely comeback. They are going to have to do it all over again tonight.
18:22 | Juventus have no played in the Camp Nou since 2003 when Pavel Nedvad and Marcelo Zalayeta gave them a 2-1 win after extra-time. Xavi scored Barcelona's goal. Luis Enrique played that day on the right of midfield and the only other player who is still around for either side is Gianluigi Buffon.
17:50 | Luis Enrique's team will be contesting the Copa del Rey final on the 27th May, at Atlético Madrid's Estadio Vicente Calderón. Barça fans will receive 13,125 tickets for the match against Alavés, it was announced on Tuesday.
17:30 | If Barcelona are to progress this evening, Lionel Messi will need to be at his irresistable best. Grab a coffee, and spare 15 minutes to read this superb long-form article exploring Messi's curious relationship with Rosario, his home city. It is truly excellent writing by Wright Thompson.
17:15 | In fact, Barça have not lost at Camp Nou in European competition since May 2013.
17:00 | If Juve manage to extend that run, and frustrate Barcelona in front of goal once again, they'll become the first side since Bayern Munich in 2013 to keep the Catalans out over two legs.
16:40 | Juventus' defensive statistics do not make for particularly promising reading for Barcelona fans... Buffon and co. have kept a clean sheet in seven of their last nine Champions League matches. They're a completely different proposition to the porous PSG side that Barça swept aside in the previous round.
16:35 | Barcelona will welcome back Sergio Busquets to the starting XI, after the rangy midfielder served a suspension in the first leg. His positional intelligence will be important in sniffing out Juventus counter-attacks as the home side push forward.
16:15 | "We need to score five to get past Juventus", that's Luis Enrique's verdict. That feat is easier said than done against a misely Juventus defence that has conceded just twice in the 2016/17 Champions League.
15:15 | Luis Enrique has announced his squad list for this evening's match. Mascherano is set to return, but Mathieu and Arda are set to miss out.
14:30 | The Camp Nou faithful will be doing everything possible to encourage the 'remontada' (comeback). There will be a giant 'mes que un club' tifo in the crowd.
13:45 | Barça will have to beat Gianluigi Buffon at least three times tonight. The Italian stopper has been on the end of a 3-0 defeat just once in his 147 Champions League appearances.
12:15 | Barça will have to mount an unlikely comeback if they're to join Atlético and Real Madrid as the third Spanish team in the Champions League semi-finals. Yet, they've done it before. Here are five of Barcelona's best European comebacks.
---
Barcelona vs Juventus live stream: preview
All or nothing. Barcelona and Juventus face their biggest game of the season so far, the second leg of the Champions League final, with a clear advantage for the visitors, after their thumping 3-0 win last week.
Barcelona
Barcelona need a European night to remember. They need a big comeback. Another one, after their heroic, barely believable fight back against PSG in the last round. Luis Enrique's side went down 3-0 in Turin, but they'd been thrashed by FOUR goals to nil in Paris, so surely this shouldn't be as a big a mountain to climb. But in fact it looks all the harder: there were always doubts Emery's PSG side could fall to pieces under extreme pressure; few think the same will happen to Allegri's Juventus.
Luis Enrique reckons his side will need at least five to get past the Italians, but admitted the first leg result makes things easier in terms of tactics: "We don't have anything to lose. We are free from pressure. We only have one option which is to attack, attack and attack again".
As to who was going to get the goals, Luis Enrique reckons all Barcelona really have to do is get one. "I am sure that if we score the first goal, the Camp Nou will score the second and the third will come of its own accord."
Barcelona also need to break with recent history, having only managed one win in four against the bianconeros. That win is well remembered in Barça history though, giving Barcelona the 2015 Champions League title.
Luis Enrique has all his players available for the match, meaning it's almost certain to be his best XI that is seeking the comeback on what Barça's fans hope will be another epic night in the Camp Nou.
Keep an eye on: Messi. He's bagged 11 goals in this edition of the Champions League, and more goals from the lethal footballing pocket-battleship can never be ruled out.
Juventus
Things couldn't have gone much better for Allegri's side in the first leg, knocking three past a woozy Barca back-line, but Juventus aren't, of course, thinking they can sit on their laurels if they want to join Real Madrid and Atlético Madrid in the Champions League semi-final draw on Friday.
Former Barelona player Dani Alves reckons Barcelona still have a 40% chance of going through: "I know Barca well and I think right now we are 60-40," said the Brazilian.
Meanwhile Giorgio Chiellini (of 2014 World Cup Luis Suárez bite-gate fame) said Juventus would need all their experience to get out of the Camp Nou with their Champions League dreams intact. "We will have to play without fear because they are like sharks - they smell blood and they finish you off," he told Sky Sports Italia.
Juventus haven't been beaten yet in this edition of the Champions League, having won four and drawn two in the group stage, and having had an easy time of it against Porto in the last round.
And to add to that, the Italians got a major boost with the news that Dybala will be available, having recovered from an ankle sprain on Serie A business at the weekend.
Keep an eye on: Higuaín. Juve's big gun will be looking to grab the away goal that puts the tie almost certainly to bed (PSG-style miracles notwithstanding from Barcelona).
---
Barcelona vs Juventus: live stream online betting odds
The bookies are pretty sure that Juventus are going through, offering just 12 cents for each euro staked on Allegri's side qualifying. That said a Barcelona comeback is only paying 4.50, so Barcelona turning this around isn't seen as that far into the realms of the unlikely.
Place your bet on Barcelon v Juventus now!
---
Barcelona vs Juventus: live stream online match build-up