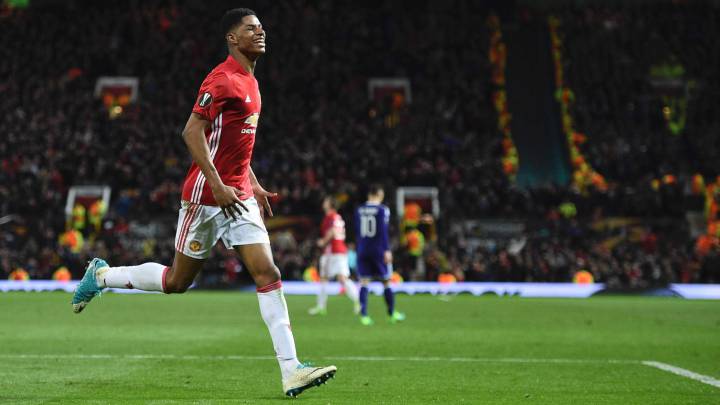 Manchester United 2-1 Anderlecht: match report
Manchester United are through to the semi-final of the Europa League after being pushed to the very limit by Anderlecht over two legs. It took 197 to separate the sides and Marcus Rashford ended the night as Manchester United's hero after a man of the match performance and a winning goal to boot.
The game started at a blistering pace and United had three excellent chances in the opening 15 mnutes. They managed to put one of those away when Mkhitaryan drove home from inside the box to put United on their way after ten minutes. Paul Pogba had a chance shortly after from a corner but his header was tipped over the crossbar and Lingard almost made it two shortly afterwards with a bending effort that Ruben saved too.
Marcos Rojo injured his knee just moments later and United, all of a sudden, started to look vulnerable. Just after 30 minutes, Anderlecht's all-action midfielder, Youri Tielemans, drove a shot that rattled the crossbar before it broke to Sofiane Hanni to restore parity on the night and across the two legs. United would not have it all their own way, after all.
The second half did not have as many goals but it did have plenty of chances. Zlatan had a number with his best saved by Ruben as he looked to his right in the hope of seeing an offside flag that was not coming. Rashford had a chance after a defensive blunder but his touch took him away from goal as he rounded the keeper. There were a number of half-chances and three quarter-chances to go with those misses and it just felt like it was a matter of time until they scored. But every time we were left without a goal.
The game went to extra time with Zlatan Ibrahimovic doubled over in pain having hyperextended his knee at the end of normal time meaning he could not continue. The first half of extra time came and went and while Paul Pogba though he had sealed it, Fellaini was blown up for a free before that as he climbed on Spajic's back to get to the ball.
Had United run out of ideas? They most certainly had not and when Daley Blind launched a ball towards Fellaini's head, he headered it down to Rashford, who made no mistake as he turned on his left foot, had a look at the keeper and drove home.
Anderlecht pushed for an equaliser but it was not coming, having spent so much time defending. they came close but Sergio Romero was on hand to reject Acheampong from a header and to claim a number of deep crosses.
United go into the draw with Celta Vigo, Lyon and Ajax in Friday's draw while Anderlecht go home with a moral victory and a number of new fans after their gutsy performance at Old Trafford.
---
Manchester United 2-1 Anderlecht: second half of extra time
FT: Game over. After 120 long minutes, United are through to the Europa League semi-final.
Min 120 | Last chance for Anderlecht as Valencia takes a poor touch. Ball into the back post that Kara reaches.
Min 118 | Martial nearly puts the icing on the cake with a cool finish but he was offside.
Min 117 | Anderlecht have started to get further forward. Foul on Romero is the end result but some nervy moments before that. three minutes remain.
Min 116 | Acheampong gets in behind Bailly and has a header that nearly beats Romero but he saves with his reflexes. So close to an equaliser and winner on the night.
Min 115 | Anderlecht still not had a shot since United scored. They are trying but not making any headway.
Min 113 | Still nothing doing for Anderlecht as United win a corner. They are on the break now but can they do anything with it. No, is the answer.
Min 110 | Chance for Pogba as he tries to side one past Ruben but can't. Could have been well and truly over there. Anderlecht might get one chance and they will have to take it. They are struggling to even get it into the box at this rate.
Min 110 | Anderlecht try to respond but they look exhausted and fresh out of ideas having defended for so long.
Min 107 | YES THEY CAN! Marcus Rashford ends it with a slotted home finished from close range. He deserves that one. Long ball by Blind is nodded down by Fellaini before Rashford takes, turns and slots home with his left. Nice finish.
Min 106 | We are back underway! Can anyone get a goal and end this one.
---
Manchester United 1-1 Anderlecht: first half of extra time
HT in extra-time. Reall on a knife-edge now. No subs left for either side. A war of attrition at this stage.
Min 105 | Tielemans has time to drive a shot at Romero's goal. He saves but fumbles it and Thelin nearly gets to it. He rushes out to smother it. Good save, lucky break for United.
Min 103 | Rashford still moving like it was the third minute. He puts a ball into Martial but it is just away from him and moving away from goal. The French attacker gets it back to him but his side-footed effort is blocked.
Min 101 | Pogba thinks he has won it and so does everyone in Old Trafford. Fellaini headered it down to him but the big Belgian was up on spajic's back. He was a little over-excited in the air that time.
Min 99 | Two exhausted teams out there as Acheampong gives a tired pass to Tielemans and he can't reach it. Luke Shaw puts a good cross in that is cleared by Spajic before Pogba wins his side a corner.
Min 98 | Appiah fouls Rashford and gets booked. He has been running at him all night and just throws a lazy tackle in there out of frustration. Rashford has been brilliant tonight (except for a couple of chances he missed).
Min 97 | Mkhitaryan runs through the middle, dodging three tackles, before putting rashford through but it is slightly too far ahead of him.
Min 96 | United throwing the ball around at the back as Old Trafford try to urge them forward. The problem is that, without Zlatan, they have no target man as Fellaini tries to make himself an option.
Min 94 | Anderlecht break. Obradovic lines it up for way out and absolutely piledrives it rowards goal but it goes narrowly wide. It hit someone along the way in a red shit because they win a corner.
Min 93 | Mkhitaryan has a shot but Ruben is equal to it.
Min 92 | That would have been the best goal ever scored. Rashford with a rabona onto the foot of Pogba, who was in chilena position. Spajic gets his body in the way of it though.
Min 91 | We are underway in extra time.
Manchester United substitution: Zlatan is replaced by Anthony Martial.
---
Manchester United 1-1 Anderlecht: second half
Min 90+2 | Zlatan seems to have really hurt his knee here. He comes down on it and the knee bends back. Just as the referee blows up for full-time.
Min 90 | Anderlecht have found their attacking verve again with just two minute to play. Valencia mistimes his jump and Acheampong tries to go into the box. Manchester United go up the other end and Zlatan plays it to Rashford again before Shaw fouls Spajic. This could be it now as the two minutes is just almost up.
Min 89 | Another really good chance for United. Mkhitaryan gets it to Zlatan and he plays Rashford through. He goes for power from a tight angle but he blasts it wide. Ever so close yet again.
Min 87 | Carrick pulls down Stanciu and Anderlecht win another free. They continue to just launch it forward though. They are gluttons for punishment although it is better than giving it away closer to their own goal. They need some kind of outlet though. United with one last push before extra-time.
Min 85 | Rashford through on goal now after a through ball by Pogba. he is ruled offside but replays show that it was very, very close.
Min 83 | Ruben catches a cross and puts it on the foot of Acheampong. He tries to have a run at Bailly but pulls up. Manchester United don't put the ball out of play as they push and push for that goal.
Min 82 | United might have exhausted themselves trying to get that goal. Carrick plays it through to Zlatan but he drives it a mile wide again. He kicks the ground in frustration now. It really is not his night.
Min 80 | Mkhitaryan goes down with spajic coming through the back of him. Free to Manchester United about 50 yards out in the centre of the goal. Blind lofts it towards goal and they manage to get it across to Ibrahimovic but his shot is miles wide. So far wide that it almost goes out for a throw.
Anderlecht substitution: Teo is replaced by Thelin.
Min 79 | Cross by Rashford nearly catches Anderlecht out. Ruben comes to punch it but Kara headers it out for a corner. From that corner, Pogba gets a foot on the ball and drives it over the bar. He wants a corner but he might be trying to cover up for the poor miss. It has to be only a matter of time though.
Min 77 | Anderlecht absolutely clinging on for dear life here. Rashford gets a cross in that beats Ruben but Spajic heads clear now.
Min 74 | Anderlecht really struggling to get the ball out of their own half now. All Manchester United for the last 20 or so. They win a corner now. Can United break the deadlock on the night and over the two legs? Not from that corner as it is cleared and Mkhitaryan fouls Tielemans.
Min 72 | And now Zlatan goes down under a challenge from an Anderlecht defender in the box. Referee waves to play on. That really looked like it was a penalty. Anderlecht pushing their luck here.
Min 71 | A cross comes in from Mkhitaryan and it falls to Zlatan. He misses! How does he miss that?!?! what a chance. This is incredible.
Min 69 | The absolute chance of a lifetime. Mkhitaryan drives the ball forward and Appiah messes up. Rashford is through in a one-on-one and does really well to round the keeper but his touch takes him too far past the keeper. He gets dispossessed in the six-yard box and he lets out a shout of frustration!
Min 67 | Fellaini pulls Teodorczyk back and gives Anderlecht a break from United's attacks and a free in a dangerous position. Romero gathers with ease.
Min 65 | Zlatan lays it off to Rashford. He has time and space to get a shot off but he drags it wide. He knows he should have done better as he grimaces after his latest effort.
Anderlecht substitution: Hanni replaced by Stanciu and Bruno comes on for Chipciu.
Min 63 | United better since Fellaini came on. Valencia throws a cross into the mixer and the Belgian fights for it before it lands to Rashford. His shot is blocked and sent out for a corner. From that set-piece, Fellaini gets a head to it by Ruben gathers.
Manchester United substitution: Lingard is replaced by Fellaini.
Min 59 | Lingard with a similar pass. He is on the wrong page as Rashford and overhits it anyway.
Min 58 | If ever there was a pass that summed up Zlatan's night, that was it. shaw finds him and he wins it. The Swede turns and looks for Rashford but overhits it by about 40 yards as it goes out for a goalkick. Fellaini looks like he's coming on.
Min 56 | United struggling to break down Anderlecht now as Mourinho gets up off his seat and eggs his troops on. Wayne Rooney is warming up but this one is on a knife-edge and any change could swing it. Both good and bad.
Min 52 | Another chance as Mkhitaryan breaks free and tries to find Ibrahimovic with a reverse pass. Anderlecht go up the other end and Teo nearly heads past Romero but the Argentine was always comfortable.
Min 50 | Chipciu with a shot that is always bending away from goal. More hopeful than anything with that one!
Min 49 | How in the name of god did Jesse Lingard miss that. Luke Shaw zips it across the goal and all Lingard has to do is hit it with anything. He can't though and it goes straight across the goal. Dangerous, dangerous ball.
Min 48 | Valencia gets caught out with Teodorczyk goalside but the big man doesn't trust his speed. He turns back and has a shot that is blocked for a corner. If he put the head down, he was through on goal! United looking slightly shoddy at the back as they go in search of that second goal.
Min 47 | Lethal ball in behind the back for Shaw by Blind. He gets a foot to it but it's heavy. Anderlecht put it out for a corner. Very direct from Mourinho's side.
Min 46 | Let's go. We have action at Old Trafford.
---
Manchester United 1-1 Anderlecht: first half summary
Manchester United scored after 10 minutes through Henrikh Mkhitaryan and after that, it felt like the score could be anything they wanted it to be. Pogba came very close before Lingard did the same moments later.
Slowly but surely though, Anderlecht got a foothold, which was helped my Marcos Rojo's injury. They started to look more dangerous, control slightly more of the ball, and create more openings in United's half.
They scored after 32 minutes when Tielemans rattled a shot off the crossbar before Hanni drove the ball to the back of the net. Since then it has been back-and-forth but United need to attack more cogently while Anderlecht will be delighted with how this one is panning out.
---
Manchester United 1-1 Anderlecht: first half
HT: The Spanish referee draws the first half to a close with a swift blast of his whistle. United have plenty to figure out in the second half.
Min 45 | Anderlecht in again. It's Hanni tries to go around Romero but his touch is too heavy what a chance. All coming from United's left-hand side. Anderlecht growin in stature as the half draws to a close.
Min 43 | Pogba clips one towards Mkhitaryan and leaves him plenty to do but he gets it down with his right and swings his left foot at it. It goes well wide.
Min 41 | Anderlecht pick United off but a misplaced pass in the direction of Acheampong gifts it back to United. Anderlecht giving up chances now but they look quite comfortable going forward at times. United have suffered since the introduction of Blind in Rojo's place.
Min 40 | United back on top again now after Anderlecht get their goal. Luke Shaw breaks into the box and gets it on his right, but he never looks entirely comfortable and fires into Ruben's waiting hands.
Min 38 | Zlatan is pulled back by Spajic and he wins a free. Mkhitaryan with the quick free but Lingard was offside. Worth a try but too quick for his own good that time and Ruben was out to close him down and save anyway.
Min 36 | Pogba has a shot that goes up into the night sky. Way off!
Min 35 | Luke Shaw gets turned inside out and ends up on the wrong side of Chipciu but he crosses it and his teammates conspire to give it away. Mkhitaryan breaks at breakneck speed but loses it before Rashford attacks and has a shot that RUben puts out for a corner. Very exciting stuff at Old Trafford.
Min 33 | Pogba nidges Obradovic and gives away a free. It was harsh but Pogba is having a mouth at the referee and is lucky not to go in the book.
Min 32 | GOAL! Tielemans rifles a shot that comes off the crossbar as it falls to Teo, who almost falls over it. It falls to Hanni though and he makes no mistake from close range!
Min 30 | Luke Shaw makes a run down the left and after giving it to Ibrahimovic, gets it back, and uses his speed to get to it before Appiah. Nobody on the end of his cross into the box though.
Min 29 | Tielemans does fancy it but so does Romero and he gathers easily.
Min 28 | Pogba fouls Hanni in a dangerous area outside the penalty area. Maybe too far out for a shot but Tielemans looks like he might fancy it.
Min 27 | Teo with a shot now that rolls along the ground and forces a save from Sergio Romero. Anderlecht slowly taking control of this one.
Min 25 | Anderlecht with all the ball now in the last five minutes. Chances are few and far between though. Cross makes it to Teo but he can only header it back up into the air.
Manchester United substitution: A big blow for United as Rojo is carried off on a stretcher and Daley Blind enters the fray.
Min 22 | Ridiculous decision to let Rojo play on Acheampong breaks through and Rojo limps towards him but fails to slow him down and the Anderlecht player fires just wide. Rojo down and says he needs to go off. That was inevitable.
Min 20 | So, Rojo is back on but he really does not look comfortable. Bailly tries a pass across the field and it goes out for a throw.
Min 18 | Rojo looks to have really hurt his knee. He collided with Tielemans but he ended up on the ground and immediately put his hand up for help. This could be a ligament problem. Daley Blind is warming up.
Min 15 | Hanni tries to launch an attack now but his cross over to Acheampong is too close to Valencia, who gets a foot on it and Romero catches it as it comes back down to earth.
Min 13 | Lingard's turn. Ruben gets a hand to his curling effort with a mass of bodies in front of him. He keeps his side in this game with two quick-fire saves. United playing well now up front.
Min 12 | Pogba with a lovely header now that nearly beats Ruben but the keeper launches himself into the air and gets a hand to it. Very nearly 2-0 after just 12 minutes.
Min 11 | Tielemans pulls Rashford back and gets a booking.
Min 10 | GOAL! GOAL! GOAL! Mkhitaryan gives United the lead. A raking pass out wide to Rashford by Pogba. His shot is blocked and it breaks back out to him before he plays it to Mkhitaryan and he buries it from just inside the box.
Min 8 | After a nice spell in possession by United, Kara wins it back and plays it to tielemans. He swings one into Teodorcyzk but he can't win it.
Min 6 | Ibrahimovic gets the ball deep in enemy territory but he can only flick it goalwards. Ruben comes out and smothers the ball, and United's hope of a goal.
Min 5 | Very open game so far. United trying to best to spread Anderlecht out but the away side are comfortable. Obradovic starts an attack now for the Belgians, Tielemans takes it on and tries to drive forward.
Min 3 | Acheampong has a run at United's defense but his shot is blocked. It makes its wat to Dendoncker. He has a shot that almost dips under Romero's crossbar. So close!
Min 2 | A very early chance for United, Mkhitaryan puts Lingard through and instead of shooting, he tries to get it across the goal. Anderlecht manage to score.
Min 1 | We are underway at Old Trafford.
---
Mancheser United vs Anderlecht: team news
Manchester United XI: Romero, Valencia, Bailly, Rojo, Shaw, Carrick, Pogba, Rashford, Mkhitaryan, Lingard, Ibrahimovic.
Anderlecht XI: Ruben, Appiah, Kara, Spajic, Obradovic, Tielemans, Dendoncker, Acheampong, Hanni, Chipciu, Teodorczyk
---
Manchester United vs Anderlecht live stream: latest news
21:01 | Teodorczyk is highly-rated but when you think of how easily Rojo and Bailly dealt with Costa on Sunday, you'd have to be concerned for Anderlecht.
20:58 | Just a couple of minutes away now from the start. Carrick ready to lead Manchester out of the tunnel.
20:54 | Jose Mourinho said he wanted to rotate more, and play some of the younger players, but given the score, he is forced into being more conservative than he'd like: "It is important to do some rotation because on Sunday we have another important match. If we have the same kind of attitude, pressing high, being strong, being intense, recover the ball as fast as possible, it is easy for the attacking players to have more in the ball. In the end it is a collective instinct."
20:48 | Across their last four games, United have only averaged a goal a game. They have not scored more than that in any of their last four games. They have also not conceded more than one either with two clean sheets. Anderlecht are the same in their last three games, but they conceded three in their game against Zenit. Anyone looking for a 1-1 draw and then extra-time might have come to the right place.
20:42 | It was just last week that Jose Mourinho pointed the finger at Manchester United's strikers after failing to score more than once against Anderlecht. He opted for the same four attacking players today though and three of them missed fairly easy chances including Ibrahimovic, Lingard and Paul Pogba.
20:39 | We had mentioned Tielemans in out build-up the last day and he was very good. He has been linked with a move to several of Europe's top clubs. At 19, he is the captain of Anderlecht - a natural leader.
20:23 | Don't forget, the other three quarter-finals are on tonight too. We will have the draw on Friday for both the Champions League and Europa League semi-finals.
Here are the scores from the first legs:
Besiktas 1-2 Lyon
Manchester United 1-1 Anderlecht
Genk 2-3 Celta Vigo
Schalke 0-2 Ajax
20:04 | Anderlecht make a number of changes from their last outing against United. Highly-rated Teodorczyk gets a start. He was not fit enough to start the last day and came off the bench. Meanwhile, Spajic replaces Nuytinck at the back. Hanni also starts, along with Chipciu in place of Bruno and Stanciu. Weiler might think they were slightly flat the last day out and all, or most of those players who start tonight were on the field when Anderlecht started to take the game to United in the second half.
19:59 | Luke Shaw returns to Jose Mourniho's side that beat Chelsea. Matteo Damrian is the man to miss out. Meanwhile, Ander Herrera also misses out after playing and scoring against Chelsea. In fairness, he man-marked Eden Hazard that day and I don't think he will be needed in that role tonight.
19:35 | Henrikh Mkhitaryan has scored in four of his last five European games. He scored against Anderlecht last time out too and seems to enjoy himself on European nights. Rashford is in a rich vein of form though and will take the confidence form the Chelsea game into tonight's clash.
19:15 | There are a few clubs interested in Leander Dendoncker and he did not disappoint last Thursday night. He violently smashed a header to the back of the net as time was running out to draw the two sides level. He gave Sergio Romero no chance, and he also gave Anderlecht a flicker of a chance tonight. Can her repeat his heroics again tonight? I'm sure there will be a few scouts at Old Trafford watching him play.
18:59 | A non-confidence inspiring stat for Anderlecht is that Manchester United have scored 18 past them in their last three games away from home. The results in those games wew 10-0, 3-0 and 5-1.
18:53 | Wayne Rooney makes Jose Miurinho's squad after missing out recently with an ankle injury. Mourinho says, "He has not had big problems during the season but he had a few small problems and when you get into a certain age, it's a little bit more difficult to recover." Rooney could play a role tonight after Anthony Martial's poor cameo last Thursday and then being left out of the squad that played Chelsea. The Frenchman is on the bench tonight but it is doubtful that he will feature.
18:48 | Alberto Undiano Mallenco will be your man in the middle tonight. He was awarded best referee in Spain in 2005 and 2007 and was a ref at the World Cup in 2010.
18:44 | Anderlecht have to score tonight after allowing United take the lead last Thursday. Their manager, Rene Weiler, says: "We know we're playing against a very high-level team in Manchester United. You only have to look at their performance last Sunday at home to Chelsea, I think they limited Chelsea to hardly any shots on target at all. They've had only three defeats in the entire season and in the last 22 games in the league they are unbeaten. They are very strong at the back and they've got some great individuals as well."
18:38 | Jose Mourinho says Sergio Romero will start again over David de Gea, which is how it has been since the very early stages of the Europa League for Manchester United. "David's priority is to play in the Premier League but I don't like the complete separation. I cannot say every match is for one or the other. The reality is that Sergio is very stable, he's very experienced, he's playing very well. He played in the Premier League [against Sunderland], he played well. He played in the FA Cup, he played well. He played in the League Cup, he played well."
18:24 | Manchester United's Marouanne Fellaini believes tonight will be difficult with every team that travels to Old Trafford keen to make a big impact: "It will be a tough game again. Every game is tough. When we play against a foreign team or even an English team, they all want to beat Manchester United so they will give everything to try to do that.
16:25 | Eight of the 24 goals that Manchester United have conceded in the Premier League this season have come from set pieces or penalties. Have Anderlecht been testing out some free kick routines on the training ground, one wonders...
15:00 | A nice little stat from the BBC: United's first foray in Europe in 1956 included a 10-0 drubbing of Anderlecht in the old European Cup. Even the most optimistic Old Trafford attendee probably won't be expecting that score line tonight from José Mourinho's 1-1 specialists.

14:30 | Big Wazza Rooney is also expected to be available after his recent injury layoff, giving Mourinho quite a few options in the absence of Juan Mata, who is out with a groin problem.

14:00 | The big question mark over tonight's game is whether Zlatan Ibrahimovic, who sat out the majority of United's 2-0 win over Chelsea at the weekend, will get the nod up front or Marcus Rashford, who was excellent against the Blues, will be handed a start.

13:00 | Anderlecht starlet Youri Tielemans has been attracting interest from a number of clubs, among them Atlético Madrid, after his impressive turns for the Belgian giants this season.

12:00 | José Mourinho continues his quest tonight to deliver the only major European trophy the Old Trafford cabinet lacks. United have won the European Cup / Champions League three times, the Cup Winners' Cup in 1990-91 and the European Supercup in 1991but have never lifted the Uefa Cup / Europa League. Anderlecht won junior big ears in 1982-83, when Danish striker Kenneth Brylle scored the only goal of the game against Benfica in the first leg and the return in Lisbon ended 1-1.
---
Manchester United live online: team news
Jose Mourinho faces a conundrum following United's superb 2-0 victory over Premier League leaders Chelsea on Sunday, as he welcomes Zlatan Ibrahimovic back in to the fold. The enigmatic Swede has been United's main man this season, but youngster Marcus Rashford turned in a strong performance against Chelsea.
Mourinho confirmed in his press conference on Wednesday that Argentine 'keeper Sergio Romero will continue in goal, with De Gea deputising.
Juan Mata, Chris Smalling, and Phil Jones will definitely miss out through injury, but Wayne Rooney could be in line to return to the bench. Henrikh Mkhitaryan scored the goal in the first leg in Belgium, and will be fresh on Thursday evening having sat out of the victory over Chelsea.
A 0-0 draw would be enough for the Red Devils to progress on the away goals rule; yet Mourinho insisted that he would approach the match in a more positive manner:
"We play at home and I know our record there in the Premier League is not the best, but in the Europa League we've won every match at home. Are we going to play for a 0-0? No."
Anderlecht: team news
Polish striker Lukasz Teodorczyk was only fit enough to make the bench in the first leg, as he recovered from a shoulder injury. The 25 year old has already scored five goals in the Europa League this season, and he'll be back in action on Thursday having played 72 minutes of Anderlecht's 0-1 win over Oostende on Sunday.
In the midfield, the Belgians will look to Youri Tielemans for creative inspiration. Although still 19, the much-coveted academy product has been a regular at Anderlecht for the last three years.
Anderlecht will draw faith from their impressive away form in the Europa League. In seven match so far, they have won 3, drawn 3, and lost one. René Weiler's team have scored in each of those seven matches,
Manchester United vs Anderlecht: match facts
United have won all five home matches in the Europa League this season, scoring over three goals in three of those matches.
Anderlecht won this competition in 1983, back in its UEFA Cup days.
Manchester United vs Anderlecht: live match odds
Despite Jose's suggestions, will United go for a 0-0 draw? That result is available at 10/1.
Bet on Manchester United vs Anderlecht.
---
Manchester United vs Anderlecht: live updates
---