Chloe McCardel to attempt "impossible" cross-channel feat
The Australian ultra-marathon swimmer is planning to cross the English Channel four consecutive times, which has never been done.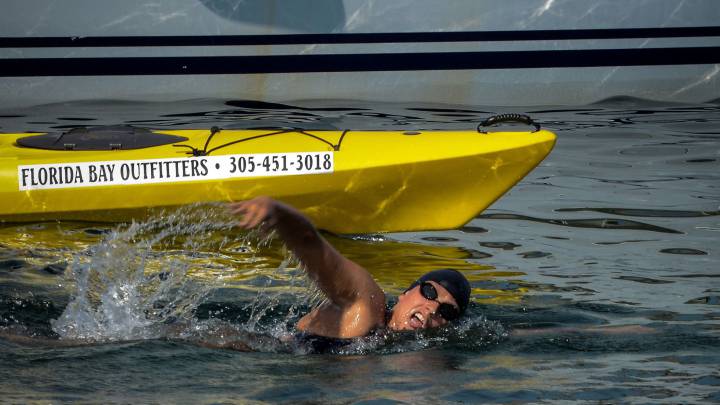 Chloe McCardel, arguably the greatest ultra-marathon swimmer ever, plans to attempt a world-first non-stop quadruple crossing of the icy English Channel, a torturous feat never before tried and widely considered impossible.
McCadel is preparing to set off on the 136-kilometre (84-mile) odyssey around August 29 - depending of course on the never-dependable weather.
It is likely to take her at least two full days and nights.
The 32-year-old has already swum the Channel 21 times -- including becoming the first Australian and only the fourth person ever to complete a triple crossing in 2015, some 27 years after it was last achieved.
She also holds records for the world's longest unassisted ocean swim (124.4 kilometres in 41.5 hours) and the world's most Channel crossings in a year (eight).
But a quadruple attempt, setting off from southern England, is taking ultra-marathon swimming to a whole new level, challenging both mind and body like never before.
Her support team is billing it as "the greatest endurance challenge on the planet."
Attempt equivalent to 2,720 laps of Olympic pool
"When I completed the triple, I was utterly exhausted -- nauseous and hypothermic, with my swimming costume hanging off me because I'd burnt through so much body fat," McCardel said on Tuesday.
"Getting through all that, then turning around to swim another crossing will be absolute torture but I'm determined to do it."
The swim is the equivalent of 2,720 laps of an Olympic pool, with the added challenges of extremely cold water, strong currents, wind and weather.
Despite this, McCardel is optimistic about her chances, and has been swimming 110-140 kilometres in training a week.
This has included extended swims in ocean water as cold as eight degrees Celsius (46 degrees Fahrenheit) and 20-hour non-stop night swims in 15C water, working at the same intensity as any Olympic athlete during their peak training.
McCardel: "What can our body and mind achieve?"
"I am in the best shape of my career, injury-free and, I believe, physically and mentally prepared," she said. "I've reached all my original goals. Now, it's about pushing the boundaries of the sport and the boundaries of the human spirit.
"What can our body and mind achieve? Do we really know our potential? Maybe we can go further. I want to find out. If successful, this could dramatically alter the perception of what the human mind and body can achieve in such harsh, inhospitable conditions."
More than 2,000 people have successfully swum the Channel, but it can be treacherous with sea conditions changing quickly.
There are also jellyfish, seaweed and debris to contend with in one of the busiest shipping lanes in the world, with 600 tankers and 200 ferries steaming through each day.
Last year a British man died in a French hospital after falling ill while swimming the Channel, while a woman died in 2013 making an attempt.
McCardel's swim can be followed on her GPS tracker, which will update every 10 minutes throughout the crossing, at www.facebook.com/ChloeMcCardel