Griezmann and Banega get two game bans, Ramos one
Spanish football authorities gave the lightest punishments possible for the Atleti, Sevill and Real Madrid players. Ramos misses Valencia match.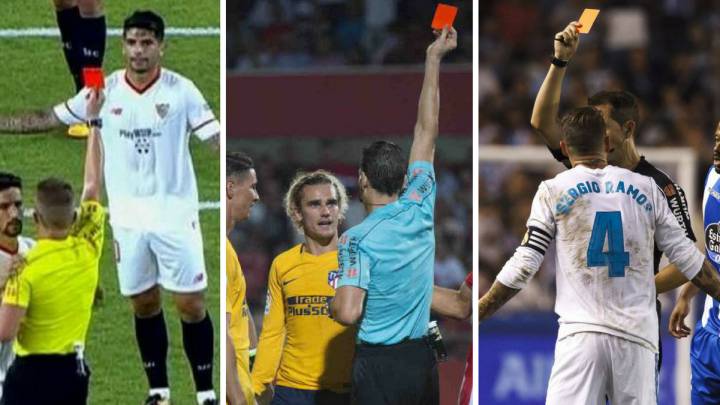 Antoinne Griezmann has been banned for two matches for dissent, after being sent off in Saturday's match against Girona. The Spanish Football authorities handed out the same punishment to Ever Banega, who was also sent off for dissent against Espanyol at the weekend. Meanwhile Sergio Ramos picked up a one game ban for his double yellow card and expulsion against Deportivo on Sunday night.
Griezmann and Banega: ref rudery
Griezmann picked up his red card for calling the referee a "cagón", more or less a "fucking bottler". Banega's outburst at the ref was "la concha de tu madre", a very rude phrase alluding to the intimate parts of the insulted person's mother. Both players received the lightest punishment possible for dissent.
Atleti's arguments in defence of Griezmann, that his outburst was because he hadn't been awarded a clear penalty, that it had been spontaneous and that he had apologised afterwards, weren't enough though to see him avoid a ban.
Real Madrid: no Ramos second yellow
Real Madrid defended Sergio Ramos, on the grounds that in their opinion the second yellow had been awarded erroneously, because there was no violent or reckless intent when the defender jumped with Depor player Borja Valle. However the competition committee didn't agree and banned Ramos for one game.
Griezmann, Banega and Ramos missing
Griezmann will miss the games against Las Palmas and Valencia; Banega the games against Getafe and Eibar; while Ramos will sit out this Sunday's game against Valencia at the Bernabéu.