Real Madrid 2-2 Valencia: LaLiga result, goals, match report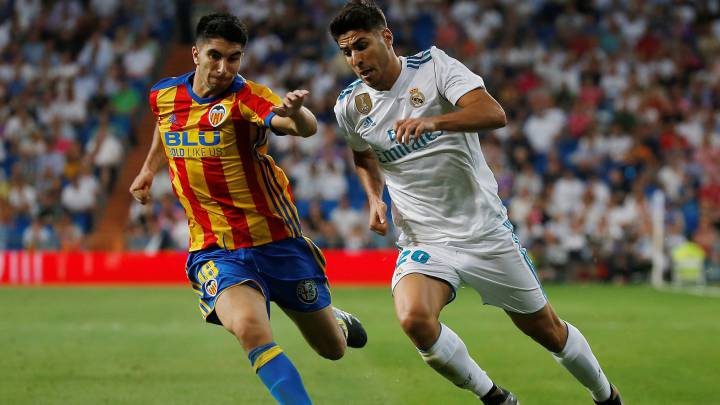 Real Madrid 2-2 Valencia: match report
Real Madrid dropped their first points of the season after a game at the Santiago Bernabeu that is an early contender for the game of the season. 100 days after winning the league, they received their trophy but will need to improve on their defending and finishing if they have ambitions to win a second consecutive Liga trophy.
Marcelino was adamant that his Valencia side were travelling to Madrid to compete and leave with at least a point. "We're tremendously excited and are ambitious about getting a good result," he said in the press conference before the game.
It looked like that ambition was ill-placed when Marco Asensio opened the scoring after 10 minutes with a left-footed strike from outside the box. The kind of strike that is becoming his trademark.
Valencia, however, stuck to the gameplan and a gesture from Marcelino to his players from the bench to calm down seemed to work. Carlos Soler had the side levels eight minutes later when Toni Lato made a lovely run down the end line and squared to the unmarked Soler to tap home.
It certainly wasn't the script Real Madrid had been given but Marcelino remained confident. Karim Benzema missed a number of chances late in the second half that kepy Valencia in it, to be fair, but Valencia proved themselves to be a well-disciplined side in the opening 45.
Real Madrid pushed for that go-ahead goal but it was one of Marcelino's debutants who would come up with the goods when Rodrigo poked a ball to Geoffrey Kondogbia in the centre of the penalty area and he side-footed home with just 13 minutes to play.
Sergio Ramos was suspened, as was Ronaldo for that matter, so inspiration was going to have to come from somewhere else if Real Madrid were going to rescue themselves from the jaws of defeat.
It was 21-year-old Marco Asensio, who is show early in his career, a propensity for the big moment who would provide the goal to draw the sides level. Mateo Kovacic drove forward, as he is wont to do, and Carlos Soler pulled him down just outside the penalty area. When Asensio stepped up, it seemed destined to end up in the back of the net. That's exactly where Asensio ran to straight after he curled it home as he was intent on grabbing a winner.
Benzema had a gilt-edged chance that he missed to go with the other half dozen earlier in the game and Marcelo had a penalty appeal turned down when substitute Nacho Vidal caught his shin with his foot but it would have been harsh.
Valencia continued to break with their own ambitions of getting a winner and Zaza had a couple of chances that came to nothing but in the end Marcelino and his side will be content with their trip to the capital as they take a point off the reigning Liga champions in their second game of the season.
Real Madrid 2-2 Valencia live stream online: full time
90'+4'  GAME OVER! A game that Real Madrid looked like they would lose and they come back and looked certain to win. What a game.
90'+4'  Borja Mayoral heads over.
90'+4'  Valencia break and Zaza wants a penalty. Absolutely no chance. My word this is some game 
90'+3'  Vazquez offside as the ball ricochets back of a Real Madrid player. Some precious seconds ticking off the clock.
90'+2' Benzema with a header that Neto pushes onto the post. So close. Valencia clear and then Zaza catches Casemiro with an arm as they jump for the ball. Booked.
90'+1'  Carvajal with a cross that he lets fly into the box. Straight back out again
90'+1'  Four minutes of added time.
90'  Marcelo with some nice footwork and then goes down in the penalty area. Wants a penalty but ref doesn't give it. Up the other end and Casemiro has a slight pull on Zaza's shirt. The striker goes down but no free.
90'  Valencia break and have a four on two until Kovacic makes his way back. goes out to the left and Zaza strikes but it's blocked. 
88'  Carvajal with a ball back to Asensio. His shot is half-blocked and the ball comes to Benzema. He misses the target from point blank range.
88' Rodrigo replaced by Santi Mina.
87'  Asensio drives forward. he delivers a really dangerous ball and two Real Madrid players there can't convert. Goal-kick. 
85'  Corner Real Madrid. Carvajal's cross blocked out and Asensio takes. ends up at Marcelo way out on the left-hand side.
85' Real Madrid with a winner on their minds. Kovacic breaks and is fouled by Soler. The Valencia player booked too.
83' Asensio! GOAL! He slots home from the free. That is class. 
82'  Toni Lato down and looks to have run his race tonight. Looks to the bench.
81' Rodrigo booked for a foul on Kovacic outside the box. Asensio?
80'  Valencia have a load of men moving forward. Navas grabs the cross. That could have spelled real danger.
80'  Kondogbia back clearing a Marcelo cross now.
78'  Rodrigo looked to have run out of options but he poked it to an incoming Kondogbia. Not the worst debut for the 24-year-old.
77' Kondogbia finished a really slick move by the away side. 
76'  Corner for Valencia. Real Madrid looking dangerous on the break but Valencia could as easily score. Corner comes to nothing but Valencia recover.
75' Montoya replaced by Nacho Vidal.
75'  Casemiro with a foul at the back post on Vezo. Free to Valencia. 
74' Bale replaced by Lucas Vazquez.
74'  Benzema breaks. He tries to cross and it's cleared.
73'  Parejpo with a decent strike from the free. Navas forced to turn it over the crossbar.
72' Carvajal booked now too.
72'  Carvajal stands on Gaya as he cuts inside. Free to Valencia.
71'  Soler with a lovely ball into Zaza. The Italian makes good contact but it's over. Good chance.
71'  Lucas Vazquez being summoned.
70'  Kroos with a foul now. 
70'  Rodrigo with an excellent run in behind. He has Zaza in the centre but he can't find him as his attempted pass is blocked.
68'  Modric shoots from distance. Neto down and puts it out for a corner. Real Madrid seem to be shifting into another gear now. Valencia been able to handle everything they've thrown at them.
67' Parejo with a booking now. Went slightly high on Kroos looking for the ball.
66'  Marcelo with a perfect cross. Bale headers it into the ground and over impersonating Kondogbia.
64'  Rodrigo with a shot that's ambitious and a mile wide. Poor decision.
62'  Golden chance. Gaya with the cross and it miss everyone and falls to Kondogbia. He headers into the ground and over. 
60' Casemiro booked now. He slides in quite cynically on Soler. Quite dangerous too. He went over the ball.
59'  Soler slides, wins the ball, but Kroos falls over him on the ground. Free for Real Madrid and a chance for Kroos to send one into the box.
58'  Real Madrid really playing with fire. Navas with a ball out to Nacho under pressure. He finds Kovacic, who looks for Kroos and looks to leave him short. Free for Kroos. Up the other end and Real Madrid win a corner. 
56'  Asensio looking to replicate the first half goal. He breaks free, sort of, and strikes with his left. Wide. 
56'  Modric takes down a ball into the box. he absolutely drives a volley up and over the barr under pressure from Ruben Vezo. 
55'  Valencia increasingly under the cosh.
54' Nacho booked for a late shoulder in the back on Zaza after he had controlled the ball.
53'  Marcelo cross to Benzema. Murillo ends up on the ground but Benzema can't get clean contact on it. Goes out for a goal-kick.
53'  Ball way down the line for Rodrigo and Navas is off his line again. Clears. 
51'  Marcelo free and he looks inside by Montoya blocks it. So close.
50'  Casemiro drives a shot from way out and Neto saves but it nearly slips into the net. Corner in the end.
50'  Gaya and Casemiro collide and the Valencia player ends up on the ground. He wants a penalty but referee says no. Casemiro did look to have his hands around him but would have been very, very harsh.
49' Montoya booked for fouling Marcelo.
49'  Kovacic's first contribution is to give the ball away and Zaza ends up with it but a perfectly timed tackle by Casemiro wins it back for Real Madrid.
46'  We are underway for the second half.
 Kovacic replaces Isco. 
45'  Half-time. More or less an even half even though Real Madrid had the better chances. Valencia well organised and looking slightly dangerous themselves.
45'  Benzema yet again. Header from close range and he glances it wide.
45'  Modric scrambling to win get in front of Gaya and he puts it out for a throw.
44'  Bale with a lethal cross to Benzema and it's harder to miss. It comes at him to fast and he strikes over on the side-footed volley. 
42'  Montoya fouls Casemiro. Free to Real Madrid. Really excellent game of football. 
42'  Soler breaks now and it's a three on two. He tries to set Rodrigo through but Casemiro slides and puts it out for a throw.
41'  Hectic few minutes. Isco gets free, cuts inside and then waits too long befor eLato comes across and wins it back off him.
40'  Kondogbia plays it to rodrigo and he is bundled over by Carvajal on the counter. No card.
38'  Carvajal with a laser-like cross. Benzema headers it and it almost takes his head off. But Real Madrid win a corner. 
37'  Navas spills the ball after making a clearance. Everyone stops. Well, almost everyone. Benzema breaks and it's 2 on 2. He stikes and Neto saves. Corner.
35'  Nacho on the ground holding his jaw. Very little in it as he fell over Vezo's foot, who wasn't even looking anywhere near Nacho. 
35'  Valencia get a corner. 
32'  Marcelo finds himself in space and the ball bouncing up lovely to him. He strikes with venom off his left but it's high and over. Neto looking for explanations as to how he got so free!
31'  Some whistles for Bale there as his cross doesn't reach the intend spot and gets headered away.
30'  Ball out wide to raiding Lato again but leaves him too much to do and his header takes it out over the line. He has been a livewire so far.
28'  Modric on the overlap and he gets it. Outside of the boot cross that Neto smothers. 
27'  Parejo whips another free in, this time from the left, but Real Madrid win a free as a pair of white shirts end up on the ground.
25'  So close from Valencia from that free. They win a corner and Real Madrid don't deal with it properly. Ball comes back in and Rodrigo just a hair away from getting a head to it. He was offside anyway.
23'  Foul on Soler from Nacho. Trips him up after winning the ball off him. Nice area to whip one in.
22'  Marcelo chips one into the box but it lands nicely in Neto's hands. 
21'  Bale to Benzema and the Frenchman finds himself at a tight angle. He drives a shot goalwards and it hits the side netting. 
18' We have an equaliser. Carlos Soler taps home after a lovely ball into the danger area by Lato. 
17'  Asensio hassling Valencia's defense again. He is out on the right now and whips one in but it's just over Benzema's head.
16'  Gaya ruled offside after Kondogbia plays it to Zaza and the ball ends up out wide on the left. 
14'  Rodrigo and Lato looking to make something happen down the left but the former gets called offside. 
13'  Marcelino tells his players to just calm down. Dreadful start but losing the head will only make it worse. 
12'  Modric with an outside of the boot pass to Bale. He keeps it alive and a long ball over to the back post leaves Carvajal with too much to do. 
10' WOW! Marco Asensio slots home after a mistake by Valencia in midfield. Kondogbia left out to dry with the pass and Asensio slots home with his left. Simple as that.
9'  Valencia launching themselves into tackles. Ref letting a bit go but nothing outside the law taking place yet either...close, but not fully illegal.
8'  Zaza with a cross that Carvajalhalf blocks and allows Real Madrid to break.
7'  Murillo not lacking confidence. Being put under pressure from Bale, he tries a back-heel and it hits his non-back-heeling foot and goes out for a corner. He didn't know who was behind him!
6'  Rodrigo plays it to Gaya and he tries a scooped effort over the defense but Carvajal reads his intentions and wins it back. 
6'  Kondogbia looking lively early on. Very neat footballer.
5'  Ball through the middle from Parejo to Zaza. Navas off the line quickly and clears to Marcelo. Nice move from Valencia.
4'  Kondogbia fouled by Isco and the Valencia midfielder catches him with a hand to the eye, unintentionally. Isco falls to the ground. 
3'  Going to be a long night for Valencia if this is how they mean to continue. Bale finds Modric in the centre and Kroos resets and starts again. 
2'  Asensio miscontrols it and it falls to Vezo handballs it. It definitely hit his hand but ref decides it wasn't intentional. 
2'  Isco dropping deep to pick up the ball, but looks like Kroos will be the deepest generally. 
1'  Benzema down the left and he tries a cross but it's too high. Goes out or a throw for Valencia on the other side of the field. 
1'  Go for launch at the Bernabeu. 
Real Madrid have a team photo with the European and Spanish Super Cups along with the Liga trophy and finally, we are ready. 
Ramos in his tracksuit bottoms up to collect the LaLiga trophy. 
Me.Perez is in place in the palco and we are nearly ready for action. Parejo and Marcelo up for the toss. 
Just under 10 minutes away from kick-off now at the Bernabeu.
Last time Valencia won at the Santiago Bernabey was during the 2007-08 season 2007/08 season when the Blanquinegros won 2-3 with two goals from David Villa and a late winner from Javier Arizmendi.
Marcelino says: "We're tremendously excited and are ambitious about getting a good result" before the clash with Real Madrid. He is changing the culture at Valencia and you have to believe he is confident, or at least really gunning, for something from the game.
Real Madrid have never lost with Marco Asensio in the starting team. 11 times to be exact.
Real Madrid have scored at least 2 goals in their last 5 home matches against Valencia in all competitions.
Simone Zaza scored in Valencia's victory over Real Madrid last year but was missing from the return leg, which they lost 2-1, due to suspension. He's back today and could be the difference.
Jeison Murillo makes his debut for Valencia tonight along with Geoffrey Kondogbia in midfield. Not the easiest start but if they moved to Spain, it'll be for away trips to the Bernabeu.
Real Madrid team news: Keylor Navas; Carvajal, Nacho, Casemiro, Marcelo; Modric, Kroos, Isco; Bale, Benzema y Asensio
Valencia XI to play Real Madrid: Neto, Montoya, Vezo, Murillo, Lato, Soler, Parejo, Kondogbia, Gaya, Rodrigo, Zaza.
In the last seven games against Los Che, Real Madrid have only been able to nab two wins. There were two losses and three draws thrown in there too.
Real Madrid have played Valencia 175 times with 91 wins 36 draws and 48 losses.
Goalfest? Real Madrid have seen over 2.5 goals in their last 8 matches against Valencia in all competitions.
100 days after Real Madrid win it, they will collect the La Liga trophy tonight at the Bernabeu!
Real Madrid have been winning at both half time and full time in their last 7 matches. Valencia scored first against them in the game last year at the Mestalla and it will be intereting to see how they respond if they do fall behind.
Zinedine Zidane has proven himself a keen promoter of youth during his time at the helm of Real Madrid but has decided not to call up any Castilla youngsters for tonight's game. Summer arrivals Borja Mayoral, Theo Hernández, Dani Ceballos and Marcos Llorente all make the squad.

This was Cristiano Ronaldo's appraisal of the LFP's lack of foresight on the final day of last season.

Karim Benzema is one goal away from matching Paco Gento's overall mark for Madrid and Emilio Butragueño's Liga haul.

Hello and welcome to our minute-by-minute coverage of the 2017/18 LaLiga clash between Real Madrid and Valencia CF.. The game kicks off at 2215 CEST and we'll be building up to it throughout the day.
Real Madrid vs Valencia live stream online: match preview
Real Madrid host old foes Valencia in the Bernabéu with recent history between the sides suggesting there will be a few goals in Madrid. Last season, as Zinedine Zidane's side inched closer to the Liga title, it was a close encounter of the deferred kind against Los Che that was viewed as key to Real's tilt, the game having been postponed until April due to the European champions' involvement in the Club World Cup.
Real edged the week 35 showdown 2-1, which has become a scoreline to be feared when the fixture takes place in Mestalla. In both 2014-15 and 2016-17, precisely after Real had returned from the Fifa knockabout in Japan, Valencia were victorious by that scoreline, terminally denting Carlo Ancelotti's Liga aspirations but only temporarily raising question marks over Zidane's. The last eight games between the sides have ended with a minimum of three goals, three 2-2 draws, three 2-1 victories and two 3-2 wins for Real Madrid.
Real Madrid
In just the second game of the season Zidane is already facing a personnel crisis. Cristiano Ronaldo's moment of madness in the Spanish Super Cup was exacerbated by Sergio Ramos' 18th Liga red card last weekend at Deportivo and both the prolific striker and club captain will be left to stew in the stands for the visit of Marcelino's outfit. Raphael Varane failed to make the squad due to a groin injury and Castilla graduate Jesús Vallejo is also sidelined, leaving the Frenchman with just one fit senior central defender in the ever-reliable Nacho.
That will require Zidane to make some emergency adjustments to his back line, with defensive midfielder Casemiro the obvious choice to drop into a role he is fairly comfortable with. Mateo Kovacic should be available again after recovering from a knock, providing the makeshift centre of Zidane's rearguard with an extra layer of cover behind the roving duo of Luka Modric and Toni Kroos.
Up front, Gareth Bale and Karim Benzema will fly the flag for the BBC with one of Isco or Marco Asensio deputising for Ronaldo.
Valencia
Five years after Unai "third place" Emery was hounded out of Mestalla for consistently delivering Champions League football with considerable swagger, Valencia have finally found a replacement with similar qualifications in football alchemy. Marcelino García Toral's recent exploits with Villarreal – promotion from Segunda at the first attempt, three top-six finished in Primera and a run to the 2015-16 Europa League semi-finals – persuaded the Mestalla money men to hire the former Levante midfielder and to allow him to shape the squad in his image.
Financial restraints were never going to allow Marcelino to rub shoulders with the big-spenders but neither has the Valencia boss been reduced to sweet charity. A permanent deal for Simone Zaza - who opened the scoring the last time the sides met - was an astute piece of business, the prodigal Italian son seemingly settled on the East Coast and scoring the only goal of the game in Valencia's opening day win over Las Palmas. Marcelino also moved quickly to cover for the losses of Joao Cancelo, Diego Alves and Enzo Pérez with a double loan swoop for Inter pair Jeison Murillo and Geoffrey Kondogbia and Juve keeper Neto in addition to picking up Nemanja Maksimovic on a free from Astana.
Valencia have been a motley crew for some seasons but a base of old hands like Dani Parejo, Rodrigo, Santi Mina and José Luis Gayá, a former Madrid target who will miss this one through injury, and some exciting new blood appear to have the makings of a coherent squad. Under the magician's hand of Marcelino, Valencia could make a bid for the top six of the season, a road map that will be put to the test in the Bernabéu against Zidane's all-conquering but weakened Liga champions.
---
Real Madrid – Valencia live stream online: possible line-ups
Real Madrid XI: Navas; Carvajal, Nacho, Casemiro, Marcelo; Kovacic, Kroos, Modric; Isco, Benzema, Bale.
Coach: Zinedine Zidane
Valencia XI: Neto; Vezo, Maksimovic, Vidal, Garay; Medrán, Soler, Parejo, Orellana; Rodrigo, Zaza.
Coach: Marcelino
---
Real Madrid – Valencia live stream online: selected betting odds
Valencia are priced at 14/1 to put one over on the champions, with the draw chalked up at 7/1 and Real at 1/6 to claim victory. In the scorer stakes Karim Benzema leads the way at 11/4 with Gareth Bale at 4/1 and Simone Zaza at 12/1.
Place a bet on Real Madrid - Valencia.