Hungary 0-1 Portugal 2018 World Cup qualifier: match report, goals, action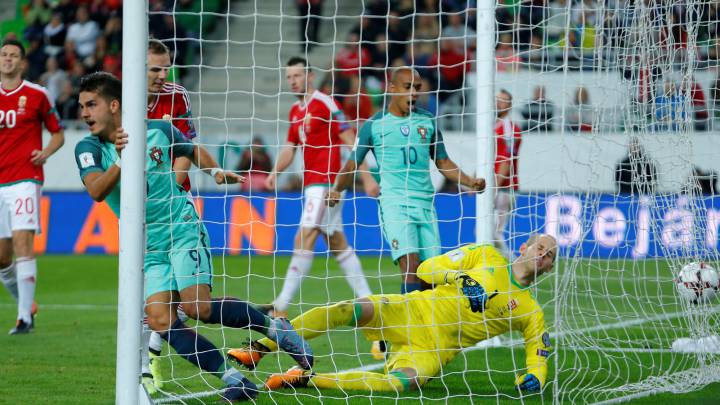 Hungary 0-1 Portugal: match report
Portugal sit three points behind Switzerland in Group B after a wholly unconvincing display against a Hungary side that lacked any desire to get back into the game after going down 1-0 in the second half.
The first half was shaping up nicely as Portugal peppered Gulucsi's goal with shots and half chances early on and Hungary looked dangerous on the break. Ronaldo saw an effort tipped over the bar and Soares drove over from close range too.
The momentum that the game was building was brought to an abrupt halt after a half an hour, however, when Tamas Priskin caught Pepe with an unnecessary and obvious elbow to the face with the ball in the air and he received his marching orders, the game took a turn for the worse.
With 10 men, Hungary hung on until half-time but Portugal didn't really force the issue either and were happy to see the opening 45 out before they regrouped and figured out a way to make their advantage count.
It didn't take long in the second half for them to do just that. Ronaldo brought the ball to the endline and crossed to Andre Silva and the AC Milan striker headed home despite having Hungary defenders throwing themselves at him in an effort to keep the ball from going over the line.
That was all she wrote from the Groupama Arena, however, as Hungary played like the were holding onto a draw with 10 men and Portugal knew it would take something extraordinary for them to be broken down. They doubted their opponents' ability to produce that spark and they were right.
Attila Fiola had a header at the death that bounced into Rui Patricio's hands and this was their first attempt on target in the game. It was their last two as the referee called time on a game that lacked any urgency or action once Priskin decided to get himself sent off in the first half.
Hungary vs Portugal live stream online: latest news
90'+3' Game over. A very dull affair once Priskin got sent off.
90'+3'  One last chance and Fiola heads it down into the ground from the free and Rui Patricio gathers. 
90'+2'  Three minutes of added time now as Hungary look for some crumbs off Portugal's table. Nothing doing so far. A really lame performance but Priskin's sending off conditioned this game. They had no chance once he went off.
France drew 0-0 with Luxembourg.
89' Ronaldo booked now. And Fiola joins him. Every shrugging their shoulders. Ronaldo kicked out at Fiola there.
86'  Referee is having a shocker. Bode is fouled twice and no free. Ronaldo is fouled by Patkai and no free. Then Bode blown up for a handball. Thought the ref had lost his whistle for a minute.
85' Andre Silva replaced by Quaresma.
84'  Patakai breaks but his pass is intercepted. Then Andre Silva fouled on the break. 
Lulic and Dzeko with a third and fourth against Latvia. Bosnia and Herzegovina now lead 4-0.
81'  Dzsudzsak wins a free and then gets booked for protesting. He's been having a go at the referee for quite some time. He sarcastically applauded the ref. The captain will miss the next game.
81'  The changes for Hungary have done absolutely nothing. Patkai running around after Portuguese players and just throws his hands up into the air. They're at nothing here. 
79'  Small bit of life in this one now. Dzsudzsak wants a free and doesn't get one. Joao Mario breaks and tries to send it to the centre for Andre Silva and Soares but Hungary intercept. The Hungarian crowd trying to rile their team.
78' Varga replaces Lovrencsics
77'  Corner Portugal. it goes all the way back to Pepe at centre-half. Wow! This game has been uneventful. The second half particularly poor.
74'  Ball over the top to Eliseu streaming down the left. He heads it back into Ronaldo but his header is off target and he's offside in any case.
72'  Pepe just stands with the ball. No pressure from Hungary and just under 20 minutes remaining.
 AAAAAAAAND.... Lukaku puts Belgium back in front two minutes later. Three goals in five minutes.
 Greece level just three minutes later through Zeca.
69'  Bernardo Silva adding some life to Portugal's attack. Such a dynamic player. But Portugal lacking any urgency at this point.
 Belgium take the lead against Greece. Jan Vertonghen on the scoresheet.
67' Elek replaced by Pinter.
65'  A little but of life from Hungary. Two crosses rejected before one that lands on Bode's head but it skims his crown and goes out for a throw.
63' Eppel is replaced by Bode.
63' Bernardo Silva replaces Gelson Martins.
63'  Free for Hungary. Fiola gets it from a long ball. He crosses and Eliseu stops it before clearing. 
61'  Kenan Kodro, formerly of Osasuna, lands another for Bosnia and Herzegovina. They lead LAtvia 2-0. 
61'  Hungary need to make a change here. They're sitting back, Portugal content with throwing the ball around. No urgency from either side.
59'  Gelson Martins loses possession down the left and Hungary start a rare attack. It comes to nothing.
Switzerland score two in a short space. Blerim Dzemaili atones for his earlier penalty miss. And they add another through a penalty from Ricardo Rodriguez.
55'  Ronaldo wins a corner for Portugal. The goal hurt the game. Hungary really struggling now and Portugal seem fine with the score as it is.
53'  Hungary really let down by Priskin. Little chance of them getting back into this one and no outlet to allow them relieve pressure on defense and midfield.
51'  Ronaldo with the ball outside the box. He cuts inside on his left and drives a shot that gets blocked towards goal.
Hungary yet to trouble Rui Patricio. 
Patkai with a strike that nearly sneaks insid eRui Patricio's post. It goes just wide. 50'  
49' GOAL! Andre Silva brave at the back post. Ronaldo crosses to him and with Hungary players flying in his face, he heads home. 
48'  Portugal looking more dangerous now in this half. Moutinho with a cross that comes in from a dangerous angle and Hungary forced to clear.
47'  And he goes down the line again. Fiola heads the cross back to his keeper. Safe again!
47'  Gelson Martins makes a move inside and crosses but Hungary get it away. 
No changes for either side.
46'  Back underway at Groupama Arena.
Quite a frustrating night for Portugal so far. Ronaldo has barely been an influence and they have scarcely troubled Hungary, even with the man advantage.
All the scores in the other World Cup qualifiers:
France 0 - 0 Luxembourg Latvia 0 - 1 Switzerland Gibraltar 0 - 1 Bosnia-Herzegovina Greece 0 - 0 Belgium
45'+3'  Half-time. It comes at a good time for Hungary. They were getting a little hot under the collar. They have a chat to the ref about a couple of decisions but the ref ushers them into the dressing room.
45'+3'  Andres Silva brushes himself off after being stood on, accidentally, by Lovrencsics
45'+3'  After some bobbling around, it falls to Ronaldo again. He fires straight down the throat of Gulacsi.
45'+3'  Ronaldo hits the wall.
45'+2' Elek the latest to fall foul of the law. Fouls Joao Mario at the edge of the box. Slightly out to the right for Ronaldo bur he'll surely have a go.
45'  Andre Silva with a clear cut chance. He strikes straight at Gulacsi though. And Hungary get it away.
44'  Dzsudzsak breaks free but has no support and turns around. Priskin's presence missed on that occasion. All the way to Gulacsi it goes. 
42'  Joao Mario with a cross now and that's poor too. Ends up out behind the goal.
41'  Pepe lofts a pass into the box. Gulacsi accepts with with open arms, literally.
40'  Fiola throws himself into a tackle and hits it off Eliseu. Throw Hungary. Some full-blooded challenges doing in by the Hungarians. They seem very angry about something.
39'  Portugal corner is headed up into the air by Eppel and gathered by Gulacsi.
38'  Cedric Soares gets a belt on the eye now and he's bleeding. It was Dzsudzsak as he was defending him. Looked innocuous enough.
37'  Lovrencsics cuts inside after taking down a lovely pass by Dzsudzsak but Eliseu does enough to force him to fire over.
36'  Portugal yet to make that an advantage count. Surely, a change or two in tactics by Santos at half-time should do the trick.
 Dzeko puts Bosnia and Herzegovina ahead against Gibraltar.
33'  Lovrencsics with a meaty challenge on Eliseu now. Throw to Portugal.
32'  We are back underway after Pepe's receives attention. A really sore one, that. An elbow straight to the nose.
30' Red card... Priskin sent off for an elbow on Pepe. An elbow straight into his nose.
29'  Priskin caught in possession again. Portugal win it back after a good spell by the home side. Hungary not attacking often but looking dangerous when they do.
28' Coentrao off for Eliseu.
26'  Soares fouls Dzsudzsak from a long ball and Hungary will throw another one into the box.
25'  Nice move by Portugal starting at the very back. Soares cuts it back to Ronaldo, but it out of his reach. It lands to Moutinho and his shot is blocked for a corner.
23'  Soares strikes after Andre Silva goes down, and gets straight back up again, under a tackle from goalkeeper Gulacsi. No penalty. Soares shot is over.
22'  Gulacsi nearly makes a mess of everything. His touch is dreadful as he receives a pass and barely gets the pass away as he gets put under pressure. Too close for comfort.
22'  Danilo takes the ball from Ronaldo and he shoots. Miles over the bar and Ronaldo has a look at his teammate. Not happy.
20' Patkai catches Moutinho with an elbow to the mouth. He gets booked and complains but he's lucky that he didn't get a red card.
18'  Hungary with their best attack. Priskin on the right. He pulls it back but Danilo clears. Perfect pass but no Hungary teammate coming into the box. Or at least, not Hungary teammate arriving in that spot. Better from the home side.
18'  Pepe, under pressure at the back, buys himself a free as Eppel leaves his foot in quite clumsily. 
17'  Andre Silva fouled on the left. Hungary recover and start their very own attack.
15'  That's exactly where Dzsudzsak lands it but Elek can't get it on target.
15'  Danilo with a foul on Patkai. Hungarian crowd getting into now and urging their side on. They've a chance to get on into the mixer.
14'  Soares delivers a cross that Gulacsi takes calmly.
13'  Ronaldo pulls back his right foot. But Elek gets back and nicks it off his toe. Ronaldo wants a free but nothing doing.
13'  Fiola plays the ball out over the sideline. another Hungary attack foiled.
11'  Pepe with a lovely, long ball to Ronaldo. He heads down to Joao Mario but the return pass catches Ronaldo offside.
 Seferovic gives Switzerland the lead against Latvia. The Swiss now five points ahead of Portugal.
9'  Some more chaos in Hungary's penalty area. Ronaldo crosses and Gelson sends it back towards the danger zone. Hungary scramble it away.
8'  They've obviously been working on them in training. Moutinho short to Coentrao. Coentrao then plays it back to Moutinho and he delivers it onto the head of Ronaldo. Just wide.
8'  Portugal with a couple of corners in succession though. Moutinho gets ready to take this one.
7'  A game of pinball has more fluidity than this one so far. 
6'  Hungary cope better with this one.
5'  Ronaldo with a tasty backheel to Coentrao. Portugal end up wnning a corner. It comes short to Ronaldo and he drives a shot towards goal. Forcing Gulacsi into an early save. Corner.
4'  Bruno Alves quite clearly grabbing Priskin's jersey. It was pulled up over his mid-riff. No penalty though. 
4'  Guzmics meets it with his head. Glances it wide. 
3'  Foul by Moutinho on Priskin. chance for Hungary to launch thir first proper attack. And Danilo kicks it out for a corner. Time for their second attack on Rui Patricio's goal.
2'  Coentrao launches himself into a tackle with Eppel. Wins the ball back for Portugal but Hungary win it back after a long ball by the visitors. Hungary really keen to take the ball down and play. Portugal a little scattershot at the moment.
1'  Ronaldo fouled by Fiola. He's walking a little bit gingerly but recovers as soon as he sees the pass on from the resulting free.
1'  Action! 
Portugal's national anthem first. And now time for the host's anthem.
A hat-trick tonight and Ronaldo moves ahead of Godfrey Chitalu of Zambia and Kunishige Kamamoto of China on international goals after leapgroffing Pele recently. Then he just has Ferenc Puskás from Hungary and Ali Daei of Iran.
Gelson Martins had an excellent couple of games against Real Madrid in the Champions League last year. He was linked with a move to the Liga champions after that and gets a start tonight. Loads of promise. He is by no means a regular start for Portugal but will look to shine tonight in place of Bernardo Silva.
Hungary XI:  Gulacsi, Korhut, Kadar, Dzsudzsak, Fiola, Elek,  Eppel, Lovrencsics, Parkai, Priskin, Guzmics.
35-year-old Bruno Alves replacing 33-year-old Jose Fonte.
Bernardo Silva, Eliseu, Fonte and William Carvalho drop out of Fernando Santos' team as Danilo, Gelson, Coentrao and Alves come in. 
This is Coentrao's first start or appearence for Portugal in over two years. 
Portugal XI: Patricio, Alves, Pepe, Coentrao, Ronaldo, Moutinho, Andre Silva, Joao Mario, Danilo, Gelson, Soares.
 Portugal a mile ahead of Hungary in third place. Well, eight points, with Switzerland a further three ahead of Portugal. The Swiss play bottom of the group side, Latvia, tonight at the same time as the Portugal - Hungary game and we will keep you informed of that one too. 
Portugal have gone 8 consecutive matches without a draw.
Hungary have gone 6 consecutive matches without a draw and Portugal have ton their last six. This one has goals written all over it.
Portugal have bagged three goals in five of the last six meetings between the two sides, stretching back to qualification for the 2000 Euros. Might be worth a flutter that, although Hungary have conceded only eight in seven games in Group B so far.

 Here's how Group B looks ahead of this evening's action, which also sees leaders Switzerland visit Latvia at 20:45 and the Faroe Islands host Andorra at 18:00 (all times CEST).

Good afternoon! Join us for the build-up to tonight's Group B clash in Budapest!
Hungary vs Portugal live online: World Cup qualifying preview
Portugal travel to Hungary in need of a victory in the 2018 Russia World Cup qualifiers. Fernando Santos' team sit in second place in Group B, three points adrift of Switzerland. Portugal took a detour via the play-offs to qualify for the last World Cup in Brazil, and will be eager to avoid the ordeal this time around.
Hungary are in third place in the group, yet with just ten points, qualification for their first festival of football since Mexico '86 is a distant hope.
Although the two teams played out a rip-roaring 3-3 draw last summer in the European Championship, their last meeting ended in a comfortable 3-0 victory for Portugal in March.
Hungary team news
The Magyars have never beaten Portugal (D4, L8), and this clash in Budapest does not promise a change in fortune.
Bernd Storck's side beat Latvia 3-1 on Thursday, and it was essential that Hungary picked up a positive result. Not because of qualification, but because they fell to a 1-0 defeat at the hands of minnows Andorra in their previous match. The Hungarians were the entertainers of Euro 2016, from their attacking play to their tracksuit-clad 'keeper, Gabor Kiraly. Yet the last year has seen a descent back to mediocrity.
Balázs Dzsudzsák and Zoltán Gera provide experience, with both players closing in on 100 caps for Hungary. In midfield, Adam Nagy of Bologna is a sily operator. At 22, he is likely to be member of the national team for years to come.
Portugal team news
Cristiano Ronaldo scored a hat-trick in Portugal's pedestrian 5-1 victory over the Faroe Islands on Thursday. In a career sprinkled with hat-tricks, this one was particularly special, as the Real Madrid star edged past Pele's tally of international goals. He now has 78 to his name.
The two Silvas, Andre and Bernardo, will be tasked with creating chances for Ronaldo. While RB Leipzig attacker Bruma is looking for his first cap after impressing in the Bundesliga.
The Portuguese are experienced in defence, despite Bruno Alves' withdrawal through injury. Pepe will play alongside West Ham's José Fonte.
---
Hungary vs Portugal live stream online: probable line-ups
Hungary XI: Gulácsi; Bese, Guzmics, Kádár, Horhut; Nagy, Pátkai; Varga, Stieber, Dzsudzsák; Szalai.
Head coach: Bernd Storck
Portugal XI: Patrício; Soares, Pepe, Fonte, Eliseu; William Carvalho, Moutinho; Mario, A. Silva, Ronaldo.
Head coach: Fernando Santos
---
Hungary vs Portugal live stream online: odds and betting
Cristiano Ronaldo couldn't get his second hat-trick in as many games, could he? He's 11/1 to take home the match ball.
Place your bet on Hungary vs Portugal here.
Clasificación Mundial Europa
*Update 3 de septiembre de 2017