Australia 2 (3) - (2) 1 Syria
Australia vs Syria: match report, result, how it happened
A tense encounter at the Stadium Australia in Sydney was decided by Tim Cahill's 49th and 50th international goals to take the Socceroos past Syria to the final play-off game for World Cup 2018Brazil - Belgium live online: World Cup 2018 quarter-final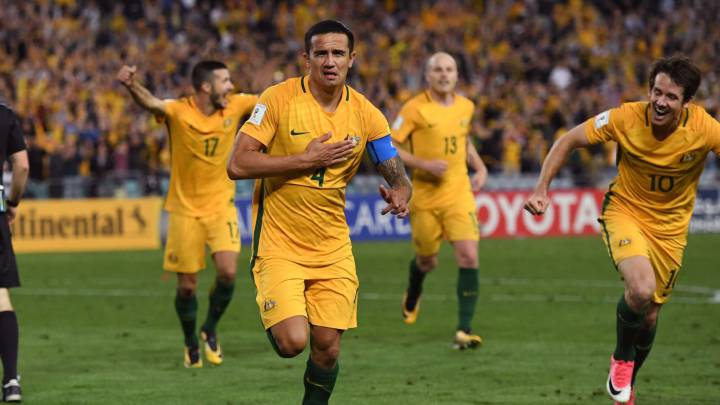 Veteran striker Tim Cahill scored deep into extra time to take Australia a big step closer to next year's World Cup and end war-torn Syria's fairytale run in the play-offs on Tuesday.
Legendary status confirmed for Cahill
Cahill, 37, cancelled out Omar al-Soma's opener in the first half before he leapt to head Australia's precious second goal in the 109th minute for a 2-1 win in the second leg.
After last week's 1-1 draw in Malaysia, Australia won 3-2 on aggregate to reach a final play-off against the fourth-placed team from the CONCACAF federation, currently Panama.
Syria went close to causing upset
Syria have never reached the World Cup and their hopes suffered a massive blow when Mahmoud al-Mawas was sent off for a second bookable offence in the fourth minute of extra time.
As penalties beckoned, Robbie Kruse sent over a cross from the byline and Cahill out-jumped his marker to power a header past the diving Ibrahim Alma.
There was huge drama in the dying seconds, when Soma juddered the right post with a vicious free kick. But Australia survived to stay on track for their fourth straight World Cup.
---
Australia vs Syria: how it happened
30'+2'  30'   Peep, peep, peeeeeep!! The full time whistle blows and it's Australia that make it into the next, and final, play-off match. Thanks for joining us today, we'll have a match report up shortly, and we hope to see you soon for more live coverage. [We actually have another one for you right now in the U-17 World Cup]
30'   Ooooooohhhh!!! It's struck beautifully and smacks off the right hand post with Ryan at full stretch. What an escape for the home side as we enter added on time.
28'   Another, possibly final chance for Syria to nick this. Free kick about 22 yards out, central.
26'   Stoppage in play as Kruse was down but we get going again and Syria almost get in down the left and had a decent shout for a penalty. Not given, Aussies breathe a sign of relief.
23'   Kruse in behind the defense. He has to turn back and doesn't mind either as he can keep possession and kill some time.
19'   Tim Cahill. Goal! Header! Kruse flicks it into the penalty area and Cahill, the captain, outjumps Al Midani and heads past Alma.
18'   Syria try to start a counter but referee gets in the way.
17'   Rukavytsya wants a penalty. He goes by Tamer Haj Mohamad and the Syrian tries his best to get out of the way but the Aussie was looking for contact and goes down. Referee says no. No way is he making that kind of decision in a game of this magnitude.
16'   Juric strikes and Alma saves. The Syrian goalkeeper has been really good so far.
15'   HT in extra-time, indeed! 
15'   The first half of extra-time is over but we might have some extra time after the injury to Al Baour.
14'   Rukavytsya with a chance. Mooy swings it in. The substitute was free in the penalty area and Alma saves. That was THE chance!
14'   Leckie heads back towards goal. It goes up into the air and Cahill fouls Alma.
13'   Al Somah breaks free but he waits too long and strikes, dragging his shot well wide. It didn't even actually go wide. Australia try to build quickly in an effort to catch Syria out.
11'   Corner is the result. Poor deliver from Mooy and Jurman can't do anything with it. Goal-kick for Syria.Can they keep it for a couple of touches, at least, to take the pressure off their defense.
10'   Corner for Australia. Mooy with another. Syria head it clear and Sainsbury sees it out for a corner. H wants a penalty are Firas clips his heels as he does so. 
 +9'   We are back underway. A delay as Al Baour needed treatment. Syria not complaining about it. They've killed a few minutes there.
 +7'   Al Baour down after a foul by Juric. He collided with hit in the air and arrived just slightly late.
 +5'   Rogic is replaced by Juric.
 +3'   Al Mawas has been given a second yellow for a foul on Robbie Kruse. He took the Aussie out of it and probably deserved it as it was a very late tackle.
 +3'   Alma saves again. Rukavytsya is onside and he strikes low and hard towards goal. 
 +2'   Australia straight back on the offensive.
 +2'   We have a new ref too as the official ref injured himself.
 +1'   Into extra-time! We are underway.
90'+4'   Half-time. Here we go! Extra-time.
90'+3'   We are looking straight into the eyes of extra-time. Australia can't break Syria down. Despite their dominance, they haven't really created too many chances. Proper chances.
90'+1'   Robbie Kruse called for handball after breaking in around the back. Looked fair on replay. He's not happy either.
90'   Four minutes added time.
90'   Mardikian goes off. Replaced by  Omari.
89' That would be heartbreaking. Rogic strikes. Deflected wide. mooy corner headed away.
88' Hamwiak booked!
85' Leckie cuts inside on his left. He strikes but there's a number of Syrian waiting to block it. Alma gathers and Syria break. Firas slips as they try to get a shot away. 
84' Rukavytsya with a cross. Poor from the substitute. It goes out behind the goal before anyone even has a chance to play it.
82' Alma launches and Al Somah is offside. He's trying to counter and the keeper has been told now to slow it right the way down!
80' 42,136. Just over half-filled. Not a great turn-out.
80' Al Mawas has a proper clip at Mooy's heels and gets booked.
80' Into the last ten minutes. 
77' Cahill heads a cross back towards goal. Alma saves.
76' Mooy strikes. Corner!
75' Rogic strikes the free but it hits his own teammate, Robbie Kruse, and clear. Australia win it straight back though.
74' Syria forced into another change. Mido has to go off with a knee injury. Hamwiah replaces him.
74' Change for Australia. Rukavytsya on for Troisi.
73' Mido dives in on Leckie outside the box. Mooy licking his lips looking at this one.
71' Mooy sends it in and Rogic with the right foot. He curls it and Alma not needed this time to prevent it hitting the back of the net but it was close. Goal kick instead!
70' Rogic strikes but Alma saves. What a move by Australia and what a save by the keeper. Corner.
68' Another Mooy cross. Headed clear to Mooy. Mooy sends it in again and Cahill heads down and it bounces up into Alma's arms.
66' Mardikian with a nice cross but Al Somah slow to react. It flies across goals.
66' Kruse tries to send it towards Cahill but again, Syria clear. Poor cross.
65' Mooy to Rogic and the huddersfield man continues his run. Rogic tries to flick it over a number of defenders but they clear. That was dangerous if it beat the first Syrian. 
64' Al Somah, from a ridiculously tight angle sends one towards goal. Maty Ryan has no issue with it.
63' Cahill ruled out for offside. Australia have eased off in the last few minutes. Syria might have weathered the storm. They're hanging around.
61' Maarikian to Al Somah and back again. The former shoots and it rolls into Ryan. Handy one for the keeper.
60' Jafal replaced by Al Khatib.
60' Mooy with a corner. Leckie goes very close from the header.
59' Syria ready to make a substitution but there is some confusion. 
59' Al Mawas has a crack but he's outside the box and Australia well positioned to defend and block it. Madikian follows it up with a shot from the left wing. Ryan saves.
57' Rogic strikes but Alma saves.
56' Australia trying to force the issue now. They press Syria and win it back. Cross headed away again. 
54' Kruse with another cross and Cahill much better and he chests it down to Mooy but Syria scramble it away again.
52' Kruse crosses but Cahill pulling out of the defender as he tries to position himself to gather the ball. Free out the field.
51' Troisi lcips one towards goal. Al Baour jumps in and clears with Alma coming out to gether. The defender couldn't take the risk. 
49' Mooy  with a free from just outside the box. He's going to have a go here. It's a little further out than he might like and he shoots. But it is too far away as his shot has slowed down by the time it reaches Alma.
48' Jurman fouled by Mardikian. He recieves a booking for himself.
47' Australia settle back into a possession-based game.
45' The two teams re-emerge and Syria get us underway.
45' Half-time! 1-1. Australia grew into that one and had Syria pinned back!
45' One minute added on and Troisi wants a penalty for a handball but referee says to play on.
43' Mooy breaks free and lets the ball bounce, meaning Syria can get players back to surround him.
41' Mardikian fouled by Milligan and gets a booking for himself.
41' Kruse lobs it towards Cahill but Ajan heads clear. He could have, maybe should have, struck that himself but he didn't fancy it. Instead Syria get it away.
38' Kruse loses out to Al Mawas and concedes a throw. Chance for Syria to cool it here before half-time and gain some semblence of control on proceedings again. Al Somah fouled by Jurman and Syria with another chance to attack.
36' Rogic the latest with an effort for Australia. He drives the shot wide wide his left. Syria's defense seemed to open up in front of him.
34' Mardikian fouls Sainsbury.
33' Mooy has really changed the whole game. Kruse offside again. He chipped it toward Cahill, who missed the header anyway, but he has been called offside now numerous times (even if that one was maybe onside).
31' Leckie with some lovely trickery with a back-heel to himself, changing direction in a second before he strikes. Alma saves!
30' Syria being pushed further back now as the half continues. 
29' Kruse in behind again but he's offside again.
28' Cahill misses a sitter? I think it's okay to call that a sitter. He was three yards out and the ball was perfect from Troisi but the captain can't convert. If there's a case against it not being a sitter, there was a Syrian defender and the goalkeeper in his way but the look on his face suggests he knows that was a really good chance!
27' Rogic flicks one towards goal after a cut-back by Kruse. Corner but replays show it hit Rogic last. They deal with the corner but Australia pick it back up again and build.
27' Mardikian looking for a way through Australia's defense but no room and he ends up fouling an Australian trying to get his way.
26' Ajan looks to have fouled Leckie but the referee actually books Leckie for  afoul just before it.
25' Al Somah trying to urge his teammates forward but the tactics ovbiously not allowing them. 
22' Jafal inside and close to goal but he gets a slight kick in the head as he tries to head it. Could have got a penalty if he went down there.
21' Kruse breaks free, just about, but he was offside. Youssef had him covered anyway.
20' End to end stuff here. Syria not backing down after that goal by Australia. If anything, they've improved.
18' Mooy delivers a corner but Syria head it away.
17' Mooy pulls down Jafal and is reall lucky not to be booked.
16' Al Mawas with perfect control. He takes it down and swings a lovely cross into the back post where Al Somah had bought himself a yard. It goes just over his head.
15' Degenek fouls Mardikian down the left and Syria will look to deliver the one into the box.
14' The crowd behind Australia now and they're building up a head of steam. Toisi looks for Cahill in behind the defense but Syira cut it out. Suddenly, Syria have less time on the ball andlooking a little more nervous.
12' Cahill free as a bird in the penalty area.
12' Time Cahill scores a head. Lovely cross by Matthew Leckie. 
11' Australia settling into a nice spell of possession now but still nothing doing. Syria content with how things are going.
11' Aaron Mooy replaces Brad Smith.
10' Syria jump another poor pass by Australia in midfield.
8'  Smith goes down for Australia and he doesn't look comfortable. He pounds the ground in anger but he goes off for assessment.
8' That changes it all for Australia. They now neeed two to win without extra-time.
7' Syrain score! Milligan gives it away and Haj Mohamad pounces. Al Somah finishes coolly past Maty Ryan. Excellent counter attack.
6' Australia starting to take control of this one. Leckie fouled again. 
4' Rogic finds Troisi and he makes room for himself to take a shot with his left. It's blocked by a Syrian defender but there were three of them close to it, closing him down.
2' Jafal fouls Leckie and the Australian reties his boot.
1' Australia get us underway!
Ayman Hakim in his second spell at the manager of Syria.
Australia have never lost a home World Cuo play-off so all the pressure on Syria.
The Syrian national anthem blares out over the speakers in Sydney. Massive Syrian crowd at the game.
The last World Cup Australia qualified for was the 2014 edition. They played three, lost three (to Chile, Netherlands and Spain) and were booted out after the group stages! They have qualified for three on the troe (2006, 2010 and 2014) and if they lose today, it would snap a eight year streak!
The Stadium Australia in Sydney is the venue for today's game. Opened in 1999, the stadium was built to host the 2000 Olympics in Sydney.
The visitors Syria will be without some important players for this game. Midini, Al Salih, Al Masri are all missing from the backline while their star man up front, Khribin, is suspended. In the middle of the park Al Masri has also been ruled out through injury.
Syria XI: Alma; Youssef, Medani, Al Baour, Ajjan; Al Mawas, Mido, Haj Mohamad, Al Jaffal; Al Soma, Mardikian.
  An excellent article here on The Guardian about the Syrian fans torn between supporting their country and not: "How can I support this team when so many civilians have been killed in Syria," Al-Akul said on Tuesday. "How can I when too many athletes have been arrested and some of them killed by the regime because they supported the Syrian revolution."
The late equaliser by Omar Al-Somah from the penalty spot in Malaysia has given Syrian fans some hope that they can make it to the final qualifying play-off however winning in Australia is a tough ask. October 2016 saw Japan earn a credible draw in the land Down Under but the Socceroos have won every other game in qualifying on home soil.
  If you're unsure of what time this game kicks-off, or are considering how best to enjoy live coverage, here's our quick guide. (Note: to help with your decision, our inimitable Robbie will be taking you through every important detail in our minute-by-minute coverage and giving you titbits of information for you to impress your mates with later)
If you're looking for a little more info on the two teams ahead of this perfectly balanced second leg, get your eyes onto our preview below which includes an explanation of how the team that progresses from this tie will still have some work to do to make it to Russia.
Good morning, afternoon or evening, depending on where you are joining us from, as we look forward to the play-off second leg between Australia and Syria. Kick off from Sydney is 11:00 CEST.
Australia vs Syria: preview
Australia host Syria in the return leg of the teams' continental play-off after a 1-1 draw in Thursday's opener, in which Omar Al Somah levelled with a late penalty after Robbie Kruse had given the Socceroos a first-half lead.
The winners of this tie advance to November's two-legged inter-confederation play-offs, where they will face off with the fourth-placed team from CONCACAF for a ticket to Russia.
Australia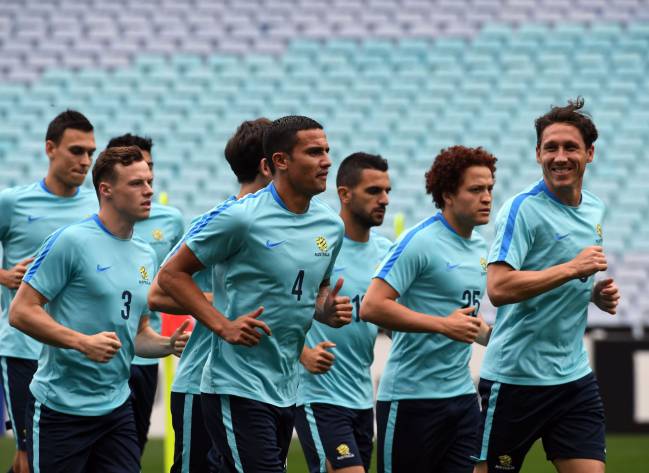 Australia are bidding for a place at their fourth straight World Cup, but have been forced to take the long way round after finishing third in their AFC third-round qualifying group
It is the first time that the Aussies have missed out on an automatic berth at the finals since switching from Oceania to the AFC in 2006.
But with an away goal in the bag and a fine home record so far in 2018 World Cup qualifying - nine wins and one draw - they are the clear favourites to progress after last week's first-leg stalemate.
Stadium Australia was the venue for the Aussies' AFC Asian Cup triumph in 2015, and coach Ange Postecoglou said pre-match that his charges are out to add to their happy memories at the ground.
"We want to create another great moment at a great stadium, where we have a great history," he declared.
Syria
Syria are seeking a first ever World Cup finals spot after claiming third place in their AFC qualifying group courtesy of Al Somah's dramatic last-gasp equaliser in Iran in early September.
Ayman Hakeem's men have reached this stage despite having to host their most recent qualifiers in Malaysia, 7,000km away from Syria, due to the ongoing civil war in in the Middle Eastern nation.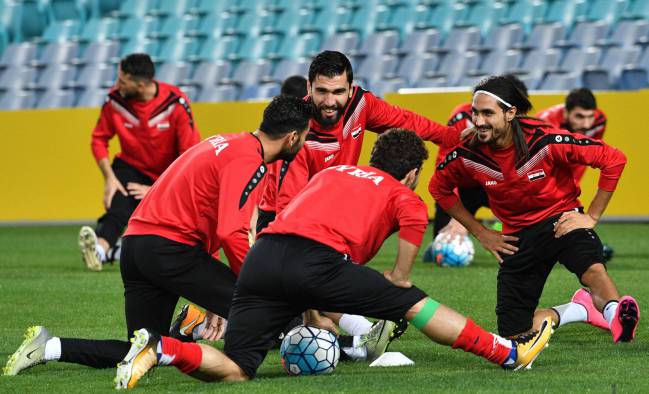 What's more, Al Somah's equaliser on Thursday maintained his side's unbeaten 'home' record in 2018 World Cup qualifying since having to decamp to South East Asia.
However, their away form has been less impressive, with four defeats and only three goals scored in their past six qualifiers. That bodes ill for a side who require a high-scoring draw or better to go through without needing penalties.
But although they travel to Sydney as underdogs, left-back Mouaiad Al Ajjan says Syria are eyeing the chance to give the supporters back in their war-torn country something to cheer about.
"We are content with the [first-leg] result," he explained, "but we promise the fans we will up our game in the second leg to bring them joy and qualify for the inter-confederation play-off."
Australia vs Syria live stream online: possible line-ups
Australia XI: Ryan, Degenek, Sainsbury, Jurman, Risdon, Milligan, Mooy, Behich, Leckie, Cahill, Rogic
Head coach: Ange Postecoglou
Syria XI: Alma, Youssef, Al Masri, Al Medani, Al Ajan, Al Mawas, Al Mbayed, Haj Mohamad, Kalfa, Al Somah, Al Khatib
Head coach: Ayman Hakeem
Australia vs Syria live online: betting odds
The bookies are firmly backing Australia to progress to the inter-continental play-offs, with the Socceroos priced at 1.10 to see off the challenge of the Syrians, who are valued back at 6.00.
See all the odds on Australia vs Syria here.