Saudi Arabia 0-2 Oman: Gulf Cup 2017 match report, goals, action
Oman suffered for much of the first half but came out in the second half and dominated the second half, scoring two and knocking out their opponents in the processFrance - Croatia live online: World Cup final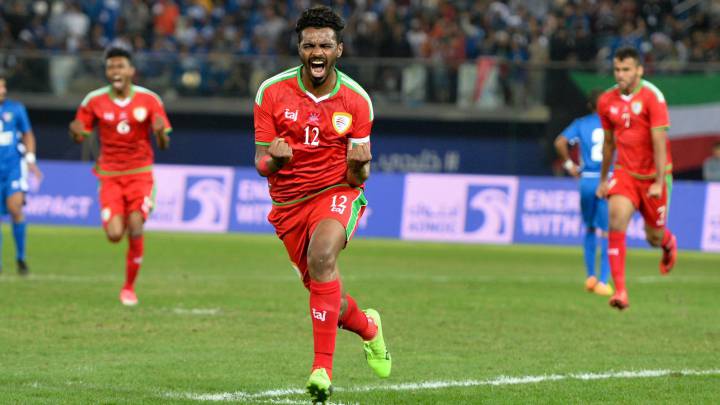 Saudi Arabia 0-2 Oman: match report
Oman started out the day in third place and staring an early exit from the Gulf Cup straight in the face. It was their opponents on Thursday afternoon that were top and in the driving seat. A win would have assured a place in the semi-final as group winners: anything, in fact, other than a loss would have booked them a place in the knockout stages.
They started better than Oman but Pim Verbeek's side slowly gained a foothold in the game. That was before Saudi, who travelled to the tournament with a young and inexperienced side, took complete control of the game and were unlucky not to score with a number of half-chances.
Oman survived and made it to the dressing room at the break without seeing their defence breached.
They figured if they were going to go out of the tournament, they might as well go out with a bang and they started the second 45 like a team with nothing to lose. It wasn't long before their daredevil approached started to breed belief.
Oman had the game by the scruff of the neck and they needed to score to seal their dominance. They did just that when Said Salim was sprung from the bench to tuck home a lovely cross from the right hand side on 58 minutes.
Their wrecklessness has been rewarded and they had their second when the super sub, Salim, buried a header beyond a stretching Assaf Al Qarni in Saudi Arabia's goal after 77 minutes.
In the other game, UAE and Kuwait played out a draw meaning Saudi were knocked out and have almost a complete six months to focus on the World Cup. Juan Antonio Pizzi, their coach who was watching on from home, sent a younger squad to assess where some of the fringe players were at and while some of them impressed, they failed to truly gel as a team in their three games.
Oman, on the other hand, saw the chance to drive forward and win the game, did just that and can look forward to a semi-final in a couple days time with their opponents to be decided on Friday as Group B winds down.
Saudi Arabia vs Oman live stream online: as it happened
90'+4' GAME OVER! Oman do the imporbably and make it into the Gulf Cup semi-final as group leaders.
90'+2'   Another Saudi penalty shout. No dice.
90'   Some confusion there but the linesman had his flag up. He was a mile offside as the ball struck him in the back.
90'   Saudi Arabia think they have another goal but it's offside yet again.
90'   the whole structure of the game has broken down now. 
89'   Oman break again! Trip, surely? The ref says no as Saudi break up the field.
88'   Saudi appeal for a penalty, very hopefully, but it's not given. Oman defending now like their lives depended on it. Saudi desperate too. Interesting last few minutes.
86'   An old-fashioned clearance there from Oman as they send it into the crowd. A few Oman fans unwilling to give them the ball back. They eventually do get it back and send it goalwards but it's gather again by Al Rashidi.
85'   Saudi trying their best to get back into this one but still nothing doing. Oman composed.
82'   Saudi knocking on the door but nothing again. Al Rashidi gathers the ball and falls to the ground before telling his teammates to calm down.
80'   How did he miss! Looked like Al Hajri with the header and he sends it over. What a miss that was. It was far more difficult to miss than it was to score.
It's still 0-0 in the other game. Surely, UAE have gotten word and will sit back, content with their point? Kuwait might have other plans though and will be keen to grab three points in their last game on home soil.
79'   Oh keeper. He should have done better. He was moving to his right and he was caught out completely as he grabbed at fresh air.
77' Oman with the second! Al Mushaifri with a lovely run down the right and sends a cross into Al Hajri buries it.
75'   Saudi Arabia have the ball in the back of the net but it's offside.
74'   So well done by Suhail as he turns his marker but his ball to Ibrahim Saleh catches his teammate just offside. Really good chance. Oman playing some lovely football now that the game is opening up in front of them.
73'   Al Moasher sends it towards goal but Oman do their defensive duties again.
72'   Free for Saudi out on the left and they take it quick, which didn't look like a great idea. They have some sustained pressure though. Oman a little lost.
71'   But it breaks down. Saudi getting slightly desperate. Babhir, the sub, goes into the book for a foul on Al Saadi.
71'   Oman on the break again.
Still 0-0 in the other game too. 
68' Oman looking more dangerous now as Saudi have to find a goal.
68'   Al Rashidi rushes off his line to grab a through ball. He calms thing down and starts again for Oman.
67'   Header from the corner and Al Qarni saves.
66'   Salim has given Oman real edge here in the second half. He takes one down and strikes only to see it blocked. He wins the corner though.
65'   Saudi Arabia growing now in this one and Oman in real trouble of defending too deep.
64'   Chance from the corner but it lands safely into Al Rashidi's hands.
63'   Al Yahmadi with a foul now and he's not happy. Saudi send it in and it's put behind for a corner.
62'   No, as it's headed clear.
62'   Chance to whip this one in. Out on the left. Can they double their lead?
61'   Oman with a free-kick from outside the box. Al Hajri fouled by Al Khabrani.
61'   Saudi have struggled to get started in the second half. They need a bit half an hour to stay in the competition.
59'   They've been the better team so far but had failed to create chances. Salim, the substitute, with the strike from the cross. It's saved but he scored the rebound. Well, it looked like him but might have been the defender.
58' Oman take the lead!!!!!! 
58'   Saudi Arabia slowly growing bakc into this game. 
57'   Dangerous from Saudi Arabia Al-Nemer with the cross and Al rashdi gathers but not comfortably. 
56'   Fallatah gets to the corner and sends it just inches wide. Keeper rooted to the spot but it's just wide.
55'   Al Musalami shows off his speed to get back and save a dangerous attack by Saudi Arabia. He concedes the corner though.
54'   They do and it's headed out.
54'   Al Moasher fouls Suhail. Free for Oman out on the right. They'll send this one towards the penalty spot. 
53'   It flies into the box and through a number of bodies but Saudi eventually clear. Oman back in possession though.
52'   Corner Oman!
51'   Through ball but Al Hajri is always second best on the way to it. He gets a toe to it but it goes wide.
49' Oman really have started better here. they're far more proactive and geting  more luck in behind. Nothing to show for it yet though.
48' 48'   Al Muqbali can't continue and Said Salim replaces him. 
47'   Mustafa hacks down Al Muqbali and Oman win a free. Bright start from them, even if it is only a couple of minutes.
46'   We are back underway! 
Saudi the better side but nothing to show for it.
Saudi with 69% possession but they haven't really created that much. There was a brief spell in the middle of the half when they looked like they might turn the screw and score but Oman did well to tame them and started to grow back into it.
  A lively first half. 
45'+1'   Oman had a free but the referee blows for half-time as soon as it was taken.
45'+1'   That's surely it for the first half as Al Moasher pushes forward and sees a deflected clearance float into Al Rashidi's arms.
45'   Al Yahmadi fouls Al Ghanam. 
45'   They actually work it short before launching it to the back post. Saudi get it away just about but that was a half-chance for Oman. Saudi start a counter attack but that comes to an end too. 
44'   They have a free. Al Mousa is booked for the foul and Oman will swing this one in just as we approach half-time.
43'   Through ball but Oman sweep it up and even win a throw for themselves. Hanging on now until the break.
42'   Oman looking quite sluggish now. They've really pushed back trying to defend deep against Saudi's rising threat.
42'   Ball is lofted to the back post and Al Qarni reaches to grab it. 
40'   Oman free now. Too far out to shoot but they're trying to work it short. Doesn't work at all. Throw to Saudi.
39'   The strike does come in and Al Rashidi scoopts it away as it bounces awkwardly in front of him.
37'   Al-Nemer hauled down outside the box. Chance for a strike at goal for Saudi. Ibrahim Saleh the culprit that time.
35'   Oman try to regain a little bit of control on this one. They do manage an attack but that breaks down before Al-Nemer starts a Saudi counter.
34'   Another effort for Saudi but Al Rashidi is equal to it as he parries and then collects.
32'   A lull now as Saudi Arabia regroup and try to think of a new way to break down Oman.
30'   Al Moasher, one of Saudi's better players, down injured now. A non-contact injury too as his knee seemed to get caught under him. 
28'   Another corner and Oman are really hanging on here. Striker from Al Khabrani eventually ends Saudi's spell of pressure. Oman won't be in any hurry to take this goal-kick.
27'   Mustafa again. His shot is deflected wide again.
26'   Falls to Mustafa and he plays it into Al Jamaan but Oman survive the scare. Corner.
26'   Corner is cleared but Saudi straight back on it and on the attack. Al Busaidi puts it out for a throw.
25'   Free comes in and Oman put it out for a corner.
24'   Injury for a Saudi player and they have a free as Al Jamaan ties up his laces and pulls up his socks.
22'   Al-Nemer put under lots of pressure in the middle and nearly runs himself into trouble. He plays it back and Saudi clear. 
21'   Another attack for Oman but it ends this time without an effort on goal. Saudi try to counter.
18'   Really nice strike by Al Hajri. He forces a save from Al Qarni.
Still 0-0 in the other game too. As it stands, still Saudi and UAE still going through.
17'   Al-Nemer, Saudi's best player so far, wins a free.
16'   Al-Nemer sends a cross in and Saudi win a corner. It's sent to the back post but headed wide.
15'   Chance for Oman. Ball come sin from the deep right. Al Qarni gets down to grab it.
14'   Al Busaidi sends it towards the penalty area, a really dangerous cross, but Saudi get it away. Oman growing more confident by the minute. But that also means they are opening things up at the back.
13'   Free for Oman. Al-Nemer puts Oman under pressure but eventually fouls Ibrahim Saleh after he loses it and is over-zealous in his pursuit to win it back.
12'   Free for Saudi as Oman break. Kano said to have fouled a Saudi player but it looked a contentious decision as there was nobody near him? 
10'   They're breaking now. Sent in from the left and it falls to Al Muqbali but he completely mishits it and Saudi clear.
9'   Dodgy clearance by Al Rashidi but Oman survive.
8'   Cleared and Oman start another attack. They've really settled into this game.
8'   Corner for Saudi as Al Jamaan lines it up and sends it in. 
6'   Another Oman free as Saudi relinquish some of the control they had on the game.
5'   Ibrahim Saleh fouled by Mustafa as Oman have the chance to start an attack for themselves.
4'   Saudi Arabia started the better against Kuwait but slowly let them back into it. They've started far stronger here too. Al Khabrani wins the throw. More Saudi possession but it remaisn in safe spaces on the field for Oman.
3'   Saudi with all the possession early on. Oman win it back but Saudi dispossess them yet again. 
1'   Very tempered start by Saudi Arabia but a mistake at the back nearly puts Oman in. Al Qarni gathers.
1'   We are underway!
Saudi Arabia team news: Assaf Al Qarni, Omar Hawsawi, Mohammed Al Khabrani, Abdulrahman Al Obaid, Nouh Al mousa, Sultan Al Ghanam, Jaber Mustafa, Mukhtar Fallatah, Salman Al Moasher, Saleh Al Jamaan, Ali Al-Nemer
Oman team news: Faiyz Al Rashidi, Mohammed Al Musalami, Saad Suhail, Ali Al Busaidi, Fahmi Durbein, Ahmed Kano, Harib Al Saadi, Raed Ibrahim Saleh, Jameel Al Yahmadi, Abdul Aziz Al Muqbali, Khalid Khalifa Al Hajri
A win for Oman, regardless of how that other games goes, will see them into the semi-final. They could also finish top is UAE manage to draw or lose to Kuwait, who are already out of the competition as the hosts.
We are waiting team news for Oman and Saudi Arabia. The other big game in this group kicks off at exactly the same time and we will have updates of that one too once everything kicks off.
This is how Saudi Arabia saw off hosts Kuwait in the Group A Gulf Cup 2017 clash.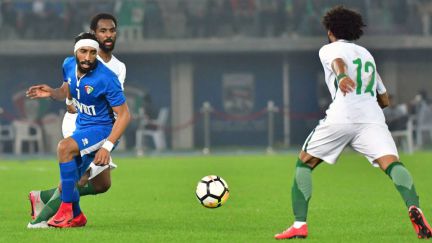 Here's how Group A of the 2017 Gulf Cup looks ahead of today's final round of games: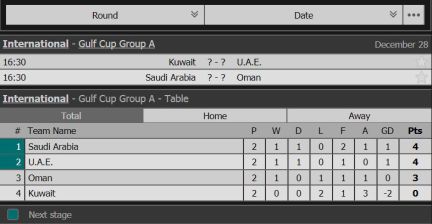 Hello and welcome to our build-up ahead of the final Group A match of the 2017 Gulf Cup with places in the semi-finals at stake for both sides. The action from Kuwait City starts at 1630 CET but we'll be following all the latest news and developments pre-kick-off. 
Saudi Arabia vs Oman live stream online: preview
The Gulf Cup of Nations restarts after a day's rest on Thursday with Saudi Arabia playing Oman in Group A. As the group stages draw to a close and with Saudi Arabia eyeing the top spot, Oman could pip them at the post at Al Kuwait Sports Club Stadium in Kuwait City on Saturday afternoon. The game kicks off at 16:30 CEST with Kuwait, who are already eliminated, playing the UAE at the same time.
Saudi Arabia
Saudi Arabia sit atop the group with four points after a victory over Kuwait in the opening game. Goals from Salman Al Moasher and Mukhtar Fallatah were enough to see them past the hosts despite a late scare.
They played the UAE in the second game but Krunoslav Jurcic, the manager stepping in for Juan Antonio Pizzi, was unable to find inspration off the bench as it ended 0-0.
Saudi were said to have brought a second-string team to the tournament with their eye on developing some of their younger talent and with the World Cup in Russia on the horizon. They have started well in the Gulf Cup, however, a competition they have won on three occasions in the past and most recently in 2004.
Oman
Oman are still in with a shout of finishing first or second, provided they can beat Saudi Arabia, and hope Kuwait can do them a favour by beating the UAE. The hosts are already knocked out having lost their two opening games.
One of the more recent winners of the Gulf Cup in 2009, Oman will be hoping the chips fall for them in the last two games of the group. Their three points came in a victory over Kuwait thanks to a penalty from Ahmed Kano but, worryingly, they have failed to score from open play and have just one goal in two games.
The good thing for their nerves is that the other game in the group is taking place at the same time meaning they need to take care of their side of the road and worry about the fall-out from the other game once the final whistles blows. We will, of course, keep you updated of the score in that game too, so you know what is happening as the semi-finals approach.
Saudi Arabia vs Oman: live stream betting
Saudi Arabia are currently favourites and you can get them at 6/4 if you fancy them to win it. Also, for both teams to score and for Saudi Arabia to win, it is a cool 6/1 if you bet now with Bet365.