Espanyol-Barcelona live stream online: LaLiga 2017-18
Gerard Moreno for the hosts and Gerard Piqué for the visitors bagged the goals as the derbi barceloní ended 1-1 in a sodden RCDE stadium.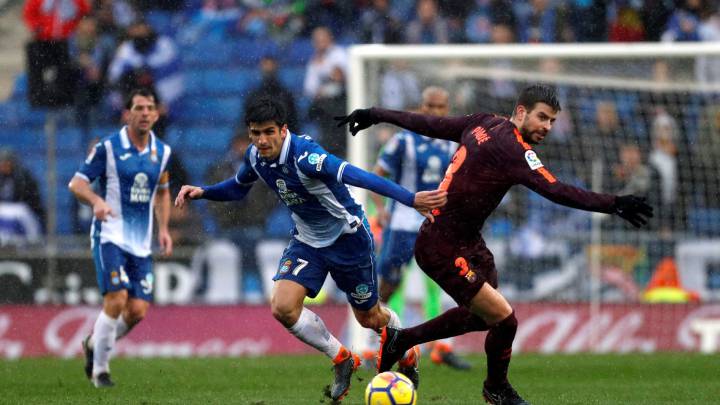 Espanyol and Barcelona played out a feisty and error-strewn 1-1 draw in the derbi barceloní at the RCDE Stadium on Sunday, Gerard Moreno and Gerard Piqué scoring similar headed goals on a surface that did not lend itself to intricate passing moves.
Piqué, as he so often is, was the centre of attention from the outset, every touch the Barcelona defender had being met with a cacophony of whistles from the crowd after his comments about Espanyol's geographical location within the Barcelona metropolitan area. It was little surprise then that he scored the equaliser to deny Espanyol a first Liga derby win since 2009 and duly milked the vitriol from the stands by putting his finger to his lips.
Beyond the Piqué pantomime, it was a cruel blow for Espanyol and Quique Sánchez Flores, whose side stuck to their game plan and would have been worthy winners after creating plenty of danger in the Barça area. Moreno's goal came from a tactical switch from Sánchez Flores, who sent on Sergio García to prowl the right flank where Moreno had profited until that stage, moving the forward inside. The two combined to great effect, García whipping in a wonderful cross that eluded Piqué's outstretched boot but landed plum on the head of Moreno, whose powerful header was too much for Marc-Andre Ter Stegen to keep out despite the Barça keeper getting a firm hand to it.
Messi powerless to tame the RCDE pitch
As the pitch deteriorated and the play with it, both sides began to get involved in individual battles as the foul count crept up. In an attempt to add some guile to his side Ernesto Valverde sent on Leo Messi with half an hour to play but even the Argentinean genius could not apply his deft brushwork to the sodden canvas at his disposal. As with Espanyol's goal it required an aerial ball to cut out the problematic turf, which was so waterlogged in places that the ball simply stopped in its tracks between players.
It was Messi who provided it, swinging in a corner from the right that Piqué stuck his neck out towards among a wave of blue and white shirts, sending a bullet header through Diego López and sending the RCDE into a frenzy of jeers.
In the final minutes tempers flared on the pitch as Moreno scythed through Piqué and Samuel Umtiti took umbrage at a challenge in midfield. Both sets of players squared up, Sergio Busquets and Leo Baptistao getting involved unnecessarily, and it took a few minutes for the referee to restore order.
When he had, Espanyol had a late chance to upset the natural order of the derby when Moreno put García through but the Espanyol forward was bundled off the ball, his appeals for a penalty falling on deaf ears.
Sánchez Flores will settle for a point against a side with Barça's attacking power and Valverde will not be too displeased either as Barça extended their lead over Real Madrid to 19 points with the nearest challengers to the champions-elect, Atlético and Valencia, playing each other later on Sunday.
---
Espanyol vs Barcelona live online: as it happened
Pique celebrates his goal.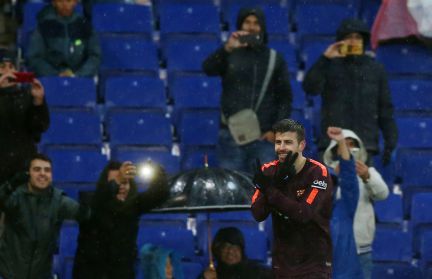 1-1 it ends. A thoroughly enjoyable derby. Thanks for joining us!
90'+3' And that's it! The afters continue as Umtiti is ushered away from Espanyol's players by Piqué and Quique is out on the pitch playing peacemaker.
90'+2'   Last chance for Espanyol as they win a throw. Into the corner or into the mixer? The latter as Moreno twists and turns and feeds García, who goes down under a challenge and appeals! It would have been a bold decision and the ref decides against it.
90'+1'   Moreno streaks clear on the left but play is hauled back for offside. Messi and Víctor Sánchez having a few none too delicate words with each other now as Moreno gets a clout. Free kick to Espanyol.
90'   Three minutes added.
89'   It's a game of hoof ball now, both sides just whacking it up the other end. Messi attempts to add some guile to proceedings but even the Argentinean can't walk on water.
87'   The Rock gets his first taste of the action in a tussle with Busquets and wins a free kick.
86'   The pass success percentages are understandably low, Espanyol at 44 percent and Barça at 74. Barça string four together though to slip Iniesta in on the left but he commits a foul driving into the area.
86' In among that lot Carlos "The Rock" Sánchez came on. We're back underway.
Busquets gets involved of course and the ref has his card out again, we think for Baptistao...
83' It's all kicking off. Moreno hammers into Piqué and goes in the book as both sides get into a shoving match. It's heating up. Moreno and Piqué are still going at it. The challenge was dreadful and Piqué is limping.
82'   Goooooool! Who else? It was written in the script... Piqué the pantomime villain meets Messi's free-kick from the left and powers a header home. He then puts his finger to his lips and invites the crowd to jolly well be quiet.
81'   David López! That was a header that could prove decisive... the ball is aimed at Piqué's head in the six yard box but the Espanyol defender rises to nick it off his head.
80'   Nothing doing though as Espanyol hold firm.
79'   Messi jinks and twists on the left and wins another corner. He sends it in himself and Sergi oGarcía, sensing danger as the ball bobbles about in the area, hammers it out for another.
78' Sergio García goes in the book for a wild lunge on Umtiti and instantly apologises. It was one of those that the water made look more dramatic than it was but definitely a yellow.
77'   And at the other end exactly the same happens as Moreno flicks the ball against Piqué's leg by the corner flag and the ref points to Ter Stegen's six-yard box. Bizarre stuff from the officials.
76'   A Barça corner is hit high into the area and there's a right old melee. Luis Suárez appeals for another corner but the ref gives a goal kick. He had a good point there the Uruguayan.
75' And Quique takes off Navarro, who's on a booking, and on comes Javi López. Excellent game from the right back, who drinks in an ovation.
74' On comes Jordi Alba for Barça, Lucas Digne making way after a decent game.
72'   The players can hardly get the ball to each other on the deck now, it's getting a little ridiculous. The last 15 minutes are not going to be pretty.
71'   Free kick to Espanyol as Digne gets a decent chunk of García's mush in an aerial challenge. Umtiti ushers it out though.
70'   Busquets not happy as he appeals for a corner but he was the last to touch it.
69' Navarro goes in the book for a challenge on Suárez. Looks a painful one as well, on the ankle, but the Uruguayan is fine to carry on.
68'   Can Barça respond to that?
67'   Kudos to Quique for pushing García out to the right and moving Moreno to a more central position. It worked a charm.
66' Gooooooool! Gooooooool! Gerard Moreno! It's a beauty as well, Sergio García picking the forward out with a magnificent cross and Moreno beating Piqué to the punch. Ter Stegen got a hand to it but the power of the header sees it over the line! 1-0 to Espanyol!
65'   Barça's defence bail Ter Stegen out after the keeper's clearance is poor and straight to an Espanyol player.
63'   Or the pitch itself could play a decisive role. The ball is either flying out of play or stopping stone dead in the middle. García gets a sniff of a break down the right but Piqué is across with a glorious sliding challenge.
61'   Free kick for Barça as Naldo flattens Paulinho. Messi swings it in but Espanyol clear. It may take a set piece to settle this. The pitch is not exactly the stage for individual brilliance today.
59' Change for Espanyol, Sergio García on for Jurado.
58'   It's a poor one from Granero but almost falls for a teammate, whose shot is straight into a Barça defender. Messi's first touch is cut ahort by a crunching tackle, sending the Argentinean skidding across the pitch in a cascade of water. 
58'   Free kick to Espanyol out on the left as Piqué floors Moreno.
57' Double change for Barça: Alcácer for Sergi Roberto and Semedo for Messi.
55'   Barça knocking on the door here but without real success. Coutinho looks for Paulinho but again the zip on the turf sees the ball over the byline beyond the stretching Brazilian.
54'   Iniesta ghosts past four defenders but Paulinho's first touch deserts him when a defter foot would have opened up a shooting chance.
53'   A lovely combination between Coutinho, Suárez and Iniesta ends with the Barça captain having a crack but it's deflected out for a corner.
51' Umtiti goes in the book and will be suspended for Barça's next league game. He then gets a timely challenge in to prevent Moreno having a pop.
50'   Moreno has been Espanyol's best player so far, a constant thorn in the side of the Barça left hand side. La Roca is also warming up and we're rather looking forward to seeing him.
49'   Iniesta tries to pick out Suárez but David López is up to head it clear.
48'   Midfield is a quagmire now, the ball sticking to the turf as though both are velcro.
47'   Barça have been served warning after that move. Ter Stegen deserves credit for reading the situation and forcing Baptistao to the byline.
46'   Leo Messi is warming up....
46'   It's in the net! Espanyol protest but the ball had clearly gone out when Baptistao turned it back into the box. He'd been put through by Moreno, who played a glorious ball to cut out Piqué.
46' We're back underway!
Barça racked up 74 percent of possession in the first half but were unable to turn their dominance into chances.
Will we see Leo Messi in the second half? Espanyol have proved difficult to break down in the opening 45.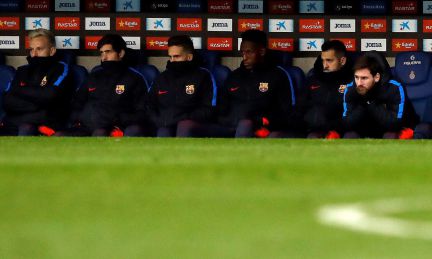 An entertaining 45, with plenty of niggles and the weather leading to a good old-fashioned slide and slam type of derby.
Just the two clear chances in the opening 45, Coutinho's bar-bothering effort and Baptistao warming Ter Stegen's gloves with a powerful drive.
45' And that's the half! Not a second of added time. 0-0 it remains in the RCDE, where the rain is still coming down in droves.
44'   Well over from Paulinho, who meets Iniesta's wonderful cross but can't keep his header down.
43'   Barça knock it about sweetly and feed Semedo on the right but Espanyol slide into the defence and concede a corner. It comes to nothing though.
42'   Suárez! Just over the top from the Uruguayan, but López had it covered.
41'   Free kick for Barça in a dangerous position after Baptistao floors Busquets, not without some relish after their earlier to-do.
39' Piqué finds his way into the book after all for clattering into Moreno. A case of mea culpa from the ref? The other foul looked much more clear cut and prevented a clear chance.
38'   Parts of the pitch are starting to get waterlogged and a cross field ball from Espanyol plops into the swamp in the middle. The players are starrting to look shattered already.
36'   Piqué loses the ball after dithering in midfield, to the delight of home fans. Moreno says ta very much and bursts forward, with Piqué in pursuit. Somehow, the Barça defender manages to escape censure after hauling Moreno to the floor. The Espanyol fans are incensed, and not without reason. Looked like a foul, and given the situation could have spelled trouble for Piqué.
35'   It's aimed at Piqué but the Espanyol defence do enough to prevent an effort on goal and the ball bobbles into the paws of Lopez.
34'   Luis Suárez is down clutching his throat after a crunching block from Naldo but the ref says no dice. It's a Barça corner though...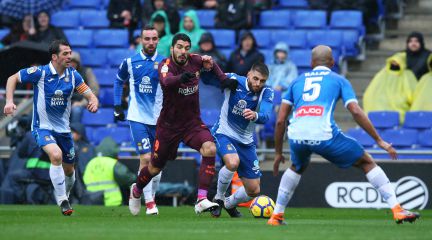 33'   Baptistao! The forward has a free header but pounds it over the bar. Espanyol looking the more likely to score at the moment, Barça a little rattled at the back.
32'   Baptistao gets the better of Piqué and bangs a shot goalwards. It tames a deflection and almost falls nicely for Moreno but skids across the goalmouth.
31'   Semedo does incredibly well in a dance-off with two Espanyol defenders, twisting, turning and jiving before lifting a cross into the box but the considerable framce of López is there to gather.
30'   30 minutes up and still 0-0 in the RCDE. Free-kick for Barça in the middle of the park, short as usual, here they come again...
28' Busquets in the book for flooring Baptistao as he broke from the halfway line.
28'   Barça look to pick a away through but Espanyol are snapping into everything, as you might expect.
26'   That's got the home fans bouncing and Quique roaring encouragement from the technical area.
25' Baptistao! The Espanyol forward nicks the ball and drives towards goal, unleashing a right-footer that Ter Stegen needs two touches to tame. Good opportunity for the home side.
24'   Espanyol on the front foot now.
22'   Gerard Moreno "roulettes" Coutinho, just to let the rather expensive Brazilian know that he's not the only trickster on the pitch. Espanyol whip in a decent free kick but the flag is up.
21' Coutinho! The Brazilian rattles the bar with a cracking effort from the edge of the area.
20'   Howls of derision greet the ref's whistle as Espanyol nick the ball and breal towards goal but are pulled back due to a foul on Alcácer.
19'   The home fans cheer ironically as Ter Stegen whacks a ball straight out for a throw-in. Navarro, surrounded by purple shirts, is bundled off the ball and Barça win a throw.
17'   Free-kick for Barcelona as Sánchez chops down Coutinho in midfield. Barça take it quickly and short and come forward again. The pitch plays its part once more as Semedo chases a ball down the right that skids over the byline for a goal kick.
73.3 percent possession for the visitors at the 15 minute mark. Just the one shot though.
15'   Suárez goes down in a heap after a ball from Alcácer but the ref is unmoved and invites him to get up. Barça controlling possession at the moment but finding it hard to pick a way through Espanyol's rearguard. Suárez almost gets on the end of a Semedo cross but it bounces out harmlessly, helped along by the slick surface in the RCDE.
13'   Espanyol are seeking their fortune down the right through Moreno and Barça are very respectful of his ability, doubling up every time he gets the ball.
12' Iniesta waves his wand and picks out Alcácer with a lovely ball but the striker can't quite get his foot around on the full stretch.
11'   Espanyol break down the right but Piqué is across like a freight train to snuff out the danger, to the considerable chagrin of the stands.
10'   Alcácer finds Suárez with a nice ball over the top but the outstretched boot of the Uruguayan can only tickle the ball into Diego López's gloves.
9'   Darder sprays the ball out to the far side and Espanyol are able to get forward but Moreno's cross is again his straight into Ter Stegen's comfort zone.
8'   Barça attempt some one-touch movement in the middle but Espanyol are well set-up and there's no way through for the visitors. Iniesta pulling the strings in midfield, looking to get on the ball as much as possible.
7'   Ernesto Valverde pops out into his technical area but quickly retreats, sodden, to his dugout. It's been a fairly slow start to the game.
5'   Ball for Espanyol again out on the right on the halfway line. Gerard Moreno takes on Umtiti and Digne and the ball is ushered out for a throw by the byline. Navarro pings in a cross but Ter Stegen plucks it from the sky like an apple off a tree.
If you're wondering why Piqué is getting the treatment from home fans, other than the colour of his shirt, here is the explanation.
3'   Throw for Espanyol out on the right after the home side nicked the ball in the press. Víctor Sánchez has a pop but it whacks into Paulinho. Barça attempt to breal but win a free kick as Coutinho is obstructed.
2'   Early chance for Barça as Suárez and Alcácer combine, but the Uruguayan can't direct his effort on goal.
1' Gerard Piqué subjected to a chorus of jeers as he gets his first touch. Barça building from the back. Espanyol haven't had a sniff yet.
1' We're off! The game is afoot!
Barça going for a 4-3-2-1, with Luis Suárez up top and Philippe Coutinho and Paco Alcácer in support.
The players are in the tunnel and we're five minutes away from kick-off. The rain is coming down hard now in Barcelona and it's going to be a wet and windy affair out there today.
Luis Suárez has been in a decent bit of form of late, hitting 13 goals in his last 10 Liga games.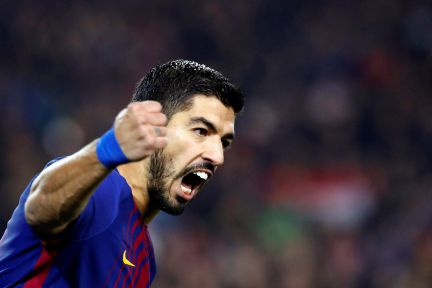 It seems that Quique is going to line up in a 4-2-3-1 with the old doble pivote, a double defensive screen with Víctor Sánchez and Sergi Darder protecting the back four.
Talking of subs and line-ups, here's a million-dollar question answered ahead of today's game. Ousmane Dembélé: Four reasons behind his injuries at Barça.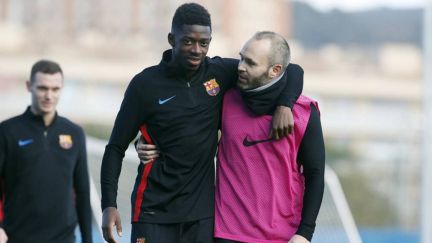 There's no start in the end for La Roca, who is on the bench for Espanyol. Messi is also warming the woodwork for the visitors. Espanyol bench: Pau López, Duarte, Carlos Sánchez, Sergio García, Melendo, Javi López y Mario Hermoso.
Ernesto Valverde and Quique Sánchez Flores have been around the same block a few times. Who will come out on top today?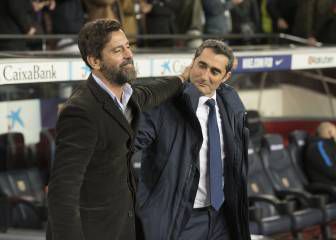 Winter signing Coutinho made his debut against Espanyol in the Copa and is in line for a start today as the sides meet for the third time in three weeks.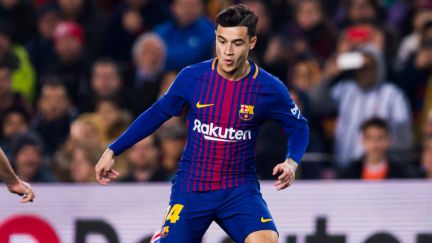 The big team news coming from Camp Nou is that one of Leo Messi and Luis Suárez will probably be rested today, which is good news for Espanyol.
Wondering just how the blazes to find today's game in the digital jungle. Here's a quick guide to how and where to watch.