Valverde: "There's a long way to go but this is a big game"
The Barça coach discussed tomorrow's key clash in the title race as Los Culés host Atlético Madrid at the Camp Nou (16:15 CET).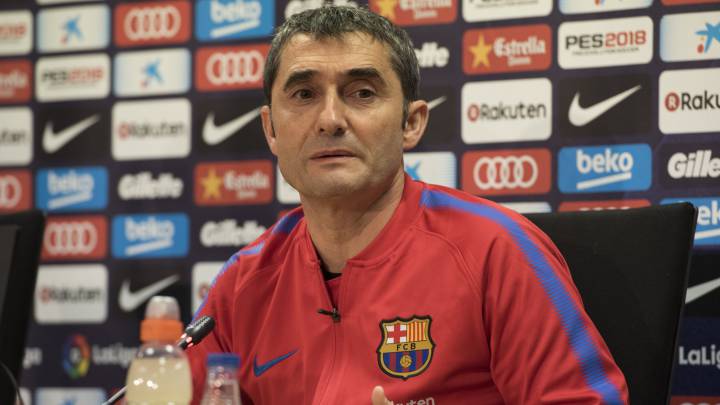 Barcelona coach Ernesto Valverde spoke to the media ahead of his side's crunch LaLiga clash against Atlético Madrid on Sunday afternoon (Camp Nou, 16:15 CET).
Playing styles: "We both have distinctive ways of playing and look to execute a plan. Atlético defend deep but also press high up the pitch. We're both at the top of the table so it should be a nice match. Three points will be worth a lot."
A LaLiga 'final': "There's still a long way to go but it's true that it's a big game. If they beat us they will close the gap and obviously if we win we'll extend our lead. We're treating it as a final, and we know how they play. Analysing it in a rational way, there is a long way to go."
Griezmann: "I'd prefer him to save his goals for another day. He's one of Atlético's main weapons and we'll have to keep an eye on him. He's a great player but I don't want to speak about a player on the opposing team."
Dropping points: "When you don't win there's a reason for it. Your opponents have done a good job... When you draw you realise how difficult winning is and it brings you back down to earth. When you win everyone thinks it's so simple."
The draw against Las Palmas: "I don't think it will have much of a say, although there are some issues with what happened in the Canary Islands. From week to week there are good and bad decisions, but you still have to be positive about things."
Coutinho: "He's starting to find his feet in the first team. He looks in good shape and I can also see certain areas where he can make us better. He's used to playing direct football and is learning to keep hold of the ball better."
Messi: "These games are both important and decisive. We'll also assess how he feels. He wants to play and hopefully tomorrow we'll see him at his best."