Carrick: Manchester United midfielder to retire
Manchester United veteran Michael Carrick will hang up his boots at the end of 2017/18, saying "your body tells you it's time to stop".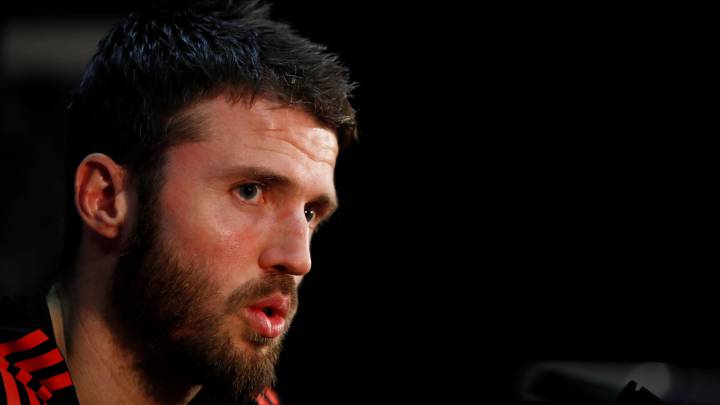 Michael Carrick will call time on his professional career at the end of this season, the Manchester United midfielder and former England international has said.
Expected to join coaching staff at Old Trafford
The 36-year-old club captain has featured sparingly for United this season, having been sidelined earlier in the campaign due to a heart scare.
He returned to action last month but, speaking at a news conference ahead of Tuesday's Champions League last-16 match against Sevilla, Carrick confirmed the current campaign will be his last.
"There comes a time when, as much as you don't like it, your body tells you it's time to stop playing football," he said.
"That's pretty much where I'm at, which is fine."
In January, United boss José Mourinho said he expected Carrick to retire at the end of 2017/18 and join the Old Trafford coaching staff - a move the player himself acknowledges as his likely next step.
"It's kind of being sorted out, we're still talking about it to be honest. But it's looking likely, yeah."
Won every major club trophy in 12-year United career
Carrick joined United from Tottenham for £18 million in 2006 and has played 463 times for the Red Devils.
A graduate of West Ham United's youth academy alongside the likes of Frank Lampard, Joe Cole and Rio Ferdinand, Carrick went on to win five Premier League titles under Sir Alex Ferguson.
He became a Champions League winner when United saw off Chelsea on penalties in Moscow in 2008 and, although he lost subsequent finals in Europe's top competition against Barcelona in 2009 and 2011, last season's Europa League triumph completed an individual clean sweep of major domestic and European club trophies.
"I wanted to finish on my own terms"
Carrick, who was capped 34 times by England, underwent a procedure to correct an irregular heart rhythm, having initially felt unwell during the EFL Cup win over Burton Albion last September.
"It started in the Burton game and then happened again in training," Carrick said.
"I'm clear now, it took a bit of time to get over. There were two or three times when I wondered whether it was worth still playing, but I soon got over that.
"I understood that I wouldn't be playing as many games, but I've been training hard and trying to keep fit. I wanted to finish on my own terms."