Iran 0-1 Spain: World Cup 2018 Group B result, match report
Spain had to work hard for their victory against Group B rivals Iran, but with the help of Isco's trickery and a Costa strike, they won to go top of the group. Cruz Azul vs America: Liga MX, live online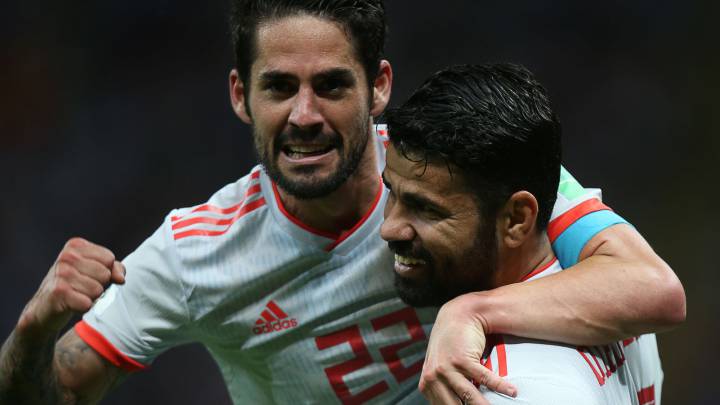 Iran 0-1 Spain: match report
Spain were made to work for their one-goal win at Kazan Arena on Wednesday night against a defensive and determind Iran side, who have eyes on a knockout place in the World Cup themselves.
Fernando Hierro made two changes to the side that drew with Portugal in the first game and stuck with David de Gea after a rare error-strewn game. The keeper was barely needed in the opening half, however, as Spain set up shop in Iran's half.
Playing with six men at the back, Carlos Quieroz' side were fighting fires for most of the opening 45 minutes. On the rare occasions when they did break free though, they did look quite dangerous. This became mor prevelant in the second half but the signs were there in the first.
Spain couldn't find a breakthrough in that opening phase with David Silva going closest with a chilena-themed strike that went over the bar. The tiny amounts of space Silva and Isco were finding were being exploited but nothing to the point were Iran felt truly threatened.
That changed in the second half when Spain came out with added purpose to their attack. Isco was looking increasingly dangerous and influential from the left half-space too. All of their huffing and puffing paid dividends when Diego Costa unwittingly knocked a shot beyond Alireza Beiranvand in Iran's goal nine minutes into the game.
After that, Iran loosened their shackles and get it a proper go. They had the ball in the back of the net only for VAR to rule out Ezzatollahi's effort for an offside. Spain looked nervous and when Amiri nutmegged Piqué and swung a cross in, it looked like Mehdi had drawn his side level. His point blank header blazed over the bar thought and Spain survived.
They killed off the game in the end with the fresh legs of Rodrigo, Koke and Asensio proving important in keeping Iran honest and not going for broke. Iran, however, will be buoyed by their display, which was almost flawless.
They play Portugal now and a win will see them through while Spain face an already-eliminated Morocco. Group B has had plenty of twists and turns and we aren't done yet with one more matchday to play.
Iran vs Spain live online, World Cup 2018: latest news
90'+4' Spain win the game.
90'+4'   This is it. He kisses the ball. 
90'+4'   Long one coming in. 
90'+4'   Throw now for Spain.
90'+3'   Iran break and Alba cuts across to clear the ball. He sends it up the field. Do Iran have one last chance in him.
90'+2' Yellow for Ebrahimi for a foul on Rodrigo after he broke through a couple of tackles. Free for Spain now and a yellow.
90'+1'   De Gea a little but slow to run out a grab a ball that was headed up into the air. He does eventually though.
90'   Busquets on the ball and he does a nice move to buy himself a yard and play it to a man in space. Excellent play from the Barcelona midfielder.
90'   Spain on the ball now and looking to kill this one off.
89' Rodrigo replaces Diego Costa.
88'   Isco wins a throw for Spain. 
86'   Good defending from Pique to win the ball back as Iran tried to attack. 
86'   Rodrigo warming up for Spain.
86' Ghoddos on for Iran. He replaces Amiri.
86'   Spain work it out from the bak. Asensio wins a throw.
85'   Asensio makes a run inside. He is tripped up and falls over as the ball goes out of play.
84'   Isco fouled as Spain try to play the ball out from the back.
82'   Pique nutmegged. Ridiculous. Amiri delivers the ball and Mehdi heads wide.
81'   Isco and Alba combine. Isco falls over a leg and loses possession. Spain back on the attack. Costa gets a touch on a through ball then and Alba is offside as it hits his leg. Unfortunate from a Spain perspective.
80'   Play continues. Iran on the break and they put it out for a throw to Spain.
80'   Isco caught with an arm to the face. 
79' Asensio replaced by Asensio.
79' There's the first yellow of the game. Amiri clips Carvajal's legs when he pops the ball over the Iranian's head. Deserved.
79'   Busquets to Koke and on to Isco. Costa breaks free but Iran get back just in time.
77'   Isco takes it when it looked better suited for Silva. Hits the wall.
76'   Lucas Vazquez drives forward and gets tripped up. Free for Spain in a dangerous position. 
76'   They give it away and cross comes in. Some confustion there as Ramos points to De Gea. Azmoun throws himself at it but is a yard or two away from the ball.
75'   Iran trying to figure out their way back into this game. Haven't managed it yet. Spain trying to hold onto the ball.
74' Jahanbakhsh on for Ansarifard.
74'   Iran getting ready with another sub.
73'   Spain in possession again. 
73'   Koke concedes a throw.
72'   Costa chases down a ball but he loses out. Iran give it away again as Spain are happy enough with how things are going. They've nullified Iran's threat in attack and look dangerous themselves for the second. Holding the ball now to really take the sting out of things.
69'   A goalmouth scramble. Ramos shoots, Pique gets a kick. Defender on the ground lying on the ball. About five players kicking at it. Free to Iran. Could have as easily been a penalty.
69' Mohamaddi on for Haji Safi.
69' Iniesta for Koke.
68'   Iniesta through with a lovely pass from Isco. Corner for Spain.
68'   Spain regain possession. Isco the key.
68'   Koke ready to come on and getting instructions from Fernando Hierro.
67'   Lovely ball in behind by Busquets but that's too much for Carvajal.
65'   Isco knitting things together nicely. Busquets with the ball in behind. Cleared by Iran.
65'   Another cross sent in and we have another VAR. Late whistle from the referee.
63'   Yes, it was offside on Ezzatollahi. He definitely touched the ball from an offside position.
63'   Offside but it will go to VAR.
61'   He sends it in and that's in the back of the net. Offside though.
61'   Rezaeian wants it himself. 
61'   Iran ready to shoot here. Ehsan Haji Safi looks like he's going to shoot.
61'   Iniesta fouls. Ramos in the vicinity too but it was Iniesta who lunged in from the back.
60'   Iran pick up a head of steam. Launched into the box. Not cleared and Mehdi gets a header on that. Wide of De Gea's post.
59'   Much more space for Spain now as Isco makes his way inside.
59'   Iran will really struggled now to get back into this one.
59'   Swung in by Isco and that's headed out for a corner.
58'   Vazquez pulled down as Spain move forward.
56'   De Gea grabs the corner with no problems. Throws it out to Alba.
56'   Iran win a corner.
56'   Ramos steps across the attacker and wins it back. Excellent defending. 
56'   Spain sitting back now and taking a bit of a breather. 
54' 54' ​It looked like an own goal but Diego Costa got the last touch. It bounced off his shin. Spain take the lead.
54'   Corner in and headed out to Iniesta.
54'   Another Spain corner. 
53'   Nearly a goal. Ansarifard with the shot from the long throw that was headed down. Hit the side netting.
53'   Pique not happy with conceding a throw. It did hit his head but he was being pushed in the back.
52'   Much, much better from Spain. Carvajal inside the box and he pulls it back for Isco. He shots over! 
51'   Spain with a little but more purpose now. Isco down the left. Sent in and Costa gets a nick on it but that's cleared. 
51'   Iran survive another scare.
50'   Incredible scenes. Beiranvand saves a shot from Busquets, Lucas Vazquez jumps in with a slide. Keeper in a heap rolling around. He's fine. 
50'   Isco takes. Touched on by Busquets and nearly creeps in at the back post.
49'   Reall long cross by Carvajal. Nearly makes its way to Alba but it's out for a corner instead.
49'   Silva with the ball in the box now and that's won back and cleared. Throw for Spain.
48'   Nah, that's not working. The ball out to Alba is working but the cross isn't. Cleared again.
48'   Back to the goalkeeper and he launches forward! Spain win it back.
47'   Isco with a move down the left. Cross but that's wide before it even reaches the goals. 
46'   Long ball by Iran nearly catches Spain napping. They win it back and attack! 
46'   Looks like no changes. Spain leave it as it is. And we are back underway in Kazan.
We are back out for the second half. Boths teams as Iran meet Spain on the turf.
    Will be interesting to see if Hierro makes a change at the break. For all of Spain's possession, it looked like Iran were actually quite comfortable.
    Three minutes of added time was a little bit of a surprise. 
45'+3'   Iran on the attack now. That's it for the first half.
45'+2'   Ezzatollahi fouled by Iniesta in the penalty area. 
45'+1'   Silva with a shot. Looked like it was gone in. Deflected wide. Spain getting closer.
45'   Three minutes added on. Quite a few injuries and stoppages in that half. Seems a little light.
45'   Goal-kick. Vazquez wants a corner.
45'   How long do we have added on. 
45'   Isco shot. Blocked.
43'   Costa gets it in the box. Loses it and pass to Alba is poor.
41'   Isco on the left. He shimmies one way and then another. Plays it into Silva. Shot is blocked.
41'   Really compact back there. Iniesta with a ball over the top. Picked off.
41'   Ramos ball across to Carvajal. Silva picks it up. Pique drives forward. 
40'   Carvajal with a cross.
40'   The goalkeeper waited for the ball to roll to him and Costa told him to hurry up. They clipped legs and then the keeper hit the ground. Referee sorts things out.
39'   Beiranvand down injured. This is going to become farcical. 
37'   He's still off the field.
37'   Ehsan Haji Safi limps off the field but he's fine.
37'   If he is as injured as he looks then there's no way he continues. 
37'   Iran have an injury. Ehsan Haji Safi down and has an issue with his thigh, it looks like.
37'   Iran taking their time over the corner. Costa asks the ref to keep an eye on his watch.
36'   Spain backing off now a little bit. Iran on the attack. Ball out wide to Rezaeian. He crosses and Ramos heads it clear.
34'   No, wait, it wasn't a free! Referee says no. Throw.
34'   Referee tells players to step back again. Free on Isco as Rezaeian chops him down. 
33'   Alba misjudges Iniesta's movement and gives the ball away.
32'   74% possession for Spain.
31'   Isco spins away and shots. Nice footwork but that's well wide with the shot. 
30'   Almost. Almost beautiful Isco with a lovely dragged pass. Iniesta inside but Iran slide in and give away the corner. Sent in and Silva sends a chilena-inspired shot over the bar.
29'   Iran with a rare spell in possession. Alba wins it back. Ramos to Busquets and out to Alba. Spain calm things down as Iran retreat. They got a little bit ahead of themselves there.
27'   Carvajal with the ball inside. Isco and Silva there waiting for it. Isco should have left it. Instead Iran clear before Spain win it back and send it towards goal. Out for a corner.
26'   Ramos on the ball and he finds Isco. He leaves Alba short and Iran break.
26'   Spain dominating here. 
25'   Silva takes. Shot is going towards goal, takes a defelction and Beiranvand saves.
25'   Iran player back up, wall constructed, Spain's planning around it done. We're ready for the free.
23'   Spain with a free 35 yards out. 
23'   Iran player down injured. 
23'   Throw out that Spain win back. Costa tripped up. No free. Busquets fouled just after and that's Azmoun and that is a free. 
23'   Free for Spain and that is blocked up into Beiranvand's arms. 
21'   Carvajal down the right and he wins a throw.
21'   De Gea out and gathers on a long ball. Pique leaves it to him. 
19'   Vazquez fouls now as Taremi breaks free. 
19'   Silva with a nice idea looking for Vzquez in behind. Too tight and Iran clear. Spain inching closer and closer.
18'   Silva with an effort. Blocked.
18'   Lucas to Costa but it's too high ad he swings a foot at it. Iran clear. 
17'   Ball into Costa and he is backpedalling and can't go forward in time. Nice ball in. Spain continue to threaten.
17'   Iran with an attack. Crossed in but there's too much pace on it. Out for a throw but that was dangerous.
16'   Ramos barges into the ref as he gets in his way on the way to the ball. He floats on in and Beiranvand gathers.
16'   Carvajal wins it back and plays it to Busquets, who treats his man to a nutmeg free of charge. Spain attacking again.
15'   Goes way over Isco and out for a throw. 
15'   Shot from Iran. That's well wide. Quick ball out and Busquets tries to find Isco with a cross-field pass.  
13'   Ramos heads back towards Piqué. Spain going close without actually getting any shots away.
12'   Azmoun the fouler that time.
12'   There's a late tackle on Busquets. The referee is saying NO MORE! NO MORE! He has Iran players in his face with every decision. 
11'   Quieroz being talked to by the fourth official.
11'   Spain camped out in Iran's half now. When they do push up, they don't half-arse it.
11'   Ramos takes it up the field. 
10'   Lovely pass into the box. Plenty of grey (blue?) jerseys in the mixer but none of them can get a head to it.
10'   Spain have plenty of big men up in the box. They need to be careful here if Iran counter.
9'   Isco, the man with the plan, calms things down for Spain. He's fouled by Ebrahimi. 
9'   Scrappy one so far. Spain win it back after the ball bounced a little but around in their back line.
8'   Another foul. Jordi Alba needs to calm down now as that's a couple of fouls. Now Ramos gets a talking to. It's Azmoun down and out here grabbing his ankle. Looks to be okay though. Carlos Quieroz up and shouting. He's ready to come on if needs be!
7'   Pique gets a head to that. Shot comes in but that's over the bar.
6'   Iran to send this one in from the endline.
6'   Iran looking quite dangerous on the counter. Carvajal bulldozes Amiri out over the line. Push in the back and a clear free. 
5'   Pique heads down the goal-kick. Spain back in possession.
4'   Ball in from the left this time. Lucas Vazquez with a little nudge and it falls to Carvajal. Half-volley ends up half way up the stands!
3'   Ball over the top and Costa has eyes on it. Beiranvand does too and he gets a fist on it too.
3'   Spain keeping the ball well now. Iran dropping back, retreating as Spain advance.
3'   High intensity to start this one.
3'   Foul on Ramos. He gets absolutely clattered in the back by Mehdi. He's made of tougher stuff than that though even if he looked rattled.
3'   And now Jordi Alba fouls. Two in quick succession.
2'   Busquets fouls.
2'   Nice move down the right and Silva crosses. Headed out and Iran break free. 
1'   Spain get us underway and set themselves up. No long balls as they start patiently and probably as they mean to go on.
1'   We are underway in Kazan!
    Nacho, who hardly put a foot wrong in that game, dropped to the bench. The first choice back four is back in place. Alba, Ramos, Piqué and Carvajal - divided equally between Barca and Real Madrid.
    Carvajal, who injured his hamstring against Liverpool in the Champions League final, takes to the field for the first time since that game. His jersey colour has changed but the stakes are similar, maybe, as this is a must win for his country.
    Just minutes away now as Spain look to push themselves level with Portugal to the top of the group! Iran could leap everyone and go top with six points if they win.
    Spain's national anthem comes after the Iranian one. All very serious faces and no singing (as ever)!
    Apparently, Iran are outnumbering Spanish fans by about 12 to 1 according to our guy in Kazan.
    Tunnel! The players have found the light....and they are heading in that direction.
    Here's a look at Iran's stats from that first game. 
    They had just 36% of the ball today. That could half tonight if Spain are in the mood.
    Iran had eight efforts in their first game. Just two of those were on target.
    Spain could and probably should have been out of sight in that game if it wasn't for some individual mistakes.
    And they never doubted him anyway. That has been the message all week.
    David de Gea keeps his place and it was never really in doubt. For a couple of reasons really. First is that he doesn't have a replacement and second being Hierro would have absolutely ruined him by replacing him after the Portugal game. 
    Iran XI: Beiranvand, Haji Safi, Pouraliganji, Hosseini, Ramin, Ezatolahi, Omid, Amiri, Karim, Mehdi, Sardar.
    Luis Suarez scored in his 100th appearance for Uruguay. Can Gerard Pique, who also earns his 100th cap tonight, get on the scoresheet?
  The Spain XI in old-fashioned text format: De Gea, Carvajal, Piqué, Ramos, Alba, Busquets, Iniesta, Silva, Isco, Lucas, Costa. Fernando Hierro makes two changes to the side that drew with Portugal last Friday: despite scoring an absolute stunner in Sochi, Nacho makes way for the fit-again Dani Carvajal at right-back, while winger Lucas Vázquez comes in for Koke.
  All of this means that, after drawing with Portugal last time out, Spain need to beat Iran - who come into tonight's game in Kazan fresh from a last-gasp win over Morocco - if they are to join the European champions in the top two going into Group B's final matchday.
  Kick-off at Kazan Arena is at 20:00 CEST, and we'll bring you all the team news as it comes in ahead of a game that's a must-win for Spain - if they want to have their fate in their own hands going into Monday's final group match against Morocco, at least.
Good evening! Join us for all the build-up ahead of Spain's second match in World Cup Group B, which sees Fernando Hierro's men come up against the Iran of former Real Madrid coach Carlos Queiroz.
Iran vs Spain: World Cup match preview
Spain play their second game of the World Cup against Iran on Wednesday night in Kazan Arena with kick-off at 20:00 CEST from Russia. Both sides saw goals scored late in their first encounters in this version of the tournament. Spain had their hearts broken with a Cristiano Ronaldo free-kick and a late Morocco own goal saw Iran nick all three points at death in their opener.
De Gea in the eye of the storm after Portugal gaffe
The big debate in Spain is whether David de Gea should start after a howler in that Portugal game along with questions over some of his other involvement, including the set up of his wall for Ronaldo's dagger at the death. The debate is only happening outside of Spain camp, however, as Fernando Hierro says his keeper is "one of the three best keepers in the world" before saying he believed completely and utterly in his number one. De Gea has the chance to cast doubts aside against an Iran side who were lucky in that first game. They have no fresh injury worries after the first game with Dani Carvajal coming into contention in the last couple of days.
Iran well placed to make last 16 after opening win
Under Carlos Queiroz, who is stepping away from his role at the end of the season, Iran have a chance of making it to the knockout stages for the first time in their history. It would be quite the farewell for their manager. He is not giving up hope of an upset and appreciated that, despite Spain's greater credentials, they still have to go and perform. They will be relying on Sardar Azmoun up front along with a strong unified effort if they have any chance of toppling Spain.