Peter Crouch amazed at "the lack of respect for Unai Emery"
Crouch cannot understand the criticism the Spanish coach has been subjected to after his first Premier League game with Arsenal and feels Emery is ideal for the Gunners.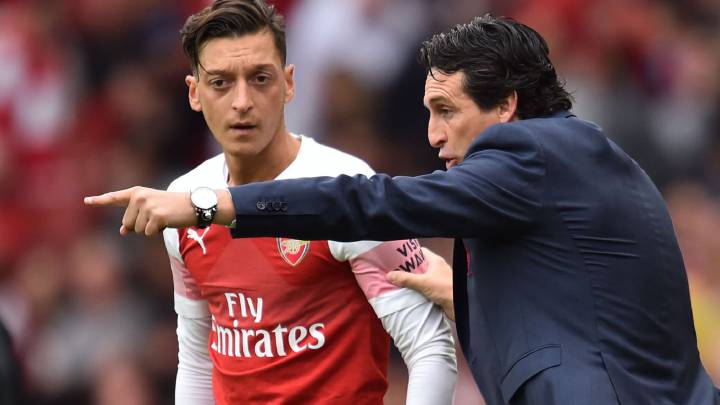 Just one 90-minute match was enough for some commentators to question Unai Emery's position at Arsenal. The most forthright when it came to questioning the coach's tactics in the Premier League opener against Manchester City was Sam Allardyce: "It's the manager's fault – it's his fault. Don't ask someone to do against Manchester City, which you shouldn't do. You should not play out like that from the back against Manchester City. What did City do? Press, press, press; so what are you trying to play out when they are playing press, press, press? Even the Arsenal crowd cheered when he dropped one in the opposition's half. You cannot just force the idea that the only way to play in this country is this way. We're getting obsessed with this stupid 'let's play out from the back, split the centre-halves either side of the 18-yard box and go and play from there. It's utter rubbish to consider to play like that all the time"
In his column for the Daily Mail, Peter Crouch defended the Basque coach and said it's too opportunistic to criticise him at this early stage of the campaign. "There is no doubt he has lessons to learn here but some criticism has gone way overboard. They have shown him a lack of respect", Crouch explained.
Emery critcism was over the top
"There is nothing like jumping to conclusions. Unai Emery has just completed his first 90 minutes in the Premier League but already some have seen enough. Manchester City outclassed Arsenal in Emery's first game. There is no real shame in that as the champions are going to outclass most teams they face. But judging by some of the crazy reaction after that 2-0 defeat, the first game should have been the last for Emery. Sam Allardyce was heavily critical of Emery's style in wanting to play out from the back".
Crouch believes that having patience with Emery will pay off for Gunners fans but admitted that he got a few things wrong against Guardiola's City. "Much of what Allardyce said will have jarred but I agreed with some of his comments. You cannot play out from the back against City if you are not close to their level. Pep Guardiola's City team is full of top players who are the best at pressing teams high up the pitch. There is no shame in taking out the press by clipping the ball to your striker and playing from there. It is sensible play and takes out the unnecessary risk of constantly playing short. If your opponents eventually do drop back, then you can play the football you want but it makes no sense for teams to stick to one method," he argued.
Emery needs time and patience
"Emery was a surprise appointment. His pedigree, however, marks him out as one of the best in Europe. He won the Europa League three years in a row with Sevilla then followed up at Paris Saint-Germain with three major trophies in two years. Again, though, people will point to his record in the Champions League in Paris and it feels like some have jumped on that bandwagon. They have decided Emery is not cut out for the Premier League after 90 minutes. Judgments like these never cease to amaze me. I have had enough experience with new managers to know it is impossible for a new man to change things immediately. The adaptation period at Arsenal could be a long one. What he needs is time and patience. City taught him a harsh lesson but an early bump does not mean a crisis is coming. Everyone wanted to see change at Arsenal but it will not improve if Emery isn't given a chance", Crouch concluded.