Real Madrid: Bale a headache for every boss he's had at LaLiga club
The latest issue? Gareth Bale's eagerness to play against Spain, despite his recent fitness problems at Real Madrid. He has finally been ruled out.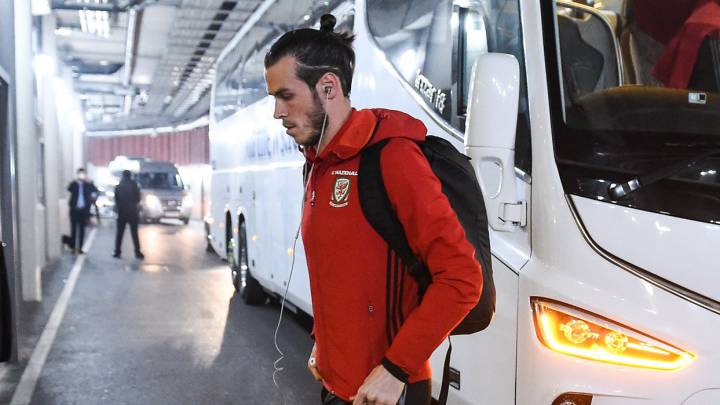 Gareth Bale has again courted controversy over what is by no means a new scenario. The Real Madrid winger travelled to Wales to join up with his national team this week - and it was a decision that left noses out of joint at the Bernabéu, after he sat out the second half against Atlético complaining of groin trouble (tests later revealing that he had not suffered any muscle damage), missed the trip to Moscow (where Los Blancos lost to CSKA) and, finally, asked to be brought off at Alavés with the scores still goalless (not before ensuring it was he who took a direct free-kick, though; after all, he had basically sought the substitution with one eye on Thursday's international friendly with Spain). Real ended up losing 1-0...
Bale's absences ("He's afraid of getting injured," club doctors say) have forced Julen Lopetegui to change his plans on the fly, and contributed to leaving the Real Madrid coach in all sorts of problems. Yet the forward - who, the club say, "has muscle fatigue but is not injured" - still intended to face Spain. However, Los Merengues formally asked Wales to rest him for the friendly in Cardiff, and he will now be held back until Tuesday's UEFA Nations League clash with Ireland. With Cristiano Ronaldo gone, Bale has been entrusted with spearheading the new Real, but his frequent physical complaints, allied with a seemingly greater devotion to country than to club, have left the European champions, and their new coach, exposed...
Carlo Ancelotti
In one way or another, Bale has proved a headache for every Real coach he's played for. Signed in 2013 at the insistence of club president Florentino Pérez - not because the team actually needed him - his 101m-euro arrival (at the time, it was a world-record fee) forced then-coach Carlo Ancelotti to seek a way to shoehorn him into the side. The Italian found the answer by removing Ángel di María from the right wing, despite this not being Bale's natural position (he had shot to prominence on the other flank, first as a full-back and then as a winger). The move signalled the birth of the famous 'bbC' trio of Bale, Karim Benzema and Cristiano, three players who focused only on attack and left their side exposed in defence. Ancelotti solved this imbalance in the team by operating with Di María in midfield, a plan that ended up with 'La Décima', the club's 10th European title.
Having negotiated his way out of one tight spot, Ancelotti again suffered Bale-based issues the following season. Pérez bought James Rodríguez for 80m euros after his World Cup Golden Boot, a signing that shunted Di María, who finally departed for Manchester United, out of the side. Ancelotti was left to go back to the drawing board, and Real came flying out of the traps, putting together a run of 22 wins on the bounce. However, after a money-spinning friendly against AC Milan in Dubai, the team suffered a physical collapse amid a mailstrom of conflicts - chief among which was one centring around Bale, and which had a big hand in Ancelotti's end-of-season sacking. In January, the coach hauled the player off at Valencia as Real went down 2-1 - in the process surrendering their winning run - and, as Ancelotti later revealed in his book 'Quiet Leadership: Winning Hearts, Minds and Matches', Pérez made clear his annoyance at the change. After that, the relationship between Ancelotti and Pérez "was not the same again," the 59-year-old said.
Rafa Benítez
Bale was also the root of problems for Ancelotti's replacement, Rafa Benítez, on this occasion as a result of the coach's excessive commitment to backing the ex-Tottenham man. Aware of Bale's importance to Pérez, Benítez arrived at the Bernabéu intent on keeping both player and president sweet. Which is why, that summer, he opted to go and see Bale on Wales duty - a gesture he did not afford Cristiano. His installation of Bale as teacher's pet distanced him from the rest of the squad. He gave the player the number-ten role he had coveted, and in press conferences was sparing in his praise of Cristiano to the Welshman's benefit, commenting for example: "It's hard to say who's the best [in the world]. I think that Cristiano, Bale, Benzema and James are up there..." Benítez later backtracked by saying the Portuguese was the best, but then, when asked who the greatest player he had ever coached was, replied: "I can't say who the best is, because I've had a lot of very good ones." Benítez's poor rapport with the rest of the squad, and the 4-0 defeat to Barcelona - which led the Real fans to round on Pérez - sealed his fate.
Zinedine Zidane
In Zidane, Pérez saw an appointment that could ward off the crisis at Real Madrid, and promoted the Frenchman from his job as boss of Castilla, the club's 'B' team. Like Ancelotti, Zidane also found himself on a collision course with the privileges enjoyed by Bale and, though he initially played ball - allowing himself to be particularly shown up by a decision to start a clearly unfit Welshman in the Clásico in April 2017 - he finally lost patience. Amid a spate of injuries and mutual displays of antipathy, Zidane demoted Bale. The attacker went from nailed-on starter to bit-part player, Zidane leaving him on the bench for almost all of last season's major Champions League nights: both legs of the last 16 against Paris Saint-Germain, the first leg of the quarter-final with Juventus, the entirety of the semis against Bayern Munich, and the final against Liverpool (in which Bale ended up coming on to score twice, including a spectacular overhead kick).
Julen Lopetegui
Bale's headline-grabbing display in Kiev led him to say: "Obviously I was very disappointed not to start the game, I felt like I deserved to ... I need to be playing week in, week out and that hasn't happened this season for some reason or another. I have to sit down with my agent and take it from there." However, his seemingly-over Bernabéu career took a U-turn when the coach's surprisingly resigned and Cristiano left for Juve. Without the Portugal captain and his 50 goals a season, Zidane's successor, Lopetegui, needs Bale - and needs him at his best. In recent weeks, however, his fitness has again become problematic. Yet his "muscle fatigue" and fear of injuring himself - which have affected his participation in Real's last three games - did not stop him from going on Wales duty and targeting the match against Spain. A country-over-club attitude that has not gone down well in Madrid...



LaLiga Santander
*Update 9 de octubre de 2018