Poland 0-1 Italy: UEFA Nations League match report
A very late Biraghi goal won it for Poland as they celebrated at Stadium Slaski and Roberto Mancini prevents Italy's slide from going any further.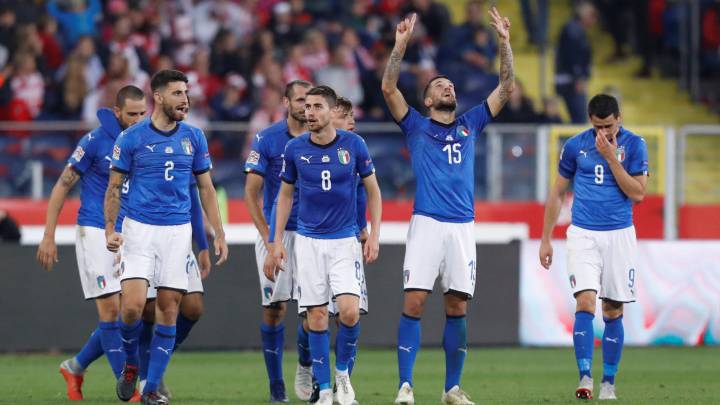 Poland 0-1 Italy: match report
Italy snatched a dramatic 1-0 win away to Poland in their Nations League match on Sunday thanks to a stoppage-time header from Cristiano Biraghi.
Biraghi's goal gave Italy their first win in the competition and also their first in a competitive match under coach Roberto Mancini.
It also meant that Poland, who have one point from three games, will finish bottom of Group Three in League A and will be relegated to the second-tier League B when the competition is next held.
The win was no more than Italy deserved after they dominated the match and twice hit the crossbar in the first half. Italy have four points from three games while leaders Portugal have six from two.
Poland - Italy live: updates
90'+3' GAME OVER! Poland relegated in the Nations League. The first ever side to be relegated. 
90'+2' Back post! The second minute of added time. Flick on at the near post Biraghi pokes it home at the back post. Mancini and Italy about to get their first win in five.
90'+1'   Corner now for Italy.
90'+1'   Free for Poland in the end. Send in by Zielinski and Milik wins it and shot comes in and Donnarumma saves.
90'   Verratti fouled. 
86'   Looks like this could be a stalemate here. Neither side inspired tonight.
85'   Lasagna caught offside. He was keen to get on the end of that one but it's offside.
84' Florenzi off for Piccini.
83'   Couple of heavy challenges come in. Ref blows for the first and gives a free to Poland. Reca arrives on Jorginho and that's a nasty one. Free for Poland though.
82'   Bonucci clears again as Poland get notions in attack. They win a throw. 
82'   Offside from Bonucci and a couple more too. 
80'   Poland counter. Ball sent in to Lewandowski but it's cleared by Italy. Only as far as Grosicki though and he can't control it. 
79'   No way through yet. 
79'   Italy camped out in Poland's half now. 
79'   Grosicki with a chance now and he can't find his target with the pass.
78'   He strikes it well over in the end. 
77'   Bernardeschi strikes now after letting the ball run across him brilliantly. 
75'   Almost perfect from Poland. 
73'   Lewandowski drives forward and he finds Grosicki. Saved from Donnarumma and Milik shots from closer range but he slams it over. 
72'   Free now for Poland and the cross comes in from Grosicki and it's a really deep post. Way, way too deep in the end. 
70'   No changes for Mancini yet. Will he make a change soon to try and get that goal? No win for them since they beat Saudi Arabia before the World Cup. 
68'   Throw now for Italy. 
65'   Insigne strikes and scores. It's offside. So intricate from Italy and they almost pass it into the back of the net but there was an offside there somewhere in the build-up. That was really nice from Italy if not a little over elaborate.
65'   Nothing really doing for Poland. Aside from one chance in this half. 
65'   He's holding his calf. 
65'   PSG fans hold their breath. Verratti down holding the back of his leg after giving the ball away. 
64'   And when I say that, they attack. Milik to Grosicki and he squares to Lewandowski. Too soon, it looks like, and he can't reach it. 
63'   Italy stamping their control on this one again. Two sides that need a win but neither look all that bother. Italy slightly more than the home side but Poland really struggling. 
61'   Italy want a corner now. Chiesa outside the box and he strikes but it's over the bar. He was actually fouled, it looks like. They get the corner but not the free, which is what they would obviously prefer.
59'   Barella with the cross and everyone mises it. Biraghi ends up striking it at the back post and he blazes it over on the half volley. 
58'   Donnarumma forced into a save. He tried to punch away and can't quite get it clear. Zielinski ends up shooting but it's over the bar. First real danger from Poland. 
54'   Ball out wide nearly makes its way to Chiesa. He can't control it though. Italy in control now.
53'   Worked short. Sent in towards goal now and then headed clear. Offside in the end after it went out for a corner. Insigne a little too quick on the draw. 
51'   Corner now for Italy. 
48'   Poland with another throw from the left. Causes some confusion but Donnarumma gets a rare touch. He grabs it.
47'   Grosicki involved early on. he can't keep the ball in play but more impressive from Poland as they try to take this game to the visitors. Fans weren't happy at half-time it sounded like. 
46'   Back underway now.
  Blaszczykowski comes on for Szymanski.
Looks like Poland will make a change at the break. Grosicki coming on for Linetty. 
45'   Half-time and the Polish fans not happy with that performance from their side.
45'   Another corner. They work it short and Bernardeschi with a cross but it's offside. 
42'   Szczesny with another great save.  Florenzi with a one-two with Insigne and he forces a great save from the keeper. 
41'   lovely flick from Verratti as he opens up the field to his teammate. Italy the better side here and really showing that so far as this half has progressed. 
40'   Lewandowski drops deep and picks it up to win possession for his side. 
39'   Szczesny with a clearance and that's out for a throw. 
37'   Bernardeschi with an effort. The Juventus midfielder's shot saved by his Juventus teammates in goals. 
36'   Bernardeschi's corner is cleared. 
36'   Another free now as Barella is fouled by Bednarek. He isn't happy and has a word with the ref about the decision. Chances for Italy to whip it in. Worked short and the cross comes in. Headed down by Chiellini and into the ground. Saved by Szczesny and out for a corner.
35'   Barella didn't give him the chance to get back onside! 
35'   Italy on the attack again. Barella on the ball and he plays it out to Bernardeschi and he's offside. He's not happy with the midfielder as he played the ball to him too soon. 
35'   Zielinski launches it towards goal and Lewandowski jumps into in but it's headed out by Italy. 
34'   Milik with the strike as it bounces up nicely to him. What a good chance for Poland. He strikes and it's turned over for a corner. 
34'   Another chance for Italy as they play themselves into trouble. Poland counter.
33'   Verratti finds Chiesa but he can't reach it. 
32'   Can Poland string together enough passes now to manage an attack. No troubling Donnarumma yet.
31'   Referee books the Chelsea player but not sure that there was much in that. 
31' A breather for Poland as Lewandowski. Jorginho the man to foul the Bayern attacker and he's booked.
31'   Only a matter of time not for Italy, surely. 
30'   Lovely ball into the box and Chiesa slides in and rattles the crossbar. 
29'   Italy cominating this one. Ball down the channel looking for Insigne. But it's too close to Szczesny. 
28'   Poland looking less and less sure of themselves in attack and on the ball. They're starting to just let it long more often. Not working out for them so far.
26'   Florenzi into Bernardeschi again and he takes it down and tries to find a teammate arriving. Poland squeeze them out and they win it back.
24'   Poland restart.
23'   Bernardeschi gets it as Florenzi cuts it back to him. He has all the time in the world to spin and shoot. It's dragged wide. 
21'   A slight lull now in this one. That's how it has typically been. Two sides who are okay with allow the game to happen in front of them but dangerous when they do decide to attack! 
19'   Biraghi sends in a dangerous cross. Nobody there to meet and greet it. 
17'   Another Poland counter and the cross comes in from the right and that's way over the penalty are and too deep by Szymanski. 
16'   Bernardeschi caught in the back as he jumped for a header. He's given a free. 
16'   Zielinski sends it in. It's headed out and Reca looks to be fouled. The home crowd wants a free but it's not coming. Might have actually been a penalty. Floreni got there first and the Polish defender kicked the bottom of his foot and came out worse for wear after it.
15'   Another dangerous Poland counter and Milik is tripped up by Barella. Lucky not to be booked there.
15'   Florenzi moves forward now. He cuts it inside and Poland win it back. Zielinski is fouled. 
12'   Chiesa down the right again. He drives one towards goal and Szczesny punches it away as far as a blue jersey. Another shot comes in and it's blocked. Poland survive again.
10'   Ball hoping up and around the penalty are as Poland fail to clear. They eventually get it away and Poland counter. Italy cut it out. The left hand side where Poland favouring in early stages.
9'   Sloppy from Poland and Bernardeschi moves down the right. Glik the culprit there as he gave it away. Italy looking dangerous as they attack. They've won a corner.
8'   Chiesa cuts inside and Insigne tries to chip the keeper. He ends up lofting it onto the roof of the net. No chance there. 
6'   Italy on the ball now for a change. Verratti picks it up and moves forward. 
5'   Italy soaking up pressure early on but no chances for Poland yet.
4'   Poland on the ball now and they're just trying to take the sting out of this one. Italy pressing high up the field and force Poland to go long.
2'   Jorginho a real rising star in world football. Lovely effort that was. 
2'   Reca with a throw now from the left and he launched it. Glik the target but it's wide. 
2'   An early warning shot from Italy. 
1'   Early and good start from Italy and Jorginho rattles the crossbar! Szczesny stood looking at that curler. 
1'   We are underway as Poland in their white jersey and red shorts get us started. 
    Ready for action! 
    Verratti and Jorginho in midfield should be good. 
    Two teams with a photo now as they push a diversity and inclusive # for the game. I didn't actually get the hashtag but it's a positive message. 
    None the less, we plough on! 
    Teams with handshakes and we are nearly ready for action. Stadium Slaski with an athletics track around it, which isn't ideal from an aesthetic point of view and atmosphere. 
    The Polish anthem plays now. Their team might not be playing very well but they're singing this one with pride. 
    The Italian national anthem blares around the Stadium Slaski. Quite a few Italian flags waving in the Chorzów air. 
   Meanwhile the actual Lewandowski has been rotated in and out of the Bayern squad and he will be wanting to put what is happening at the club behind him on international duty.
    Poland have "the new Lewandowski" up their sleeve but he doesn't start tonight. He has been linked with Barcelona but says "I doubt Barca are interested in me."
    Conte cited "to go play in certain leagues" as the reason why he didn't pick Sebastian Giovinco in his Italy squad when he was the coach. He is back now for the first time since 2015. He doesn't start but it's a start to be called back at 31. He has been incredible in MLS.
    Ready for action! Regardless of their form, that jersey just commands respect.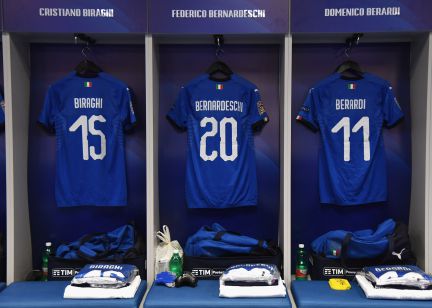 Poland captain Robert Lewandowski earned his 100th cap against Portugal and this will be his 101st tonight. He hasn't scored in five for Poland but will be looking to make it 56 goals for his country tonight.
    Poland XI: Szczęsny, Bereszyński, Glik, Bednarek, Reca, Szymański, Góralski, Linetty, Zieliński, Lewandowski, Milik.
    Italy XI: Donnarumma, Florenzi, Bonucci, Chiellini, Biraghi, Pellegrini, Jorginho, Verratti, Bernardeschi, Chiesa, Insigne.
    Hello and welcome to out live online coverage of Poland versus Italy. Kick-off from Stadium Slaski is at 20:45 CEST. We will have team news coming your way very soon!
Poland - Italy live online: preview
New Italy manager, Roberto Mancini, will be hoping to turn his side's fortunes around against Poland on Sunday night in the Nations League. They are winless in four and are not playing an exciting brand of football under the former Manchester City coach. He has demanded more from his side without getting it so far. Poland, on the other hand, lost most recently to Portugal in a 3-2 thriller but drew before that with Italy in a 1-1 stalemate. Stadium Slaski is the venue and kick-off from Poland is at 20:45 CEST.
Wojciech Szczesny, Kamil Gilk and Arkadiusz Milik are all included in Jerzy Brzeczek's squad as he tries to arrest Poland's poor form since he took over. They are winless in three, which is not as long as Italy's current plight but they are close. They had a poor World Cup as the malaise set in but Brzeczek has been unable to affect change to date. He has a full squad too to call upon in an effort to get a win over a big opponent, who are currently in a vulnerable situation.
Roberto Mancini left Mario Balotelli out of his squad this time around after the striker reportedly showed up overweight at the start of the season and for the last international break. He started Insigne up front against Ukraine but it was Bernardeschi who scored the only Italian goal of the game. Jorginho started that game with Verratti beside him in midfield but it is unclear if Mancini will stick with this formula against Poland. He has a full squad available to him