Valverde: We won't take any risks with Messi
In a press conference this evening ahead of Barcelona's Champions League clash with Inter, Ernesto Valverde would not confirm whether Messi would be involved.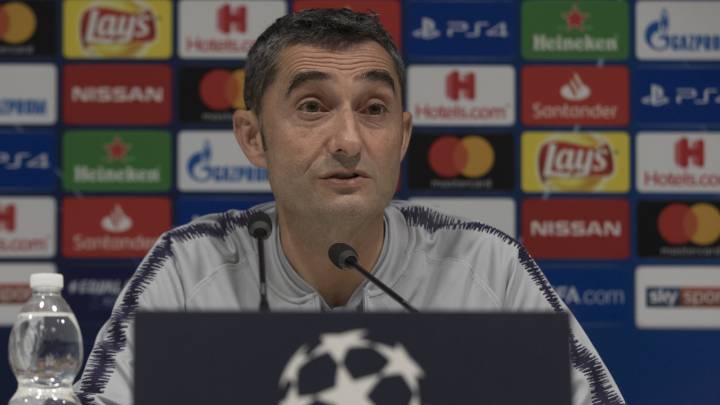 Ernesto Valverdes gave his thoughts at a press conference in Camp Nou this evening ahead of the Tuesday night's game against Inter, in which he spoke about preparing to face a better and more intense Inter in Milan and the possibility of Messi's return from injury.
Valverde quotes:
- Do you expect a different Inter than the one that played in Camp Nou?
We're expecting a similar opponent to the one we found at Camp Nou – definitely more aggressive because of the pressure [on them]. Inter are very intense, they want to dominate the game and not submit to their opponent but to press high. Because of all this, they have had such a good run this season. So, we expect a better Inter.
- How is Messi, will he have minutes?
Well, we have to wait for training. Leo is at that point where he could be available but we have to wait. We gave ourselves up to today's training. You have to see the safety margins in which he moves and you have to wait. Otherwise he is fine.
- What kind of game do you foresee tomorrow, will you use control or forcefulness?
Both. We need to control the game to try to reach the goal. Inter also do so. But you also have to be forceful.
- How important is it to win and close out your qualification?
To be already in this situation in the fourth game of the group is great. But I do not want to take too many risks. We are going to prepare for the game. We would like to win, of course. But at the moment it is not like that.
- You have suffered in LaLiga but not in the Champions League. How do you explain that?
We haven't qualified yet for starters. We have three games won from three played and that is a success. But we have suffered in LaLiga.
- If everything goes well, would Messi be a starter or substitute?
There are three or four options. But we will not take risks.
- Has Coutinho lacked regular game time?
We are interested in Coutinho coming into play because for us he is a guarantee. And you also have to see the context of the matches. We all struggle to be better and of course he can improve.
- Whose recovery is more important, Nainggolan or Messi?
It is a difficult question to answer. Spalletti would say Nainggolan, in our case it's Messi. They are two important players but I think the most important thing is the overall game.
- Spalletti said that if they prepared for matches against teams like Barça, they would lose 18-0.
Each team have their own routine and each team are comfortable in some routines more than others and we like that.
-They say Spalletti pays a lot of attention to detail.
I like that, I will not deny it. They are a brave team, they have a plan and they follow it. They go for you, pressing high from the start.
- To what extent is it necessary for Messi to recover?
Seriously? I think it's better if he's there. More than anything because he is one more and so we have more to choose from. Of course it is necessary for Messi to recover.
- Are you worried about conceding goals?
We certainly work to generate goal situations. I know we play with risk as Barcelona has always done and we want the opponent to score fewer goals. And for that we have our mechanisms.
- Do you have anything prepared for Icardi?
Make it through our game. I think Inter think the same as we do. We have good players and they will try to neutralize them. Obviously we have to be attentive to Icardi but the key will be the one who has the initiative.
- What changes when Arthur comes off and Vidal come on?
They are different players. I know what Arthur can give me and what Vidal can give me.
- Would you like Jordi Alba to renew his contract?
I would love it if he is happy. And he is happy. But that is a matter for Jordi and the club.
- Did you imagine Vidal in games like tomorrow?
- He is a player who has great enthusiasm and whenever he plays, he drives us on. We'll see if tomorrow he plays or not but of course we see that he is a player who can change the dynamics.