BOXING
Pacquiao vs. Broner officially announced for January
Pacman's defense of his WBA world welterweight title will be held at the MGM Grand in Las Vegas.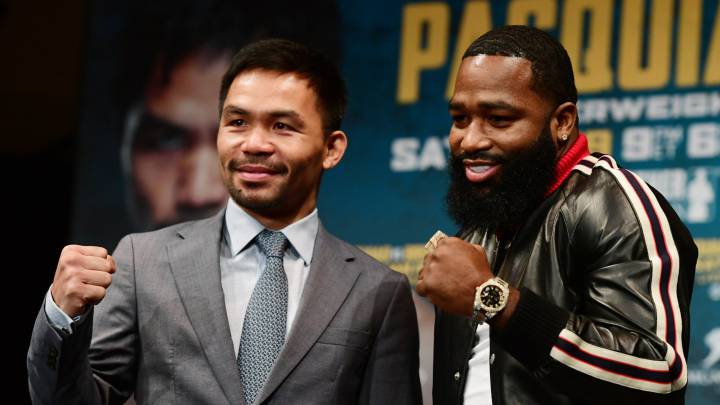 Filipino veteran boxer Manny Pacquiao confirmed on Monday that he will defend his WBA world welterweight title against Adrien Broner in at the MGM Grand in Las Vegas on 19 January, ending a two-year absence from the ring in the United States.
"I have missed fighting in Las Vegas. It has been a second home to me," the boxer said at a press conference in New York. "Returning to the MGM Grand Garden Arena to defend my world title against Adrien Broner is an exciting way to stage my homecoming."
Pacman, 39, also reiterated his desire for a rematch against Floyd Mayweather, who defeated him in 2015.
"When Floyd and I met in Japan [in September] we talked and he said he wants to come out of retirement to fight me," he added.
Mayweather will fight Japanese kickboxer Tenshin Nasukawa in a three-round exhibition on New Year's Eve in Tokyo.
Broner wants to send Pacquiao into permanent retirement
At Monday's press conference, the 29-year-old Broner said he planned to send Pacquiao into permanent retirement.
"I have paid my dues in this sport, and now it's time for me to get mines," Broner said. "I get more views than everybody when I fight. A lot of people are going to see me pack off Pacquiao into retirement, and without his belt."
About the North American boxer, Pacquiao said: "I chose Broner, because I believe we can have a good fight and entertain the fans - we cannot underestimate him.
"I want to prove I'm still in boxing. I want to entertain people.
"My opponent is fast and a caliber fighter. We have to work hard and train hard for this fight."
Pacquiao, who is the only fighter to win world titles in eight different weight divisions, pumped new life into his boxing career in July when he delivered a knockout against the Argentine Lucas Matthysse.