Ousmane Dembélé season likely ended after injury assessment
Although FC Barcelona do not want to release early information, AS has learned that the Frenchman's return may be too late for the Copa del Rey final.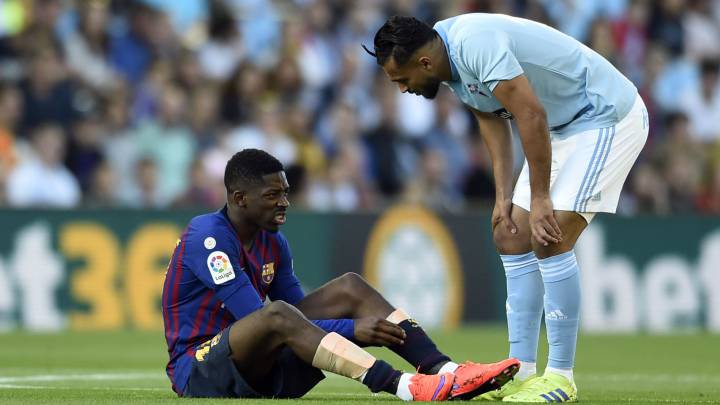 It's bad news for Barcelona star Ousmane Dembélé. The tests he underwent on Sunday, following the injury that forced him off against Celta Vigo the evening before, confirmed a tear in his right hamstring and, as AS has learned, he is expected to be out of action for between three and four weeks.
Dembélé season at risk
Right now the Frenchman's season is hanging by a thread. Clearly he will take no active part in the Champions League semi-final second leg at Anfield on Tuesday evening, as well as the last two games in LaLiga over the next couple of weeks. After that it will depend on how quickly he is able to get himself ready, and a little luck. The dates he will be focused on are 25 May for the Copa del Rey final against Valencia, and then (assuming his teammates don't collapse in Liverpool) 1 June for the Champions League final at the Wanda Metropolitano stadium in Madrid. How he would love to shine on the greatest stage of club football.
The hamstring muscle is often at risk from players who rely on a burst of acceleration, and this is certainly true of Dembélé. In his first year as a Blaugrana he spent four months out due to a tear in his left hamstring, and this season has already missed out on a month of action. This will be an ongoing concern for the management team at Camp Nou.
[LATEST NEWS❗] Tests have confirmed that Ousmane Dembélé has an injury to the right femoral biceps hamstring muscle. The evolution of the injury will condition his availability pic.twitter.com/rLi67i0vuF

— FC Barcelona (@FCBarcelona) 5 May 2019
Warm-up question marks
Questions have been raised about the timing of the injury in Saturday's league game. The winger was down in the first couple of minutes in Vigo, after sprinting to recover the ball, leading to doubts over his warm-up routine.
Liverpool are next up for Ernesto Valverde's team and the explosive nature of Dembélé's style of play could have been a devastating option on the counter attack as The Reds chase at least three goals. The odds suggest that they'll be fine without him, especially as they have someone else playing a leading role.