Late Rakitic rocket wins it for Barcelona in Miami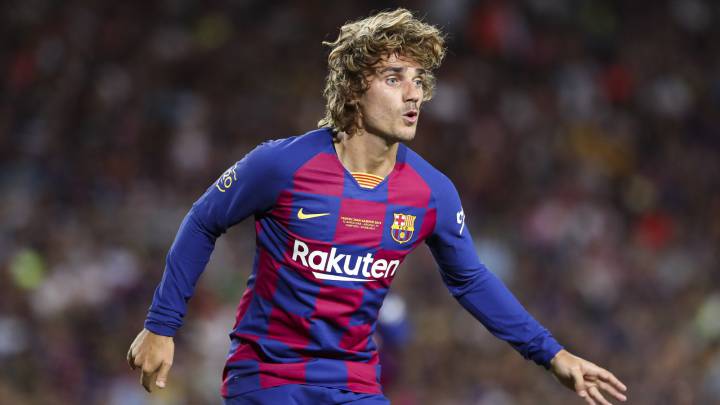 Barcelona vs Napoli: as it happened!
And that does it! 2-1. Goals from Busquets and Callejon in the first half saw us all square at the break. But a Rakitic rocket won it for Barcelona in the second half.
Verdi with the strike. Neto saves again.
Dembele links up with Firpo and he gets it back. Dembele curls one wide of the post.
Napoli with another effort but they miss this too. Well worked as Mertens drags the shot well wide.
Game is wide open now. Neto saves from Milik and Dembele counters before driving it a mile wide.
Should be a red as Dembele races through and gets pulled down by Hysaj.
Free for Napoli that Busquets heads up and out for a corner.
Yellow card comes out for Firpo as he puts a high foot into a challenge.
What is Milik doing. Ball crossed in and Callejon is there to turn it home but Milik chests it over the bar. Wasteful.
Umtiti fouled by Milik and he boots the ball away as he gets a booking.
Milik this time and Neto turns it around the post. Wonderful save again from Neto!
Dembele rattles the base of the post with his first touch! Meret was beaten.
More changes for Barcelona. Peres, Puig, Wague and Tobido off for De Jong, Dembele, Semedo and Pique.
Rafinha fouled by Maksimovic in a dangerous position. He turned his ankle slightly there.
Verdi ruled offside as Napoli build a promising attack.
Rafinha takes on a man and wins a corner.
Busquets back on the field.
Slightly worrying for Busquets as he walks off injured after twisting his ankle. Not clear if he will he subbed off but he goes off with a trainer.
Changes for Napoli. Milik, Verdi and Gaetano on.
Elmas down in a heap not getting treatment.
Rakitic has a pot shot when it all gets a little too congested in the penalty area. He drives it wide.
Rafinha with a curler wide. It takes a nick but the midfielder continuing his fine form in the preseason.
Rafinha plays Wague through. He had a man inside but he drives it over the bar anyway.
Cross in from the right as Mertens meets it with a right boot! He drives it over but he made great contact.
And now Abel Ruiz nearly scores. He gets a shot away after a cross from Perez. He follows it up after the save and Meret grabs it again.
Insigne tries a little chip after Barcelona cough it up deep in their own area.
Neto rushes out again after a lovey move from Napoli. He gets a foot to the ball, chases it down and then clears. Excellent from the new signing.
Yellow card for Wague as he clatters into Rui. Looked quite tame really but that's his second of the game. Ref says enough.
Rafinha and Abel Ruiz replace Suárez and Griezmann at the break.
That's it for the first half. 1-1 after a Busquets strike followed by an Umtiti own goal, which might have been going in anyway from Callejon's shot.
We will have one minuted of added time.
Mistake by Barcelona again thrugh Umtiti and Fabian gets it. He shoots and Neto saves again.
CALLEJON! He responds at the back post winning it off Junior and slotting home with some help from Umtiti.
Insigne chests it down at the back post and waits maybe a fraction of a second too long. He strikes and Tobido gets across to put it out for a corner.
BUSQUETS! GOAL! He drives a shot low and into the corner from distance. It bounced in front of the keeper and in despite him being at full stretch. Tame goal to concede. Barcelona lead.
Wague tries his luck after some good pressure from Napoli. He wings his left foot at it but he drags it wide. Not bad though.
Another really slick move from Napoli as Callejon gets it at the back post. He knocks it back inside to Mertens but his chilena is well over the bar.
Suárez with a through ball to Griezmann. He's offside and it's too far ahead of him anyway.
Callejon plays a ball across the box to Mertens. It's perfect but he can't reach it comfortably. He gets a foot to it and knocks it wide.
Carles Perez forces a good save from Meret and Suárez follows it up with a volley. He slices it badly wide though.
Back underway and a through ball to Wague on the right is met by the defender as he crosses in and Meret saves.
Mario Rui takes a pass down out to the left and whips it in. Carles Perez with the block and it's a corner for Barcelona to deal with.
Some nice combos between Napoli attackers. Shot comes in and Neto saves low again.
Callejon wins it back and drives forward. Ball to Mertens and he gets it again after a 1-2. He has a shot from point blank range and Neto saves with a world class effort. That was incredible.
Ball over the top for Griezmann and he touches it back to Suárez. His shot is a mile over but that combination working really well so far.
Suárez tries to find Griezmann out on the left but that rust is showing from his summer holidays and it's a little too far ahead of him.
Barcelona starting to get a foothold of possession now but Napoli still looking quite dangerous on the break and whenever they get the chance to build.
Wague jumps into a tackle and he almost hurts himself and Mario Rui in the process.
They keep it even if Griezmann's pass can't find anyone. Griezmann gets it back and shoots with his left. Meret gets down to save it.
Carles Perez out to Firpo. Puig to Griezmann and the movement in Barcelona's attack looks very dynamic. Almost too much movement.
Fabian with a nice turn and shot. Neto is equal to it but he's started well and so have Napoli.
Corner comes in and Suárez with another volley as it falls to Griezmann. His shot it well wide.
Griezmann and Suárez link up and Griezmann plays out to Junior. He wins a corner.
Pass dribbles through Barcelona's defense. Mertens is there to almost pick it up but Neto reacts quickly.
Mertens with a cheeky shot from the left. Well over the bar.
Barcelona too though. The game is very open and Barcelona will enjoy that. They attack now. This could be a trend here! Two teams really keen to attack every chance they get.
Napoli looking slick in possession. They move forward and Di Lorenzo's overlap sees him get the ball and the ball inside is played back to him but cut out. Napoli keep it and eventually get called up for an offside. They're looking dangerous early though.
Umtiti gets pressed at the back and nearly coughs up the ball. He rides the challenge though and plays back to Neto and he clears.
Okay, the ball was flat. We have to stop and start again! This time though.
We are underway in Hard Rock Stadium between Napoli and Barcelona.
Busquets and Insigne meet in the middle.
The teams emerge onto the field under a cloud ofg smoke.
He comes up against former teammate Fabian Ruiz, who also played came up through the ranks at Betis and is set to be one of Ancelotti's main men this season.
Napoli XI: Meret, Di Lorenzo, Manolas, Maksimovic, Mario Rui, Zielinski, Elmas, Callejon, Fabian, Insigne, Mertens.
Barcelona XI: Neto, Firpo, Umtiti, Tobido, Wague, Busquets, Rakitic, Riqui Puig, Pérez, Suárez, Griezmann.
Former Barça keeper turned musician, Pinto Wahin, was on hand for Barça fest last night! 8,000 fans showed up with some of the players including Puig and De Jong.


Hello and welcome to our live online coverage of Barcelona vs Napoli from Hard Rock Stadium in Miami! No Messi but there should be plenty to speak about as Barcelona continue to integrate their new players along with the returning Copa América players into their squad.
.