REAL MADRID
Vinicius looking for a 'reboot' with Brazil
The Brazilian recovered his smile upon teaming up with Brazil and Neymar and he wanted to take advantage of the international break to address his form.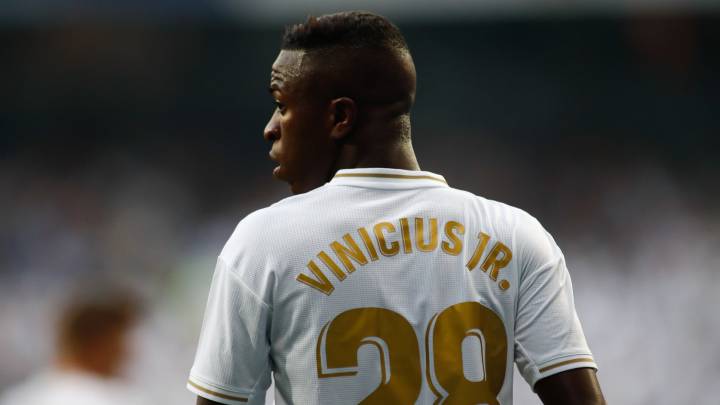 Vinicius is looking to reset as he travels with Brazil to take on Colombia and Peru in Miami and Los Angeles respectively after Tite called him up to the national team for the first time. His start to the season has been so-so and he wants to fix that upon returning to Madrid, and it all starts on international duty. Zidane has not relied on the youngster to start the league campaign and even opted to change his formation to a 4-4-2 rather than throw Vinicius in from the start despite a lengthy injury list.
The 19-year-old is hoping for a debut with Brazil after getting the call from Tite. And so, he leaves the Spanish capital with a look of concern on his face but recovered his smile when he met Neymar when Brazil met up ahead of their games. He posted a photo of the pair smiling and hugging on his social media hours after the transfer market closed and it was confirmed that Neymar was staying at PSG. Vinicius was mentioned as a potential pawn in a Real Madrid transfer but the club flatly rejected that eventuality.
Loss of status at Real Madrid after irregular start
Vinicius feels Zidane does not have the same faith in him as Santiago Solari (he was 10th in minutes under Solari with 1,610). Last season he suffered a serious ankle injury against Ajax and it stopped his rise in its tracks.
Zidane brought him back into the fold but he only played 120 minutes under the returning coach. During the preseason, he gave him 263 minutes, a grand total of 41.75% of total minutes available, and he was the 13th most used player during the summer.
The injury to Hazard opened the door for the Brazilian but in his 69 minutes against Celta Vigo, he was not the Vinicius from last season. Against Valladolid, he enter the field after 56 minutes for an injured James and didn't make much of a difference. He played on the right where he is not comfortable and against Villarreal he couldn't affect change either. In total he has played 120 minutes, or 44.4%.
It's with this disappointment that he travels with Brazil. He also travels with the hope that he can take advantage of whatever opportunity Tite offers to him and in turn, change Zidane's mind heading into September and beyond.