REAL MADRID
Courtois hasn't convinced since arriving at Real Madrid
The Belgian, who beat out Keylor Navas for a starting spot at Real Madrid, has not convinced with everyone in the team under suspicion after poor start.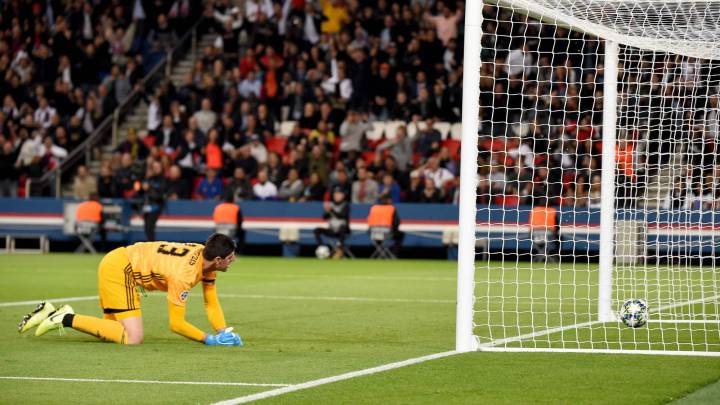 The disappointing start to the season by Real Madrid has everyone under the microscope and criticism coming from all angles. From the board room for their squad planning to the players and their poor form, everyone has been shouldered with the blame.
One of the greatest worries at the moment, however, is Real Madrid's inability to keep clean sheets. They have allowed nine goals in five games and that figure does not reflect well on Thibaut Courtois. The 3-0 loss to PSG was made worse by the fact that Keylor, his rival at Real Madrid up until recently, kept a clean sheet.
25

For the first, his reactions looked slow as he was beaten at his front post. For the second, he was positioned poorly and couldn't shuffle across quick enough to stop the shot by Di Maria.
Without Keylor Navas in the squad, he is now the undisputed starter. And he has the worst stats of his career to date. At Genk, Atlético and Chelsea, he allowed goals every 82.65 minutes, 110 minutes and 91.01 minutes respectively. At Real Madrid he is allowed a goal every 63.15 minutes.
He has allowed 57 goals in 40 games so far, which is 1.42 per game. That is much higher than Keylor's 0.98 a game. Another concern is clean sheets in general with just 10 so far, 25% of his games. Navas kept 52, 32.09% of his games as Madrid's defence looks paper thin with Courtois back there.
The debate over who should have start rumbles on and while Aphonse Areola won't make as a compelling case as Keylor did, if Courtois' poor form continues, there might be some shouts for a change at the back.