Real Madrid: Courtois 60" from Navas but Casillas a long way off
Thibaut Courtois is just two minutes away from beating Keylor Navas' best mark for Madrid after recovering his form with five clean sheets in recent games.
Real Madrid keeper Thibaut Courtois, whose position in Zinedine Zidane's starting XI was recently being questioned, has rediscovered the security that led to his signing from Chelsea last summer and in doing so finds himself within 120 seconds of beating the best mark for minutes without conceding a goal set by his predecessor between the Bernabéu sticks, Keylor Navas.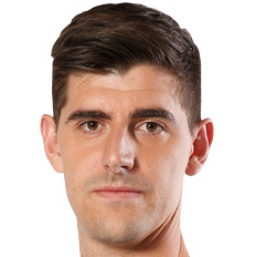 Courtois went through a rough patch against Club Brugge and Granada but returned after the last international break reinvigorated and has not picked the ball out of his net since the 1-0 defeat at Mallorca on 19 October. Since then, the Belgium stopper has kept clean sheets against Galatasaray (0-1), Leganés (5-0), Betis (0-0), Galatasaray again (6-0) and Eibar (0-4). After being beaten by Lago Júnior in Son Moix, Courtois hasn't conceded a goal in 533 minutes, one minute shy of three-times Champions winner Navas, whose best run for Madrid was 534 minutes between the end 2014-15 and the beginning of 2015-16.
Courtois back in form for Madrid
As such, Courtois has now overtaken the best marks of Real Madrid keepers Agustín (516 minutes) and Juan Alonso (517 minutes). The absolute record held by Iker Casillas stands at 951 minutes without conceding.
During his recent run, Courtois has stopped 11 shots on goal to keep Real's rivals at bay, with a save rate of almost 100 percent. Previously, the Belgian had saved just 11 of 23 shots he had faced, or 48 percent. Overall, he has improved his stoppage rate to 65 percent during the last five games he has played for Madrid, for a total of 22 saves from 34 shots. The five clean sheets he has managed since Mallorca also improves his season's tally to seven from 14 games played.