Liverpool chasing longest unbeaten run records
Jürgen Klopp's Reds have gone well over a year without losing in the league, and are now closing in on the record streaks of some of Europe's great sides.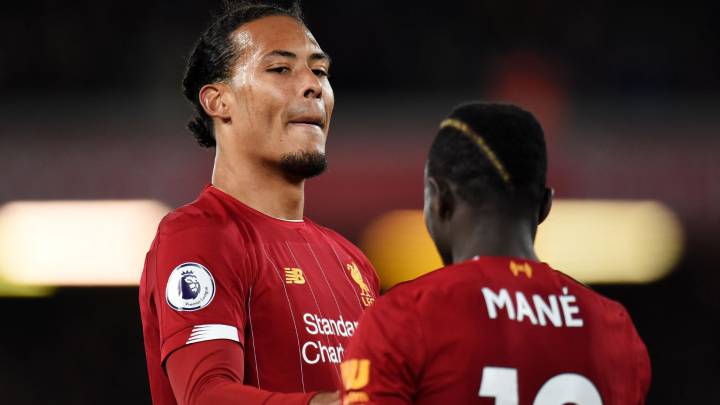 Jürgen Klopp's rampaging Liverpool came close to seeing their winning run come to an end at Anfield on Monday evening - at one point, the Reds were trailing 1-2 to West Ham and it took a late strike from Sadio Mané, 10 minutes from time to clinch all three points. With the result, Liverpool extend their run without losing in the Premier League to 44 games. In fact, had the current Reds not lost 2-1 against Man City in January 2019, they would now find themselves on an incredible 65 games unbeaten. As it is, they're already climbing the table of the best ten unbeaten streaks in Europe's top leagues.
Klopp's unstoppable (so far) Liverpool
Ask any Liverpool fan around the globe about their priorities for the 2019/20 season and you'll struggle to find any that reply that their number one objective is to get a 'longest streak' record. For most, the Premier League title is the holy grail. The Anfield club may have 18 top flight English championships to their famous name, but there is a whole generation that is yet to see them lift the crown, last achieved in 1990.
Having built up an unexpectedly wide gap to the chasing pack early in 2020, there are few observers who now don't have them nailed on as champions-elect (although many Reds fans will keep their celebrations in check until it is official).
Of course, Jürgen Klopp has been slowly developing a squad capable of competing on more than one front, and last season's club record of 97 points (a tally that would have clinched the title in all but a couple of seasons) was generated while also going on to collect the Champions League trophy, the sixth time the club had been crowned Kings of Europe, and a second consecutive final. Another continental triumph would be almost unprecedented, but few punters would back against them getting close again, despite a tough Last-16 tie against Atlético Madrid ahead.
79 & 26 - @LFC have already won as many points this season as Man Utd's treble winners of 1998-99 (79), and as many league games as Arsenal's 2003-04 'invincibles' (26). Astounding. pic.twitter.com/n0RfT5R2Hk

— OptaJoe (@OptaJoe) February 24, 2020
The current unbeaten run from the Merseysiders has been even more impressive due to their win ratio. Since the start of this season, other than the draw at Old Trafford, it has been all about the 'W'. And with their recent wins over Southampton and Norwich, their 44 games without loss takes them ahead of the great Nottingham Forest side of the 1970s and past the all-time record of Barcelona. They still have some way to go, however, if they are to reach the overall record in Europe's big five leagues of 58 without tasting defeat, that of the wonderful 1991/93 AC Milan team.
Top 10 longest unbeaten streaks (Europe's Big Five)
1) AC Milan (1991/93) - 58 games
2) Bayern Munich (2012/14) - 53 games
3) Arsenal (2003/04) - 49 games
4) Juventus (2011/12) - 49 games
5) Liverpool (2019/20) - 44 games
6) Barcelona (2017/18) - 43 games
7) Nottingham Forest (1977/78) - 42 games
8) Chelsea (2004/05) - 40 games
9) Fiorentina (1955/56) - 40 games
10) Real Sociedad (1979/80) - 38 games
Next up in the Premier League for the Reds are Watford and Bournemouth - all in the final few places of the table - before a trip across Stanley Park to play their local rivals. How long can they keep this incredible streak going?