Coronavirus: UEFA's plan for Europe, leagues and international football
UEFA called the 55 nations to update them on plans for Champions League, leagues, transfers, contracts and internationals during coronavirus pandemic.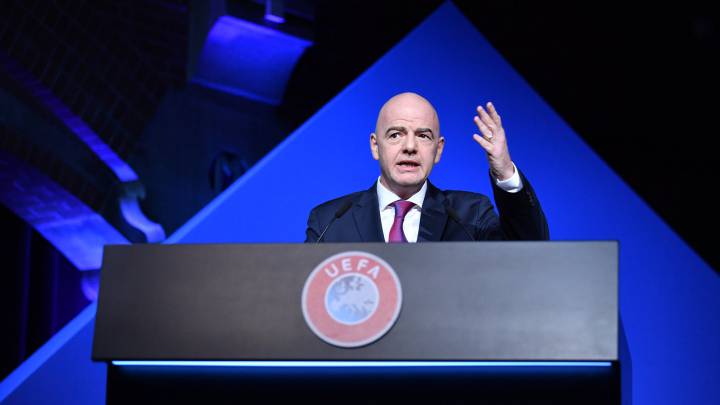 Fixtures:
UEFA are looking at three possible dates to restart the respective leagues: the middle of May, June and September. The first on that list seems impossible because of the coronavirus crisis. The one furthest away would mean changing next season to suit. That could be done by reducing the number of teams in each league and cup competitions along with a change in European football format. June is the key. Ceferin has said that at this time football could return although it would be behind closed doors in order to finish domestic leagues. In Spain and Italy, where the virus has spread most, they are hoping to be able to return before. France, Germany and England face further different issues.
Champions League:
The secretary of UEFA, Giorgio Marchetti, is working on the best and quickest solution; a final four. The idea is the play games from return legs that remain (City-Real Madrid, Bayer-Chelsea, Barça-Nápoles and Juve-Lyon) and then play the quarter-final as a one-off fixture. They would then play the semi-final in Istanbul and the final the following weekend in June. If the pandemic hits Turkey like it has hit Europe, they do not rule out the possibility of changing the venue. The problem is that to finish the Champions League, there are 17 games but to complete the Europa League, there are 27. This causes another headache with dates and squeezing in fixtures.
Contracts:
One of the problems with the plans to finish the current season in August or basically any date after June is that of contracts. Clubs will have to prolong contracts beyond 30 June, which could cause a series of problems for loan deals. FIFA are willing to adapt the rules given the circumstances, however, and FIFPro, the players' union, have said that it has to be universal and include all players. That would avoid club keeping players they wanted and forgetting about those not in their plans.
Transfers:
Another aspect of football that will have to be looked at is the signing of players if the season drags into the summer. It could be extended from June until January when it should restart again for the winter. With this measure, it would allow the seasons to finish whenever that happens to be. This would need agreement between FIFA and UEFA.
International teams:
FIFA's international calender has already suffered with Euro 2020 being postponed. It it set to collapse further with the moving of dates from national leagues and European football. The international friendlies set for June have not been postponed yet but they will be forced to give up dates in the fixture lists to accommodate national leagues. The Nations League will be moved too as it's meant to start on 3 September