Turkmenistan's football season becomes the first to restart
The Central Asian state of 5.6 million reversed the earlier decision to postpone football, becoming the third ex-Soviet state to buck the global trend.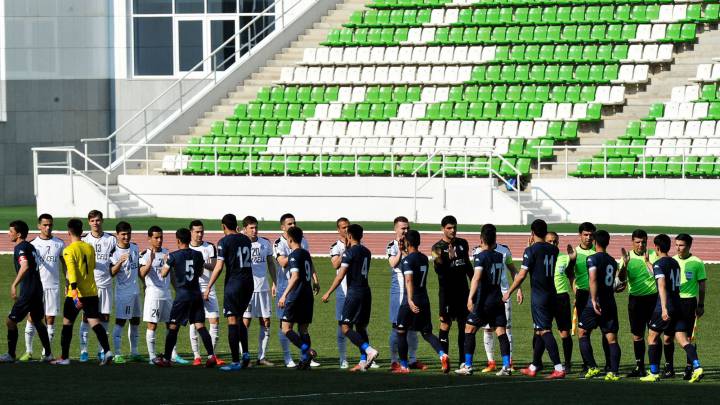 Domestic football was back on the agenda in Turkmenistan last Sunday as the country's top flight league returned to action. The eight-team league was suspended in March just three games into the new season but with the country yet to report a coronavirus-related death that decision has been reversed.
Turkmenistan c

hampions held at home

The first game back saw reigning champions Altyn Asyr face current leaders Kopetdag in Turkmenistan's capital of Ashgabat, ending in a 1-1 draw. The spectacle was only witnessed by a select few with just 300 people attending the 20,000-capacy national stadium.

International news agency AFP were in attendance and spoke to fans who seemed largely optimistic about football's return. "Sport kills all viruses," joked one 60-year-old Kopetdag fan. "When your favourite team wins, it lifts your immunity".

"We have no coronavirus, so why not restart our league?" asked another.
Football continues through Covid-19 pandemic
Turkmenistan joins a small group of nations whose top flight football leagues are still running despite the global coronavirus outbreak. Tajikistan, Taiwan, Nicaragua and, most notably, Belarus are the only other leagues to continue playing.
Belarus' case is the particularly surprising considering that Eastern European nation has reported over 6,000 confirmed cases of Covid-19.
However with football fans globally starved of live action at the moment Belarus' decision to continue has seen them form an unlikely online following. Sporting Football Klub Slutsk, a team only formed in 1998, are offering a live stream of their games and have drawn socially-isolated viewers from the UK to New Zealand. The country's unflinching response to the pandemic stems from President Alexander Lukashenko's belief that sport "is the best anti-virus remedy".
Speaking in late-March Mr Lukashenko denied that coronavirus posed a serious threat to the country and threw his support behind Donald Trump's statements calling for Americans to get back to work. "There were many people urging me to close borders, enterprises and begin a nationwide quarantine", said Mr Lukashenko. "Back then I made a principled decision: we will implement a quarantine only when it is really needed".