"When the time comes for LaLiga to restart, no player can refuse to play"
Head of LaLiga Javier Tebas outlined the return to competitive activity speaking at a digital forum and confirmed that the top flight would remain with 20 clubs.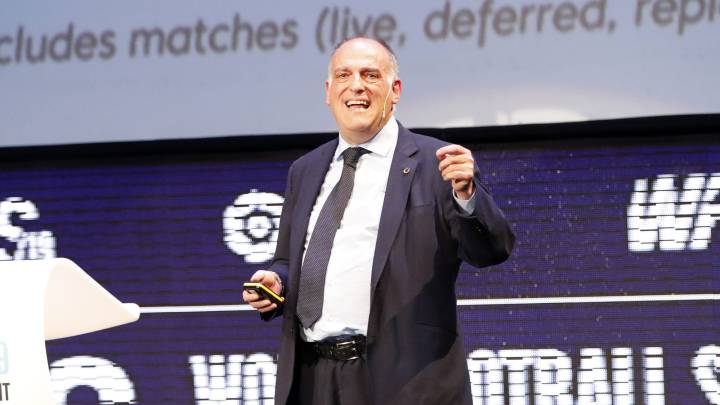 Javier Tebas spoke on Friday as part of a digital forum organised by the Aragon Association of Directors and Executives and offered his view on how LaLiga would resume activity after the outbreak of the Covid-19 virus put top flight football in Europe on hold in March.
With Spain extending the state of alarm in the nation through to 10 May, any plans for a return in early May have been put on hold with 11 May now set to be the date when first and second division sides can resume training.
Return

Tebas is trying to deal with a complicated situation in a conscientious manner and it's felt that all clubs will comply with the wishes of LaLiga with the underlying condition that none of the players or staff are exposed to a health hazard. At present and without a vaccine available to combat the Covid-19 virus there will be always an element of risk and clubs are faced with a dilemma of proceeding with the LaLiga protocol or make a stand on health grounds as did 2a side Racing Santander. A return to work for LaLiga first team squads, will also see a return for cooks, gardeners, doctors, fitness staff, security and kit-men.
During the digital forum Tebas stated: "Professional football in Spain represents 1.37% of Spain's GDP and the game generates over 180,000 jobs. We need to ensure that there is no exposure to coronavirus but we're keen to return to work as soon as possible".

Tebas proceeded to outline the financial loss should the 2019/20 season not finish: "Not finishing the season will bring about millions of lost euro," he said. "If we finish the season behind closed doors, we will lost €350 million". Tebas also added that provisionally all top flight games in Spain would be staged with no fans until December".
"We need to take things step by step he added, and we can extend the competition past the ideal deadline of 31 July if necessary. There are no plans afoot to add to the amount of teams in the first or second division but as UEFA also stipulated, it's important that we finish the season."

Upon being asked what would happen if any club refused to play under the proposed conditions, he stated that they would be subject to a disciplinary procedure with three points being deducted as an initial penalty. "When we are told that we can play, if a team refuses, then it will be dealt with in the same manner as now showing up. In the same way if an individual refuses to play, he will be subject to a sanction. These types of decisions cannot be taken if we've been given the green light for the competition to resume", the LaLiga chief concluded.