Barcelona: Inter want €90m, Griezmann and Vidal for Lautaro
Barcelona had hoped to shift some deadwood in the direction of Milan for the Argentinean but Inter have made a colossal counter-demand for the striker.
The ongoing coronavirus crisis is going to have repercussions in the transfer market this summer with the vast majority of clubs likely to have to lower their sights in terms of financial outlays due to the economic crunch predicted across the sport as a result of the Covid-19 pandemic. In the case of Barcelona, it may well be that Inter Milan have put the Camp Nou's top priority, Lautaro Martínez, well out of reach by placing a €90m cash price tag on the Argentina striker, of whom Leo Messi is an admirer. The Serie A club have not stopped there, though, and have added Arturo Vidal to their list of demands as well as a season-long free loan deal for Antoine Griezmann.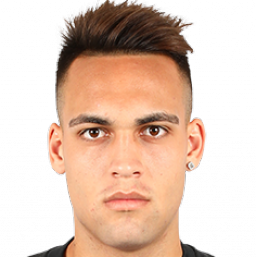 The Barça captain would like to hook up with his international teammate and the Camp Nou board see the 22-year-old as the perfect long-term successor to Luis Suárez. However, Barça had hoped to offer players plus cash for Lautaro rather than fork out close to €100m for the striker. Lautaro's release clause is set to drop to €111m this summer and Inter will hold out for the lion's share of that fee according to La Gazzetta. 
Barcelona considering move for Timo Werner
Barça have no shortage of players they would happily offload to secure the services of the in-demand Lautaro and Inter were thought to be particularly interested in Nelson Semedo and Carles Aleñá, but the Milan side have changed their stance and would prefer a lump sum plus Vidal and Griezmann to part with the Argentina international. 
With that in mind, Barcelona have started looking at alternatives to Lautaro and have alighted on Timo Werner. The RB Leipzig and Germany striker has a more accessible clause of €65m but the 24-year-old is believed to have his heart set on a move to Liverpool to link up with Jürgen Klopp.