Seattle protests: what do protesters want to achieve with CHAZ?
Demonstrators within the Capitol Hill Autonomous Zone (CHAZ) in Seattle have made several demands aside from the abolition and defunding of police departments.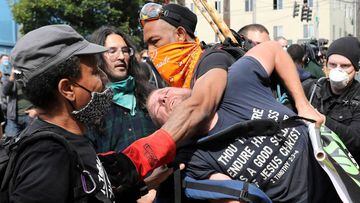 It has almost been a week since Black Lives Matter protestors established the Capitol Hill Autonomous Zone (CHAZ), a police-free autonomous zone in the Capitol Hill neighborhood of Seattle.
After the Seattle Police Department vacated the East Precinct building in Capitol Hill on June 8, two weeks after the killing of George Floyd on May 25 that have sparked prostests across the US, demonstrators moved quickly to set up their own barricades, occupying an area which covers approximately six city blocks.
Reports from inside CHAZ describe a festival-like atmosphere, where artists paint murals, speakers discuss topics such as racial equity and how to create a fairer society, and food and beverages are handed out for free.
Political reaction to the CHAZ protest group has been mixed. President Donald Trump has labeled them "ugly anarchists" and "domestic terrorists" who "must be stopped immediately", while Seattle mayor, Jenny Durkan, has defended their actions as lawful and an act of "patriotism".
"It's not an armed takeover. It's not a military junta. We will make sure that we will restore this but we have block parties and the like in this part of Seattle all the time ... there is no threat right now to the public," said Mayor Durkan on June 11.
Police had claimed that businesses inside CHAZ were being extorted and forced to pay a fee to operate in the area. However that claim has been denied by several business owners inside the zone.
Seattle Police, who abandoned the precinct in response to public and political backlash over the use of tear gas, have said they plan to return to the area, however they have not set a specific date.
Follow our live coverage of Black Lives Matter protests.
What are CHAZ protestors demanding?
Amid calls around the U.S. to defund police departments, demonstrators inside CHAZ have been discussing how to establish a better society without police.
Aside from the abolition or defunding of police, other demands associated with the Zone include rent control, the reversal of gentrification, a federal investigation into police brutality, funding of community health, reforms to education with an increased focus on black and Native American history, free college, the reallocation of funds from the Seattle Police Department to socialized health and medicine and free public housing.
"The demands to abolish the Seattle Police Department are not new ideas," Seattle City Council member Tammy Morales told Newsweek. "It is clear that the ways in which it has operated for years is not how we need to proceed moving forward."
CHAZ Charter demands
1. Abolition of the Seattle Police Department and attached court system. We do not request reform, we demand abolition. This means 100 per cent of funding, including existing pensions for Seattle Police. At an equal level of priority we also demand that the city disallow the operations of ICE [Immigration enforcement] in the city of Seattle
2. In the transitionary period between now and the dismantlement of the Seattle Police Department, we demand that the use of armed force be banned entirely.
The words "Black Lives Matter" are painted in the middle of East Pine Street in an area being called the Capitol Hill Autonomous Zone (CHAZ). JASON REDMOND (AFP)
3. We demand the people of Seattle seek out and proudly support Black-owned businesses. Your money is our power and sustainability.
4. We demand that not the city government, nor the state government, but that the federal government launch a full-scale investigation into past and current cases of police brutality in Seattle and Washington.
5. Reparations for victims of police brutality, in a form to be determined.
6. Retrial of all People in Color currently serving a prison sentence for violent crime, by a jury of their peers in their community.
7. Replace of the current criminal justice system the creation of restorative/transformative accountability programs as a replacement for imprisonment.