$400 unemployment benefits boost: why has Trump taken executive action?
On Saturday, US President Donald Trump signed an executive order that seeks to give unemployed Americans an extra $400 a week in benefits.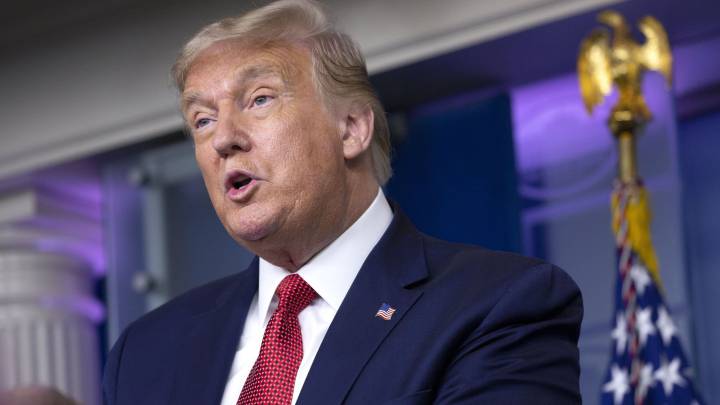 US President Donald Trump on Saturday signed an executive order seeking to give out-of-work Americans $400 a week in extra unemployment benefits, replacing the additional $600 they had received under the CARES Act.
Trump takes executive action after relief bill talks stall
Trump's decision to take executive action came after talks between Republicans and Democrats over a coronavirus stimulus package foundered, with negotiators failing to reach a deal by their self-imposed deadline of last Friday.
Following the release of the HEALS Act, Republican senators' $1tn proposal for relief legislation, Democrat leaders Nancy Pelosi and Chuck Schumer spent two weeks negotiating a bill with Treasury Secretary Steve Mnuchin and White House Chief of Staff Mark Meadows, with enhanced benefits proving one of the elements of the package that caused talks to fail.
Democrats seek $600 a week, GOP $200
While Pelosi and Schumer wanted a stimulus bill featuring a six-month extension to the $600 unemployment benefits boost, which expired at the end of July, the HEALS Act called for the figure to be reduced to $200 until October, before being substituted by a 70% wage-replacement scheme.
As talks stalled, Democrats also rejected Republican proposals for an interim, short-term extension to the $600-a-week benefits as a "piecemeal" measure, Pelosi telling reporters their priority was to agree a "comprehensive" aid package.
Another major stumbling block in the negotiations was the issue of how much to spend on financial aid for state and local governments. Pelosi and Schumer sought $915 billion, an amount Mnuchin and Meadows were unwilling to countenance.
After Friday's deadline came and went, Trump accused the Democrats of insisting on "radical left-wing policies that have nothing to do with the 'China Virus'". Meanwhile, Pelosi bemoaned Mnuchin and Meadows' unwillingness to meet her and Schumer in the middle over the package's overall cost, saying they had offered to slash the $3tn spend sought by the Democrats' HEROES Act if Republicans upped the $1tn of the HEALS Act.
"It's hard when your values are so different," she said, per The Hill, adding: "I offered to them: we'll take down a trillion if you add a trillion. They said absolutely not."
Trump's executive order on enhanced unemployment benefits
The benefits boost in Trump's executive order would see the federal government foot $300 of the weekly $400 given to jobless Americans on top of their basic unemployment insurance, while states have been asked to pay the remaining $100.
The scheme would apply retroactively up to 1 August and last through to 6 December or until the Department of Homeland Security's Disaster Relief Fund (DRF) dropped to $25bn - whichever happened earlier. There is currently about $70bn in the DRF.
The boost would only be made available to those who qualify for over $100 a week in regular unemployment pay - a condition which, according to an estimate by University of Illinois economist Eliza Forsythe, would make around 6% of benefits recipients ineligible.
Some quick stats about who is earning under $100 per week in UI benefits. Simulating UI eligibility using actual pandemic job losers in the CPS, I estimate about 6% of all regular UI recipients receive less than $100 per week in state benefits. 1/4

— Eliza Forsythe (@ElizaForsythe) August 9, 2020
"Unconstitutional slop", "unworkable" - reactions to Trump's executive order
Speaking on Monday, White House Press Secretary Kayleigh McEnany said she was confident Americans could start to claim their additional $400 a week "close to immediately" - but the scheme appears to face hurdles towards becoming a reality.
According to the US constitution, Congress has control over how to spend federal government funds, not the president, so the implementation of the measure could well find itself delayed by legal challenges. Indeed, Pelosi branded the executive order "unconstitutional slop" in an interview with Fox News Sunday.
Forbes also notes that states could take some time to get their systems organized to start paying the $100 that Trump's plan calls on them to contribute. And that's if they can afford it at all, the media outlet adds.
New York Governor Andrew Cuomo on Sunday said his state does not have the funds to kick in such a sum, for example, declaring, according to the New York Post: "What the president has done has made it impossible, impossible on the state. The concept of saying to states 'you pay 25% of unemployment insurance' is just laughable." When asked by CNN on Sunday if Ohio could afford the weekly $100, the state's governor, Mark DeWine said, per Forbes: "The answer is I don't know yet."
"This is an unworkable plan," Schumer said of Trump's executive order in an interview with ABC News on Sunday. "Most states will take months to implement it, because it's brand new. It's sort of put together with spit and paste. And many states, because they have to chip in $100, and they don't have money, won't do it."
Schumer, Mnuchin open to more talks over relief package
On Monday, Schumer called for talks over a coronavirus relief package to resume, telling senators: "Democrats remain ready to return to the table. We need our Republicans to join us there and meet us half way and work together to deliver immediate relief to the American people."
In an interview with CNBC, meanwhile, Mnuchin said a "compromise" could be reached, but told Schumer and Pelosi they would need to "be reasonable". "I think there is a compromise if the Democrats are willing to be reasonable […]," Mnuchin said. "If we can get a fair deal, we'll do it this week."
Live coverage of the coronavirus crisis
You can follow live, US-focused coverage of the coronavirus pandemic with our dedicated live feed.