Pulisic not feeling the pressure of being Chelsea's No. 10
It was the US international who asked to wear the No. 10 shirt for Chelsea this season. Pulisic previously wore the No.22 shirt and has been granted his wish of wearing the famous number.
In 2019, Christian Pulisic became the most expensive United States player in history after Chelsea paid Borussia Dortmund $73 million. The 22-year-old arrived at Stamford Bridge wearing the No. 22 jersey following Eden Hazard's exit to Real Madrid that season.
In the 2019/20 campaign Pulisic played 35 games, scored 11 goals and provided 10 assists. Even though he suffered a long-term injury at the beginning of 2019, he managed to bounce back and towards the end of the season became one of Chelsea's most important players, gaining coach Frank Lampard's trust.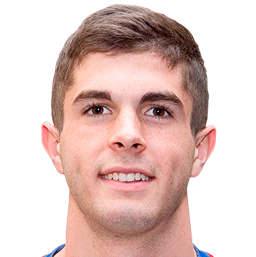 Wearing the No. 10 jersey
After a great year with Chelsea and with Willian leaving for Arsenal for the 2020/21 season, the No.10 jersey was became available. It was the US international who asked to switch from his No.22 jersey to No. 10 for his second year at Stamford Bridge.
"Now that Willian moved on this season, there was an opportunity there. I spoke with the club and everyone felt like I was ready for it, and I felt I was ready, and it's a number I like. It meant a lot (when they agreed) and It's no secret that it's been my favourite number. It's the number I wanted to be," Pulisic told CBS Sports.
No pressure
Pulisic is aware of the historic players at the club that have worn the number and he said that there is no added pressure this season for wearing the No. 10, because he has been wearing it for the United States men's national team for a while.
"I understand what it means and how much history it has, but I see it as my favorite number. I just want to do well. It's not something I'm thinking about too much, especially while I'm playing. Of course I want to perform, but I put pressure on myself for other reasons," he added.
Christian Pulisic is aware that Chelsea has made a financial effort to sign a lot of players this season to improve what they achieved last year. So for him everyone at the club has the pressure to perform and meet the expectations.
"Chelsea is a club with a lot of history that always wants to compete and win titles. Our goal is to finish at the highest standing in the Premier League and win every trophy available, Champions League included," he added.