Haaland pupil Moukoko in line for Bundesliga debt
Youssoufa Moukoko turned 16 on Friday, meaning a player tipped to become on the very best is now eligible for his long-awaited Bundesliga debut.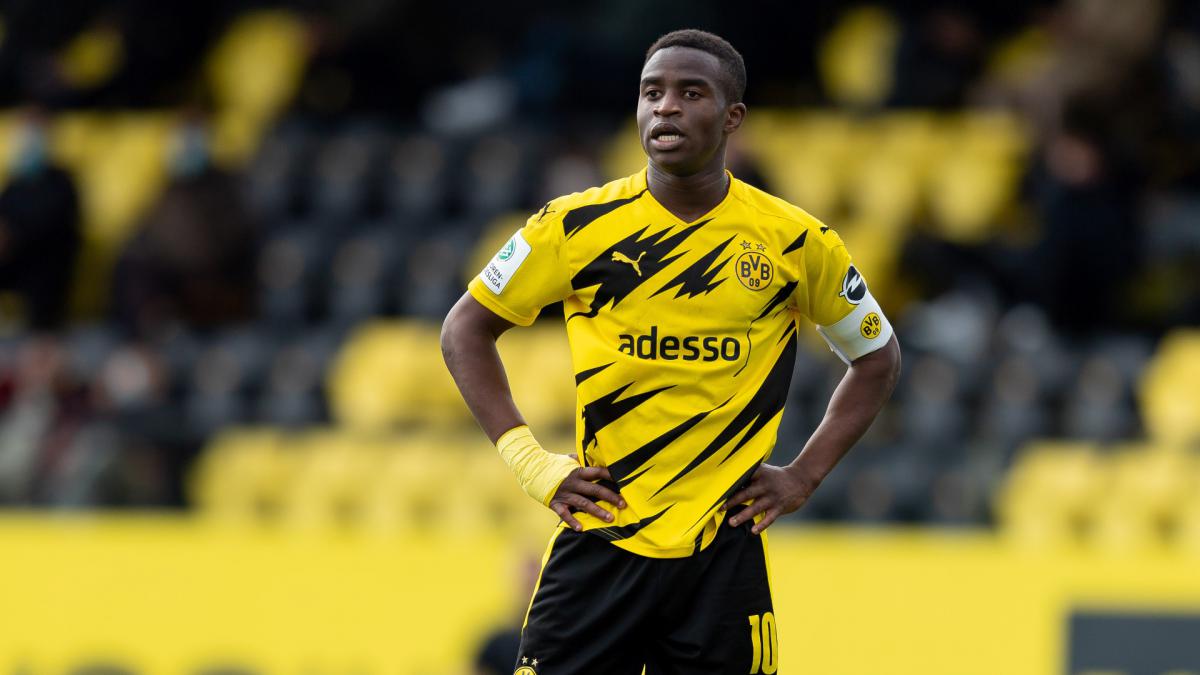 At long last, one of the world's most promising young footballers is eligible to make his professional bow, as Borussia Dortmund prodigy Youssoufa Moukoko turned 16 on Friday.
The Germany Under-20 international has long given Dortmund coaches, players and fans cause for excitement, with his accomplishments in the club's academy over the past few years attracting widespread attention.
He made history on the European stage a little over a year ago in October 2019 when, still just 14, became the youngest ever goalscorer in the UEFA Youth League – the previous record-holders had been well over a year older when they netted their first goals.
The previous season Moukoko had scored 50 goals and earned his promotion to Dortmund's Under-19s, and he took to that level with similar comfort, setting a new record as he scored 34 goals from just 20 games in the Bundesliga's youth division.
And such form has continued into the 2020-21 campaign with a remarkable haul of 10 goals in just three league matches.
Finally, his shot at the big time appears to be here.
Moukoko set for the stars
But why has it seemingly taken so long for Moukoko to be introduced to first-team football? After all, former Dortmund star Nuri Sahin, the current record-holder as the Bundesliga's youngest-ever player, believes the youngster is wasting his time in the Under-19s.
Sahin told Kicker: "Youssoufa must now take the next step - the Under-19s is too easy for him."
Well, quite, but German Football League (DFL) regulations have long been rather strict regarding the minimum age of its players.
Generally, before this season, players have had to be 17 years old in order to get a DFL gaming license – the absolute earliest they could make their professional debut until 2020-21 was 16 years and six months.
However, that was altered in April to allow players to become eligible at the age of 16, bringing the Bundesliga in line with many of Europe's other major leagues.
Therefore, with Moukoko's 16th birthday on Friday, there is the very real possibility of the teenager being involved in a Bundesliga match for the first time this weekend as Dortmund go to Hertha Berlin on Saturday.
While undoubtedly a step up, Dortmund have worked to ensure Moukoko doesn't suffer too much of a shock to his system, with sporting director Michael Zorc revealing in June that the youngster was to be integrated with the first-team squad "immediately" so he could be used in the top flight from his 16th birthday.
His time has come.
Records to be broken
34 goals in 20 games...and he's only 15! 
A new record for the most goals in a Bundesliga U19 season, congrats Youssoufa Moukoko! pic.twitter.com/RbS0iH1KES

— Borussia Dortmund (@BlackYellow) March 8, 2020
Given Moukoko will be the first player to benefit from this rule alteration and his debut could come literally a day after he becomes eligible, there are several records waiting to be smashed.
As previously mentioned, Sahin holds both the club and Bundesliga record for the youngest debutant having been 16 years, 11 months and one day old.
The only other player to feature in the Bundesliga before turning 17 was Yann Bisseck (16 years, 11 months and 28 days) for Cologne in November 2017, though unfortunately he was unable to sustain that breakthrough and has spent most of his time since out on loan.
There are three other Dortmund players in the top 10 youngest Bundesliga debutants – Ibrahim Tanko (17y, 1m, 30d) in September 1994 and current first-team talents Giovanni Reyna (17y, 2m, 5d) and Jude Bellingham (17y, 2m, 21d) in January and September this year, respectively.
Sahin (17y, 2m, 21d) had also held the record for the Bundesliga's youngest goalscorer until Bayer Leverkusen's gifted winger Florian Wirtz (17y, 1m, 3d) came along and snatched it away in June this year.
Nevertheless, that too looks set to be smashed by Moukoko assuming he makes a bright start to his Bundesliga career, and given the ease at which he has taken to pretty much every other challenge until now, few would bet against him.
Erling Haaland recently suggested Moukoko is even better than he was at the same age – a scary thought if you are a defender employed in the Bundesliga.
They have been warned.