Messi malaise contagious as Koeman's plans fall apart
Leo Messi lost 23 balls and completed just 36 passes in Barcelona's defeat at Atlético as his off-field issues with the Camp Nou hierarchy spread to the pitch.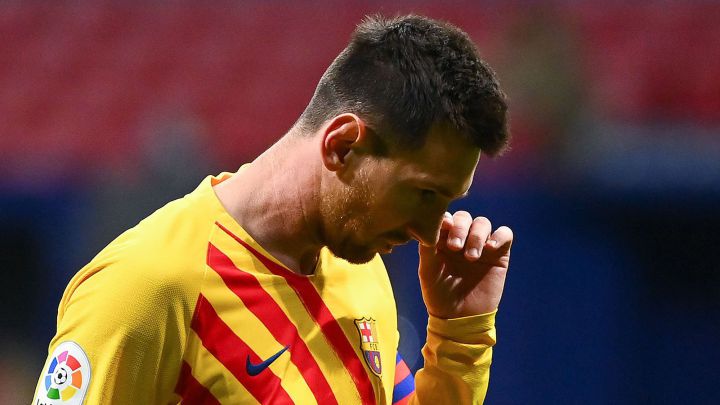 Leo Messi's relationship with Barcelona's board has been more headlines than the six-time Ballon d'Or winner's on-pitch exploits in recent months and the Argentinean's form has been suffering since the drawn-out saga of whether or not the talismanic number 10 would even be wearing the claret-and-blue shirt this season. Messi's side have been reliant on his brilliance for some time, the days of Pep Guardiola's all-conquering team including Xavi, Andrés Iniesta and Carles Puyol now a distant memory. Decisive for a decade, Messi has barely registered this season as Barcelona have struggled under Ronald Koeman. Real Sociedad and Atlético – who finally beat Barça in a Liga fixture on Saturday – are nine points in the distance.
Messi disappears in the Metropolitano
In the Metropolitano, Messi lost the ball 23 times and completed only 36 passes during the whole game. And most worryingly for Barça, at the end of the match the Argentinean gave the impression he was never confident of anything other than a defeat, leaving the pitch with shoulders slumped. The scorer of 640 goals for the club, Messi has managed only three so far in this Liga campaign and only one from open play.
The Argentinean's failed attempt to leave Camp Nou in the summer, frustrated by the now-departed Josep Maria Bartomeu and a wrangle over the small print of his contract, appears to have left a cloud hanging over the club's most symbolic player. "I'm a little tired of always being the problem," he said on his return from international duty and his malaise has now spread to the pitch, where any external issues have always been blown away by his undeniable brilliance. But the running of the club has been eating at Messi since long before Koeman arrived and discarded his best friend and strike partner Luis Suárez. He did not approve of Ernesto Valverde's sacking or the installation of Quique Setién. He has long complained that Barça's transfer policy has left the side in no position to challenge for the Champions League, an opinion firmly backed by Bayern's 8-2 destruction of Setién's side last season. As soon as one problem is solved – Bartomeu, Setién, Éric Abidal – another arrives in the Argentinean's view.
Messi's annus horribilis has been bookmarked by Atlético. A year ago, the Argentinean took the game by the scruff of the neck in a typical one-man second half display to score and hand his side a 1-0 win. A captain's performance and confirmation of his singular ability to turn a game on his own. By contrast on Saturday he was a passenger, unable to drive his side towards victory. He looked, sacrilegious as it to suggest, ordinary. And Barcelona bore no resemblance to the Barça Messi is used to.
Argentina now Messi's refuge
Now he stands a crossroads, and a familiar one. Barcelona need to be reconstructed inside out, from the boardroom to the squad. It was the same in 2004-05, when Messi was emerging from the then-prolific La Masia. Barça had been playing catch-up for years and senior players, not least Ronaldinho, aided the youngster to take his place in the first team. What the club needs now is for Messi to perform the same task with Ansu Fati – who has already become indispensable at 18 years of age – Pedri, Sergiño Dest and Francisco Trincão. Barcelona's problem is that Messi has tired of being the problem and appears reluctant about sticking around to provide the solution.
It was not so long ago that Messi was the "problem" for Argentina, while in Barcelona his status was unquestionable. Barcelona fans should be genuinely concerned that international duty is now a refuge for Messi while the day-to-day at Camp Nou has become his burden.