How many times has Tom Brady played the Super Bowl?
The quarterback led his new side, the Tampa Bay Buccaneers, to victory against the Green Bay Packers and booked his place in the Super Bowl.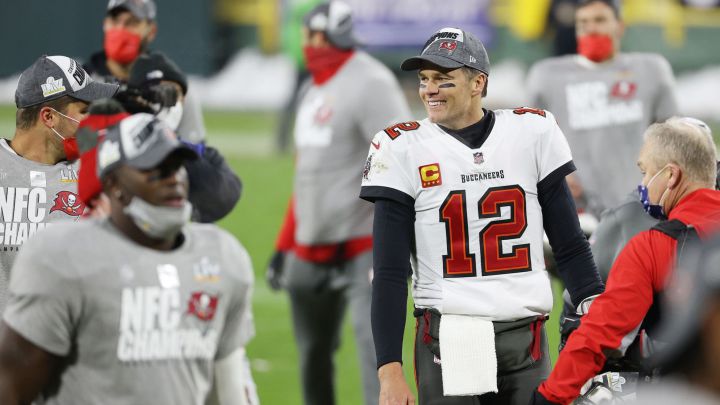 Tom Brady is going to the Super Bowl again. The quarterback led his Tampa Bay Buccaneers to a 31-26 win at Green Bay on Sunday afternoon to ensure the Bucs will become the first side to play in a Super Bowl at their own ground, the Raymond James Stadium.
Tom Brady's 10th Super Bowl appearance
Barring any mishaps between now and 7 February, this will be Brady's 10th appearance in the Super Bowl, and his first with Tampa Bay. He played his previous 20 seasons with the Patriots, taking them to the end of season game nine times in total.
His record at the end of season showdown is none too shabby either, with a 6-3 record.
Brady's Super Bowl attendance record exceeds that of every team in the NFL, with the exception fo the Patriots, who have been twice without him for a total of 11 appearances. The Buccaneers for their part have only been at the Super Bowl once before - winning it in 2002 against the Raiders (48-21).
The Green Bay Packers, who Brady helped defeat today, have been to the Super Bowl five times (67, 68, 97, 98, 11) winning it four times, their only defeat coming in '98 against the Broncos.
Brady's nine Super Bowl appearances
Super Bowl XXXVI vs St Louis Rams
Final score: 20-17 Patriots
Super Bowl XXXVIII vs Carolina Panthers
Final score: 32-29 Patriots
Super Bowl XXXIX vs Philadelphia Eagles
Final score: 24-21 Patriots
Super Bowl XLII vs New York Giants
Final score: 17-14 Giants
Super Bowl XLVI vs New York Giants
Final score: 21-17 Giants
Super Bowl XLIX vs Seattle Seahawks
Final score: 28-24 Patriots
Super Bowl LI vs Altanta Falcons
Final score: 34-28 Patriots (OT)
Super Bowl LII vs Philadelphia Eagles
Final score: 41-33 Eagles
Super Bowl LIII vs Los Angeles Rams
Final Score: 13-3 Patriots
Super Bowl LV details
Tom Brady's Buccaneers will be in action in the 55th Super Bowl on February 7 2021 at the Buc's home ground of Raymond James Stadium. Kickoff will be at 6:30 p.m. (00:30 CET).
Halftime show action is being headlined by The Weeknd, who said: "We all grow up watching the world's biggest acts playing the Super Bowl and one can only dream of being in that position. I'm humbled, honored and ecstatic to be the center of that infamous stage this year."