Real Madrid: Zidane future at stake in Champions League
With Real Madrid out of contention in LaLiga, the Copa del Rey and the Spanish Super Cup, Zinedine Zidane must win the Champions League to be sure of keeping his job.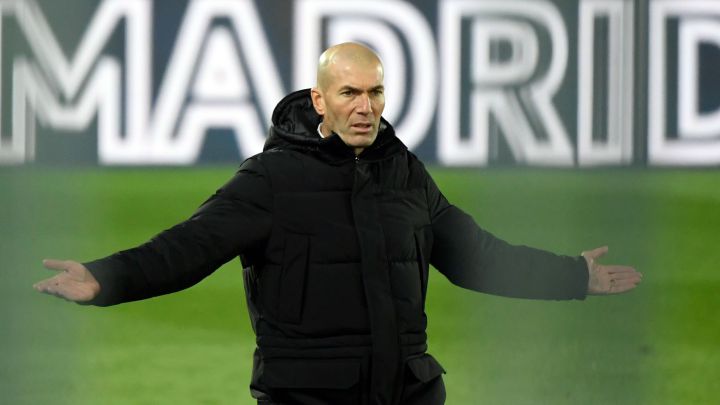 In the space of a fortnight, Real Madrid have seen their chances of winning three separate trophies go up in smoke: losses to Athletic Club and Alcoyano ended their involvement in the Spanish Super Cup and the Copa del Rey, respectively, while LaLiga defeat to Levante at the weekend has left leaders Atlético Madrid an all but unassailable 10 points clear of Los Blancos, with a game in hand.
Zidane must win Champions League to be sure of avoiding Real Madrid sack
So now it all comes down to the Champions League: head coach Zinedine Zidane's future will be at stake in Europe's top club competition. Only by delivering Madrid's 14th continental crown will he make sure he keeps his job.
The first hurdle in the way of that goal is a last-16 tie against Atalanta on 24 February and 10 March. Before then, Zidane has 25 days to get his side ready, as he shapes his plan of attack for the seven games Madrid must negotiate if they are to lift the trophy. Expect plenty of squad rotation in the four league games - against Huesca, Getafe, Valencia and Real Valladolid - between now and the first leg against Atalanta. When Madrid meet the Italians, Zidane needs his best XI firing on all cylinders.
Only one question mark over Real Madrid boss' chosen XI
Having made it clear he has full faith in no more than 13 or 14 members of his squad, Zidane has left just the one question mark over the make-up of his chosen line-up. Under normal circumstances, it would be Eden Hazard who accompanied Karim Benzema and Marco Asensio in attack, but if the Belgian continues to stutter, Lucas Vázquez may get the nod ahead of him, with Asensio switching to the left wing.
As for the bench, Rodrygo Goes is unlikely to be back from injury in time to face Atalanta so, as things stand, Federico Valverde (who has played 45% of Real Madrid's game time in 2020/21) and Vinicius Júnior (47%) appear to be the only substitutes in with a shout of a significant role.
4


Zidane likely not to overuse Ramos in LaLiga
Meanwhile, Madrid's stalled contract talks with Sergio Ramos are a potential handicap for Zidane, as the longer the situation drags on, the more of a negative effect it is likely to have on the atmosphere within the club.
Either way, Zidane's number-one priority will be keeping the captain's legs fresh for Champions League duty, because the team's figures when he has been absent speak for themselves. Five of Madrid's eight defeats this term have been without Ramos in the team, and in Europe the stats are all the more striking: they have lost eight of the last 10 Champions League games the 34-year-old has missed.
Real Madrid's record since Zidane returned doesn't bode well for European glory
In Zidane's first spell as boss, Madrid lost 16 out of 149 games. Second time around, they have tasted defeat in 19 out of 90. All the indications are, therefore, that winning this season's Champions League is going to be as tall an order as ever. Since Cristiano Ronaldo departed in 2018, Madrid haven't made it past the last 16 and their only major silverware is last term's unusual, coronavirus-interrupted LaLiga.
Winning the Champions League is now the only way Real Madrid will be able to look back on the last three seasons with any great degree of satisfaction.