House removes Marjorie Taylor Green from key posts: Which Republicans voted against her?
Eleven Republican lawmakers joined Democrats in voting in favour of a motion to remove Rep. Marjorie Taylor Green from her committee assignments.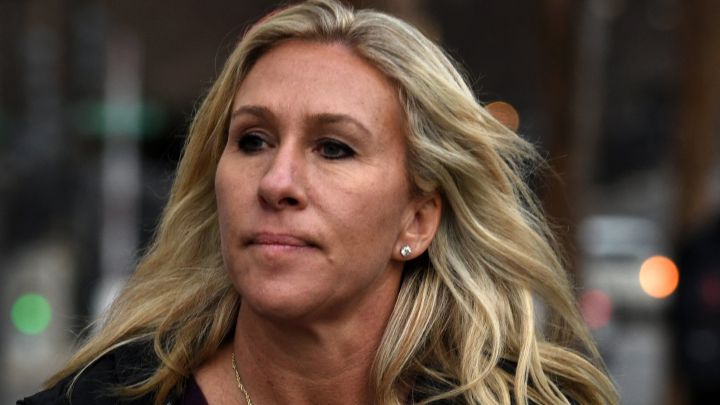 The House voted on Thursday evening to remove Republican Rep. Marjorie Taylor Greene from her committee assignments, after Democrats pushed for the vote against her over incendiary remarks and dangerous conspiracy claims she made before being elected in November.
The motion to remove Greene from her roles in the House Education & Labor Committee passed by 230-199. Eleven Republicans joined Democrats in voting in favor of the motion against the newly elected House representative, who has been at the centre of controversy since taking office for the first time last month.
Greene was cited for giving voice to QAnon conspiracy theories and endorsing violence against Democrats before taking office. Intensely pro-Trump, she was also one of many Republicans who supported the baseless claims about election fraud, as well as previously promoting other wild conspiracy theories including claims that school shootings and the 9/11 terror attacks had been staged.
Before the vote, Democrats had given House GOP Leader Kevin McCarthy until Thursday to take the matter into his own hands and remove Rep Green from her committee roles himself. However, McCarthy refused to do so, accusing Democrats of a "partisan power grab". That prompted Democrats to push through their vote on the resolution to take away Greene's assignments, which was supported by 11 Republicans representatives.
The 11 Republicans who voted to remove Greene
Breaking with party ranks, eleven Republicans voted in favor of the motion to remove Greene from her panel roles, including three from New York, one from New Jersey and three from Florida.
They were:
Mario Diaz-Balart (Florida)
Brian Fitzpatrick (Pennsylvania)
Carlos Gimenez (Florida)
Chris Jacobs (New York)
John Katko (New York)
Young Kim (California)
Adam Kinzinger (Illinois)
Nicole Malliotakis (New York)
Maria E. Salazar (Florida)
Chris Smith (New Jersey)
Fred Upton (Michigan)
What Republicans said after voting to remove Greene
Following the passing of the motion against Greene, many of those 11 Republicans issued statements to justify their decision to vote against a member of their own party.
"Antisemitism, conspiracy theories and threats should never be part of our political discourse. This should not be tolerated by either party," said California Rep. Young Kim.
"I came to Congress to focus on policy issues that unite our country and improve the lives of my constituents in the 39th District. Comments like what we've seen from Rep. Greene make that more difficult and are not what the Republican Party stands for."
Following the vote, Florida Rep. Mario Diaz-Balart tweeted: "I've previously started that (Marjorie Taylor Greene's) comments are unacceptable, and today I voted to remove her from her committed assignments. These are also members I've consistently said should be removed from committee assignments for their irresponsible, inflammatory speech."
I've previously stated that MTG's comments are unacceptable, & today I voted to remove her from her committee assignments. These are also members I've consistently said should be removed from committee assignments for their irresponsible, inflammatory speech:
📖a thread📖

— Mario Diaz-Balart (@MarioDB) February 4, 2021
He continued by naming three other representatives -- Rep. Ilhan Omar, Rep. Maxine Waters and former Rep. Cynthia McKinney -- that he believed should also be removed from their committees for the same reason.
Meanwhile, Diaz's fellow Florida representative, Rep. María Elvira Salazar stated that "voting against a member of your own party is never easy, but everyone in Congress must be held to the same standard." She also cited Democrat Rep. Ilhan Omar as another who should be removed from her assignments, a motion that several right-wing Republican lawmakers were pushing for in response to the Democrats' move against Greene.
"As I have repeatedly criticized Ilhan Omar for her anti-Semitic comments, I had to hold Marjorie Taylor Greene accountable for her denial of the Parkland massacre, the Flight 777 crash, and accusing a Jewish family of starting the California wildfires," she added.
Among the three New York representatives to have voted to remove Greene was Congressman Chris Jacobs, who stated that he was "very troubled" by Rep. Greene's statements and assertions.
"As someone who has spent over 25 years fighting for children and increased educational opportunity, I was particularly shocked by the video of Rep. Greene harassing a survivor of the Parkland school shooting. I believe her actions, whether out of extreme callousness or ignorance, disqualify her from serving on the House committee overseeing education policy," he said.
"Some will say this action is unfair as other members have made outrageous and offensive statements and have not faced similar consequences. That is very true. It is my hope that starting today, we will hold all members to the same high standard of civility and decency. I believe it will dramatically improve the impact this Congress will have on the betterment of this nation."