What did Tom Brady say about his NFL retirement?
The future Hall of Fame quarterback said before kickoff he has no intention of retiring but admits that he won't continue if he can't keep up his game.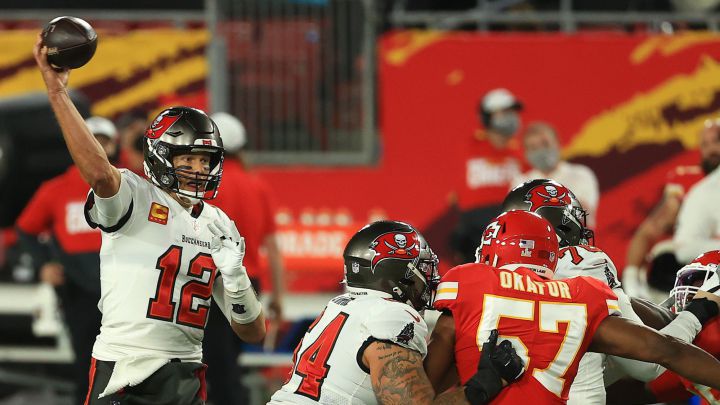 Tom Brady has shown this season that he still has a lot of game in him even at 43. He says the he wants to keep playing until he's 45 but said "I think I'll know when it's time. I can never go into this game half-ass."
He showed again that he gives it all to the game earning himself his fifth MVP as he led the Buccaneers to a 31-9 victory over the Kansas City Chiefs.
Brady will be a free agent after 2021 season
Tom Brady signed a $50 million 2-year contract with the Tampa Bay Buccaneers making him the highest-paid player in the NFL. When his contract expires at the end of next season, Brady will be a free agent. If he can keep up playing like he did in his first season with the Bucs he may just keep going until he is 45 and maybe beyond.
He has had an incredible season post-Patriots taking the Buccaneers back to the Super Bowl for the first time since 2003, ending the team's postseason drought since the 2007-2008 season. During the 2020 season Brady threw 40 touchdown passes and 4,633 passing yards, the most and second most respectively for a quarterback in his first year with a team.
His prowess on the field hasn't showed signs of slowing in the Big Game either. He completed 3 touchdown passes and 210 passing yards. Breaking setting some new records that rightly earned him the Super Bowl MVP.
Tom Brady will keep playing while he can
When asks before Super Bowl LV whether he would keep playing he didn't mince words saying "Yea definitely." Adding "It's a physical sport and the perspective you have on that is, you never know. You never know when that moment is, just because it's a contact sport and there's a lot of training that goes into it. And again, it has to be 100 percent commitment from myself to keep doing it."
After the game NFL commissioner Roger Goodell asked if we could see him back in the Super Bowl again he responded "We're coming back."